Our Awards
Heritage hailed as 'Best of Houzz 2019' winner
Heritage Bathrooms has won a Houzz 2019 'Best of Design' Award, after being chosen by more than 40 million users across the Houzz community.
Heritage scooped the 'design category' accolade thanks to a stunning portfolio of product photography on the Heritage profile, which has been recognised as some of the most popular on the leading home renovation and design platform in 2018, including this fabulous and practical shot from the Victoria Suite.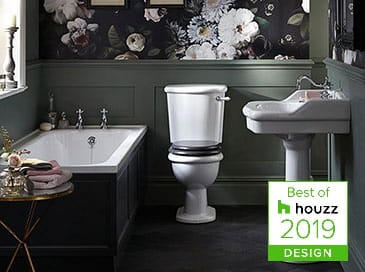 "Best of Houzz is a true badge of honor as it is awarded by our community of homeowners, those who are hiring design, renovation and other home improvement professionals for their projects," said Marcus Hartwall, Managing Director of Houzz UK and Ireland. "We are excited to celebrate the 2019 winners chosen by our community as their favorites for home design and customer experience, and to highlight those winners on the Houzz website and app."
In 2018 Heritage also won a 'Best of Design' Award for the striking, monochromatic styling of the Granley Deco Suite made a splash, ranking in the top eight 'Best of Houzz 2018 UK - West Midlands (Bathroom)' category.