The Raeburn
The Raeburn was built in 1832 as an elegant Georgian family home. It has now been transformed into an exquisite boutique hotel, boasting ten bedrooms, a bar, a restaurant, a library, private dining and conference room and an outside terraced area - the only one of its kind in the area. The flawless restoration of this B Listed house has ensured that the stunning traditional façade works seamlessly with the stunning and sympathetic décor and features.
Six of the ten luxury bedroom suites feature Heritage Bathrooms' elegant freestanding baths, as well as marble finished rainforest showers. The chic and luxurious interior fits perfectly with the upmarket location of The Raeburn. Situated in Stockbridge, one of the most affluent and beautiful areas of Scotland's capital city, The Raeburn hotel, bar and restaurant has understandably become a firm favourite with locals and tourists alike.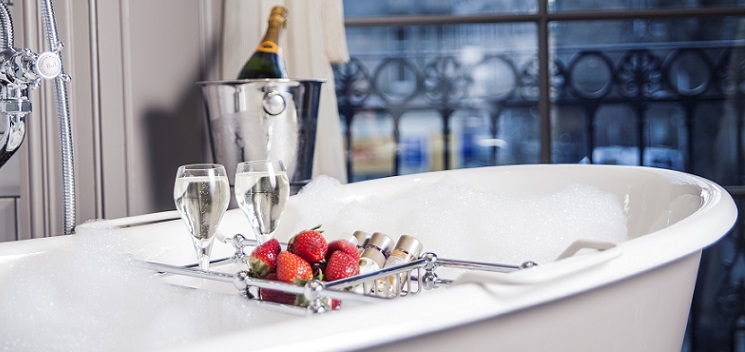 Ross Maclean and his family own The Raeburn and are responsible for the restoration. He says: "As The Raeburn is such a well-known building in the area, we wanted to retain the period feel and styling as much as we could. In order to authentically revive it to its original beauty, we invested in Heritage Bathrooms' charming freestanding baths and Victorian inspired basins.
"We needed to buy products that have longevity because of their frequent use, so the fact that Heritage Bathrooms has a Lifetime Guarantee across its ranges was a real bonus. The combination of high quality products and statement finishes worked really well for us, and the aftercare service has been fantastic."