To help guide you through the process of renovating your bathroom, we've pulled together a list of some of the key things to consider.
Questions to ask before you start
When renovating your bathroom, there are a few key questions to ask yourself first:

1. What is your budget?
2. Are you changing the layout of your bathroom?
3. How often will your new bathroom be used?
4. How many people will use your bathroom?
5. Is it a family bathroom?
6. How much storage space do you need?
7. Is there anything you don't like about the current layout now?
8. Is there anything you'd like to keep the same?

Thinking about these questions before you start renovating your bathroom will help you decide what you want from your new bathroom and how to suit it to your needs.
Budget
Before starting any home renovation project, it's important to set a budget. The average full bathroom renovation cost in the UK is around £7000, but this can vary greatly. If you're doing some of the work yourself, this will take a big chunk off the cost. This cost includes materials, fixtures, cost of fitting and accessories.
Planning
As with any renovation project, it's important to draw a plan before you start renovating your bathroom. You can either do this yourself or hire a professional. It's a good idea to have a plan of your existing bathroom and also your new bathroom, so you can see what's been changed.

The plan of your current bathroom should include:

• Current position of any fixtures and fittings
• Plumbing and any changes that need to be made, including where the hot and cold water and drain pipes are located
• Electrical wiring and if any changes are needed.

Your new bathroom plan should include:
• Where the fixtures and fittings will now be
• The new plumbing system if it needs to be adjusted
• The new electrical system if changes need to be made.
A simple checklist
Before you begin renovating your bathroom, it's important to create a simple checklist of everything you will need to do. That way, there will be no hidden surprise tasks or costs. Use our simple checklist to help you consider all aspects of your bathroom renovation.

• Plumbing and electrics - is a professional needed?
• Dismantling - is a professional needed?
• Heating - how will the bathroom be heated?
• Walls - will the walls be tiled, painted or both?
• Flooring - it's important to choose a flooring that is easy to clean and won't be damaged when it gets wet
• Lighting - what types of lights do you want? Where will they be? How much natural light is there?
• Storage - where will it go? Is more needed? Can it be built in?
• Fixtures & fittings - where will the fixtures go? Will they change from where they are now? Is there enough space?
Dismantling
This is the fun part! It's time to dismantle your current bathroom. Here, you should decide if you want to keep anything and what needs to go.

It's important to dismantle your bathroom safely. First, remove the electrical appliances, then, remove the furniture around your bathroom. Next, remove the fixtures that are plumbed in and finally, remove the tiling. Some people prefer to bring in a professional to help dismantle.


Modifying the eclectics and the plumbing
When renovating your bathroom, it's important to make sure your new bathroom works for you. This can mean changing the current plumbing and electrical systems. It is always a good idea to consult a professional here.
Walls & flooring
The next phase of your bathroom renovation is to think about the walls and flooring. Now it's time to think about the aesthetic of your new bathroom. Are your walls and floors being tiled? Are your walls being part tiled and part painted?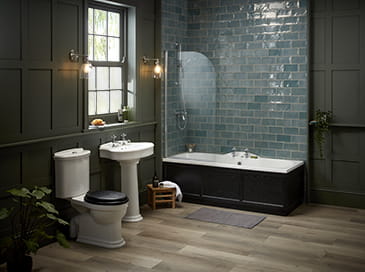 Some flooring types and wall coverings are not suitable for a bathroom. They both need to be able to withstand water splashback.
Fixtures & fittings
Now, it's time to think about your fixtures and fittings in your bathroom renovation project. Do you have the space for a freestanding bath? Is a fitted bath more suited to your requirements? Will you have a separate shower or a bath shower mix?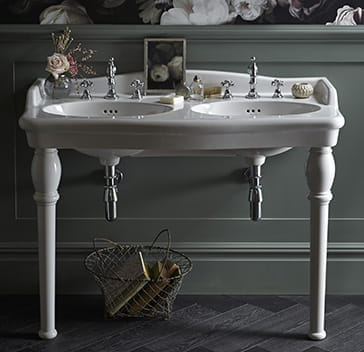 Do you know what type of basin you are after? Here at Heritage, we have so many different styles to choose from: standard, semi-recessed, corner, baby and console. And don't forget about your taps and wastes.
And finally, your toilet. Again, we have lots of different styles to suit all kinds of needs. This includes bidets.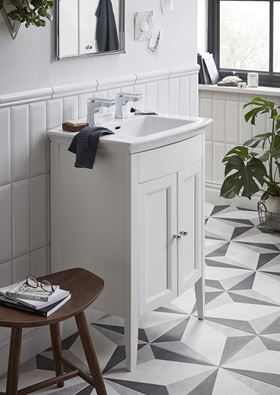 Start with a suite
If you're unsure about what to go for, you can choose a stunning suite. This can provide the blueprint for your dream bathroom design, and our wide range of styles includes timeless classics like Blenheim and Claverton, and period pieces like Granley and Dorchester.
Because our suites are so versatile, they work with both traditional and modern styling – giving you the freedom to be as creative as you dare with your bathroom design.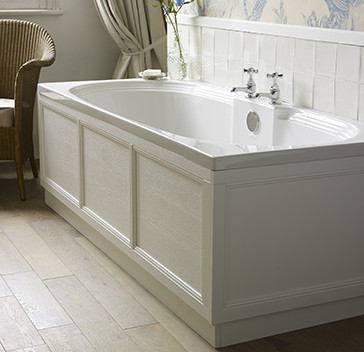 Stylish storage
When renovating your bathroom, it's important to make the most of your available space without compromising on style by choosing sophisticated storage solutions. A classic freestanding vanity with integrated hide-away storage will enhance your bathroom experience and reduce the clutter created during the busy morning rush.
Our wide selection of vanities are available in a range of different textures, materials and finishes to perfectly complement your distinctively individual style.
Quality that lasts
Making informed decisions about the longevity of your bathroom products, and considering the quality of the materials they're made from, will help you maintain a clean and easy-to-use space.
At Heritage Bathrooms, we offer a range of products that are designed to last a lifetime. Our acrylic baths, for example, feature Solid Skin technology to maintain advanced rigidity and provide extra insulation for longer lasting, more indulgent baths.
Maintaining trust in our brand and products is important to us, so all of our baths come with a lifetime guarantee for complete peace of mind.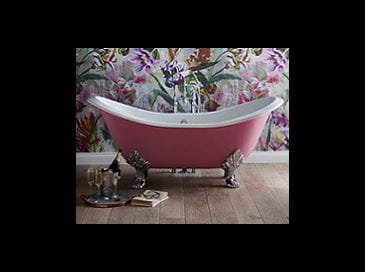 Make a statement
To add a touch of luxury to your bathroom design, consider showcasing a statement piece in your space.
In larger bathrooms, a freestanding bath can make a bold impression, and our signature cast iron baths feature a paintable exterior so you can let your imagination run wild and tailor your bath to your unique style.
For smaller spaces, add a touch of glamour with a vintage gold washstand. All our washstands feature a high shine finish and offer a stylish alternative to a traditional pedestal.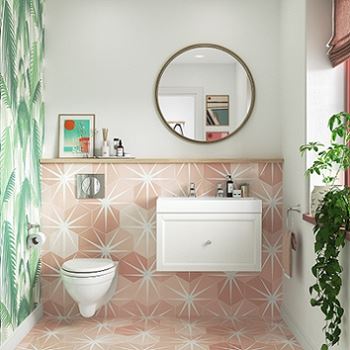 Finishing touches
Often, it's the little things that really make a house a home and the finishing touches are often forgotten when renovating your bathroom. So when you're planning your dream space, don't forget to include sophisticated and practical accessories that tie together all the elements of your bathroom design.
Our wide range of bathroom accessories includes everything from towel rails to wire baskets, available in a variety of chic finishes such as brilliant Chrome, Vintage Gold and contemporary Rose Gold.
Remember to add those finishing touches like fluffy towels and fresh plants that will enhance your bathroom experience and help transform your space into a haven of tranquillity. Read more here about making your bathroom a spa-like experience.
Now you know all there is about renovating a bathroom. Take a look at our bath buying guide and toilet buying guide next.
Download our brochure now to start planning your renovation and turn your dream bathroom into a reality.
You can follow us on Facebook, Twitter, Instagram and Pinterest too.