Toilet Buying Guide
Unlike baths and sinks, toilets (or WCs) are often overlooked when it comes to choosing a bathroom suite. It's tempting to make a quick decision, and as an item with traditionally few design options, toilets are rarely a style priority.
Heritage toilets have been designed with a different aim: that they can add as much to your bathroom aesthetic as any other part of your suite. From high level cisterns with elegant pull chains to more modern wall-hung pans, there are so many ways that a new toilet can help complete the look of your stunning new bathroom.
To help inspire you, we've put together a guide on buying a toilet, including the types of toilets you can choose from, what the terminology means, and ideas for styling them.
Types of toilet cisterns
When buying a toilet, it's important to know the different types and styles as this is crucial to the look and feel of your bathroom.

Cisterns are the top part of the toilet; they contain the water used for flushing and are usually secured to the wall (at either a high or low level). But what types of toilet cistern are available?
What is a close coupled cistern?
Most types of toilets use a close coupled cistern. This is where the cistern sits right at the back of the pan, usually affixed to the wall, with a lever or button flush. To help you make the most of the space that you have, Heritage close coupled cisterns are available in landscape, portrait, and corner sizes. They can work with both standard and comfort height pans, so there are plenty of options to choose from.
What is a low level cistern?
Low level cisterns are the middle ground between close-coupled and high level cisterns. They sit slightly above the pan, and will require a flush pack with connecting pipes, but they still use a cistern lever for the flush. If your bathroom doesn't have the height for a high level cistern but you still love the look, a low level cistern might be perfect for you.
What is a high level cistern?
High level cisterns sit far higher on the wall than low level ones. If you're aiming for a traditional or period bathroom style, these cisterns are perfect for building on the look. Rather than a lever, these cisterns require a long chain pull, which can be accessorised with ceramic handles. A flush pack is needed to complete this WC – flush packs include the long connecting pipes between the cistern and the pan.
What is a concealed cistern?
Concealed cisterns can be hidden within furniture or behind a stud wall, leaving only the pan visible. The flush sits either on the wall as a button, or within the furniture. Concealed cisterns should be used with back to wall pans.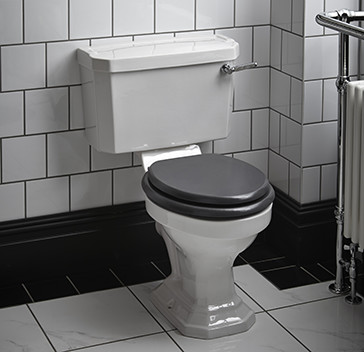 The Granley Deco landscape cistern and standard height pan.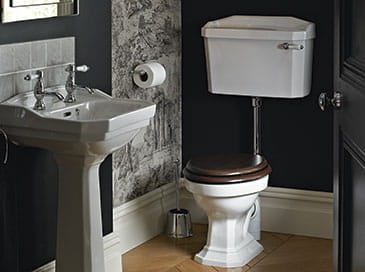 The Granley low level cistern and pan.
Types of toilet pans
As well as knowing what the cistern is, when buying a toilet, it's also important to know about the toilet pan.
The lower part of the toilet, the part that usually sits on the floor, is called the pan. They usually stand on the floor, but may also be hung on the wall, and there are height options to suit your needs. The Heritage range includes standard, comfort, back to wall and wall hung pans.
What is a standard pan?
'Standard' means made to the standard UK height of 380-410mm, although this depends on the exact suite. This is the height most commonly found in bathrooms, so if you're unsure what to go for, looking at standard pans should be your starting point.
What is a comfort pan?
These types of toilets are designed to make life a little easier, particularly if you have any trouble sitting and standing. They're a little higher, at around 450-470mm.
What is a back to wall pan?
Unlike standard pans, back to wall pans don't have a visible cistern. Just as the name suggests, they back straight onto the wall; the flush for the concealed cistern will be on the wall or, if used, the fitted furniture the cistern is concealed in.
What is a wall hung pan?
If you have a small bathroom, a wall-hung pan can help create the illusion of more space. They are attached to the wall and don't touch the floor; as well as leading the eye upwards and creating more visual floor space, they're easy to clean under as well. If you choose a wall hung pan, you'll need a wall hung frame and a concealed cistern.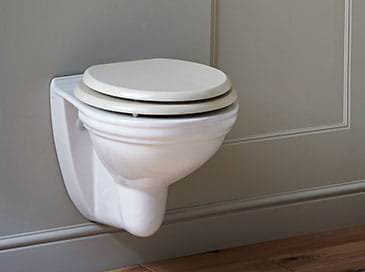 The Dorchester wall hung pan - the cistern is hidden within the wall behind.
Toilet seats
Our toilet seats are all available in a choice of colours, with gold or chrome hinges in standard and soft-close forms.
How to choose a toilet that complements your style
Although buying a toilet may seem like the least exciting part of a bathroom redesign, there are so many ways that it can help add to the overall look of your space. Heritage offers an array of cistern levers to suit your bathroom, whether you're going for modern chic or timeless tradition.
If you'd like to find out more, download our brochure or find your nearest Heritage Bathrooms stockist today.
Discover more product buying guides for baths and showers in our design inspiration section.