When it comes to creating a truly relaxing bathroom, you may be inspired by the ultimate luxury: a five-star spa experience. Spas are synonymous with pampering and tranquillity, something we could all do with a bit more of.
Most of us love nothing more than relaxing however we can't all afford to make a trip to our favourite sanctuary every weekend. The next best option is to bring the spa vibe to your own home, something that you can achieve whether you have a room of palatial proportions or a more bijou space. However you choose to create your luxurious spa-inspired bathroom, be sure to think about that all-important factor: letting your personality shine through.
Get started with our simple ideas for creating a spa experience in your own Heritage bathroom.
Add foliage
If you want to create a feeling of ultimate luxury, add some greenery to your bathroom. It's the ultimate way to add a splash of colour. You don't need to install a forest – orchids and bamboo shoots are just two ways to add a subtle touch of freshness to your space. Many of these indoor plants are available at garden centres and home stores, with experts who can tell you which plants would be happiest living in your bathroom.
Use art
The most luxurious spas aren't just places of tranquillity, they have a unique personality too. Add a stunning work of art to your wall to create a focal point – just make sure you don't create too much clutter, or you'll detract from the peaceful atmosphere.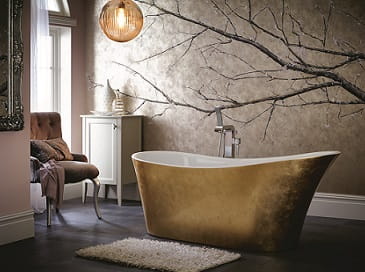 Add seating
It's easy to get the basics down, but your spa-style bathroom suite doesn't have to stop with a WC, bath, and basin (or even a bidet if you have the space). Adding somewhere to sit makes it easier to carry out tasks such as moisturising, as well as giving you somewhere to relax.
Choose a rainfall-style shower head
For that unbeatable spa experience, choose a rainfall-style shower head that you can really relax under. Rainfall showerheads are particularly wide; delivering an even flow that gives you the sensation of standing in rain. We love the Glastonbury Exposed Shower with Midnight Blue Handles from our Heritage limited edition range.
Install a freestanding bath
Not everyone has the space for a stunning freestanding bath, but if your bathroom is larger than average, it's definitely something to consider. A freestanding bath draws the eye, creating a focal point and really adding to that feeling of ultimate luxury. If possible, have yours facing towards the window. Nothing says 'spa' more than gazing at the outside world while you bathe. If your bathroom faces an area that's too open, consider installing frosted glass to give you the benefit of natural light without any of the worry.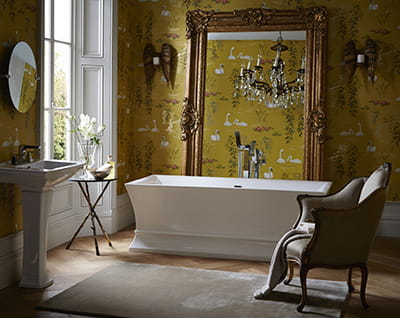 Natural materials
Whether you're upgrading your bathroom suite or starting completely from scratch, look for natural materials, to use within your spa-styled bathroom design. Wooden furnishings are a perfect way to bring the feeling of the outdoors into your home; opting for a duck board rather than a bath mat is an easy way to begin. When it comes to tiles, ditch the gloss and choose natural stone or stone-lookalike materials. For the ultimate spa experience, create continuity between your floor and walls in the style of a wet room. There are plenty of independent merchants who will be able to tell you the pros and cons of each material.
When you've created your perfect spa-inspired bathroom, be sure to accessorise. Just a few finishing touches can make all the difference. Get rid of plastic packaging and keep your accessories in glass jars, invest in some luxurious new towels, and consider mood lighting. If candles aren't your thing, you may want to think about a dimmer switch to set the tone or a sparkling chandelier to add some spa-inspired glamour to your design.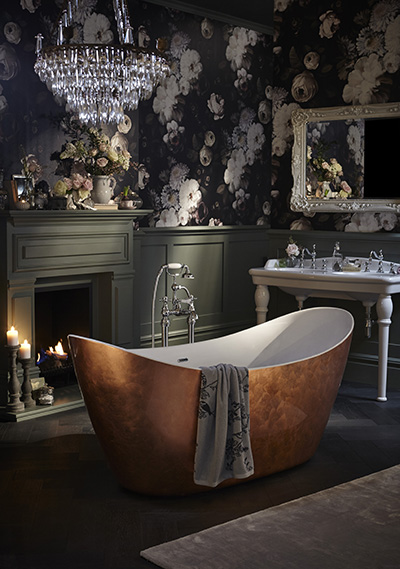 Do you have any brilliant spa-inspired bathroom ideas? Let us know today in the comments box below!