Charlie Williams, our Showroom Manager and interior design expert, discusses the latest trends from the Independent Hotels Show in London.
Art Deco design
Art deco is a timeless trend, but a new twist to this fabulous look comes in the form of velvet. Used sparingly this decadent material can add luxe to a space and can even be included in a well ventilated bathroom in the form of details like a throw or cushion thanks to new 'smart' velvets that are more durable with Teflon coating that helps prevent stains or water damage.
Rich colours, textures and patterns
To add even more luxury to your look embrace bold rich shades. Royal blue, sapphire, amethyst and other jewel-inspired shades were also popular.
And, there were a variety of patterns and textures on display; including patterns on smooth surfaces that mimicked texture to add depth and tactility to spaces while keeping these highly used items, such as basins or cabinets, easy to clean. Alternatively, pieces with a highly touchable finish such as the Alderley Leather Effect Acrylic Bath shown below are also a great way to add depth and texture to a bathroom.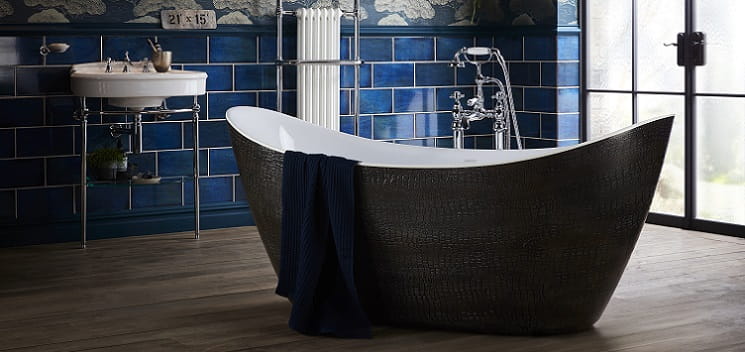 Natural wood
Making a feature of naturally beautiful woodgrain is certainly on trend at other shows, including Grand Designs. There was also a great deal of wooden furniture on show, including unpainted pieces for a paired down yet elegant effect.
Natural toiletries
Along a similar theme, the selection of toiletries available to furnish hotel bathrooms has noticeably incorporated more organic ingredients and essential oils, reflecting a desire for simplicity.
For more design inspiration, download a copy of our Trends & Inspiration brochure, and don't forget to get a free copy of our latest brochure too. You can also follow us on Facebook, Twitter, Instagram and Pinterest pages for even more practical products and design inspiration.