Art Deco Bathroom Ideas
Art deco design is luxurious, glamorous, and utterly timeless. Reaching its height in Britain in the 1920s, the art deco look was all about sleek lines and luxe materials. To this day original art deco architecture, furniture, and interiors are in high demand, and modern takes on the classic look are at the cutting edge of interior design. It's easy to see why; the look allows room for endless creativity and individuality, bringing together period styling with a modern aesthetic.
If you love the idea of a contemporary yet timeless period bathroom that combines tradition with modernity, or you're simply in love with the gorgeous style of the '20s and '30s, an art deco bathroom might be the paradise you're looking for.
Art deco bathroom suites
If you're after a bathroom suite that will bring your art deco design to life, look for bold yet graceful lines and a classic (yet not old-fashioned) finish. The Granley Deco collection has been designed with the best of art deco design in mind, combining modern appeal with vintage source material for a timeless look. The suite's silhouette is inspired by the Barber Institute of Fine Arts, a Grade II listed building in Birmingham that epitomises the best of art deco design.
If you fancy an alternative nod to the Deco look, the Wynwood collection is another brilliant option for a modern art deco bathroom. The design of Wynwood is inspired by the Deco design of the Miami district of the same name, evoking a sleek look with captivating detail that calls to mind the South Beach Tides Hotel.
Not sure how to style your vintage-inspired bathroom? If you have a shower over a fitted bath consider a glass shower panel instead of a curtain so the eye isn't drawn to any ultra-modern features. Remember that we offer bath panels in a range of colours - including on-trend Graphite and Dove Grey – a great way to customise your style and add a modern touch to your Deco bathroom. If you have the space, a freestanding cast iron bath is a brilliant way to complete your new art deco bathroom.
Try the Lyddington acrylic bath; available in Steel, Copper and Gold, each metallic tone adds on-trend glamour, while its elegant silhouette pays homage to art deco design.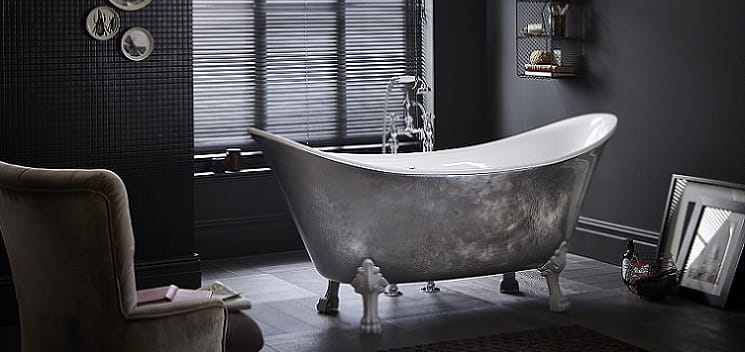 The Lyddington metallic effect acrylic bath in Steel.
Art deco bathroom fittings
The smallest things can help make a bathroom, so don't overlook finishing touches such as art deco shower fittings. As a starting point look for vintage-styled pieces and taps with squared handles; we love this Gracechurch recessed shower valve as part of an art deco look.
Coordinate these with the rest of your suite, using matching bath and tap handles as well, for a perfectly cohesive design. Gracechurch taps feature an elegant, slightly flat spout that widens at the end, adding a contemporary touch to the bold lines that inspire art deco design. These taps are available in chrome, or with a limited edition mother of pearl handle, adding that all-important extra detail that draws the eye and captures the elegance of the period. The Gracechurch bath shower mixer, with a detailed shower handset set above the bath taps, is another easy way to add a touch of traditional glamour to your suite.
Art deco bathroom lighting
It's important not to forget the part that lighting plays in creating the atmosphere of your new bathroom. If you want to embrace art deco bathroom lighting, the options are almost limitless – and they can add real individuality to your design. Vintage cut glass lampshades are a gorgeous style statement, and if you can't track down an original, it's easy to find contemporary recreations. Look for geometric shapes that are almost architectural in design, and if it matches your colour scheme, green is a classic option that oozes period chic. Globe lightshades made of glass are a more contemporary, but equally elegant, option that will perfectly complement an art deco design. Avoid harsh or bright lights, instead opting for warmer bulbs, or soften the glare with a coloured shade.
Another option is to keep things simple with fitted lights that sit flush with the ceiling; this is a particularly good idea if you don't want to break the all-important art deco lines in your suite, or if you have a smaller bathroom and need to create the feeling of more space. Flush lighting is unobtrusive, won't draw the eye away from your favourite period art deco features, and helps create an even light.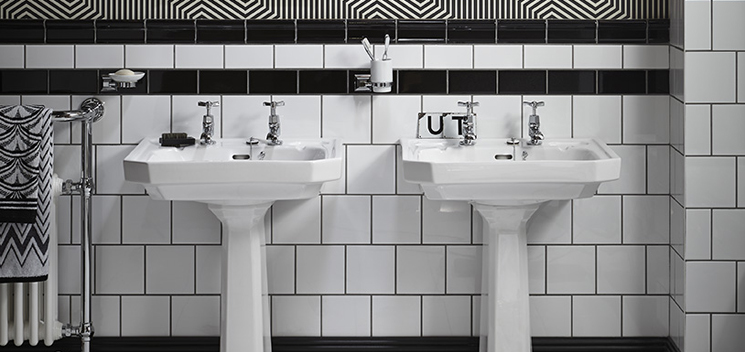 The Granley Deco basins with fabulous Gracechurch basin taps.
More art deco bathroom design ideas
Art deco bathrooms are as much about the décor as they are the suite and fittings. This is your chance to be bold and add some individual flair to your bathroom. Gorgeous tiled walls, intricate tiled floors, bold wallpaper features and stunning accessories will all add to your unique design. Think geometric designs and sweeping symmetrical patterns combined with smooth, glossy textures. Take inspiration from other art deco interiors as well as art deco-style jewellery, clothing and architecture. Art deco has its origins in cubism, so if you're feeling bold, look for artwork that reflects the experimentalism of cubism for more inspiration – or track down pieces of artwork that will complement your design and create focal points for your bathroom
When it comes to accessories, look for metallic materials and simple, bold shapes. Copper-effect accessories are a brilliant to way include a nod to art deco design whilst embracing a completely contemporary trend.
Vintage bathrooms are seeing a resurgence in popularity, which means that there are more style options that ever for your new suite.
Order or download the Heritage brochure here and discover our collections.