As the wellness trend skyrockets, more and more people are awakening to the benefits of natural therapies.
Aromatherapy is a holistic treatment that involves using fragrant oils extracted from natural sources. These oils are called 'essential' as they embody the individual essence of the plant. But essential oils are so much more than fancy fragrances. Whether inhaled or applied to the skin, these oils can profoundly impact our emotional and physical wellbeing.
Despite the insta-buzz, aromatherapy is nothing new. Aromatic oils have been enjoyed for thousands of years – not only for their perfume, but for their cosmetic and therapeutic properties.
From skin care to stress, essential oils can be used in a variety of ways to provide a boost when we need it most. As well as being incredibly versatile, they're super easy to use – so you can enjoy the benefits of aromatherapy in your own home!
WHY 'ME TIME'
Hectic lifestyles take their toll on our wellbeing. We sacrifice sleep, grab lunch on the go and squeeze productivity out of every second. Let's face it: we could all benefit from a little more 'me time'.
Essential oils can help you get more out of your 'me time' and, luckily, it's easy to incorporate them into your self-care routine. One of life's greatest pleasures is sinking into a luxuriously deep bath at the end of a long day. As you slowly lower yourself into the gloriously warm water, those aching limbs relax and the tension just melts away.
When it comes to self-indulgence, baths are a guilt-free pleasure. Essential oils can be used to elevate an ordinary bath into a deluxe aromatherapy experience. So go ahead, run the taps and prepare to create your own at-home spa with my top tips.
RELAX
Stressful day? Add a few drops of essential oil to your freestanding Holywell bath and enjoy a long hot soak. Lavender is a classic choice, or try combining it with Geranium for a truly blissful bathtime experience where you can really relax. For pure essential oils, you'll only need around 6-8 drops – just remember to dilute in a tablespoon of vegetable oil before swishing into the water, to prevent the risk of skin irritation.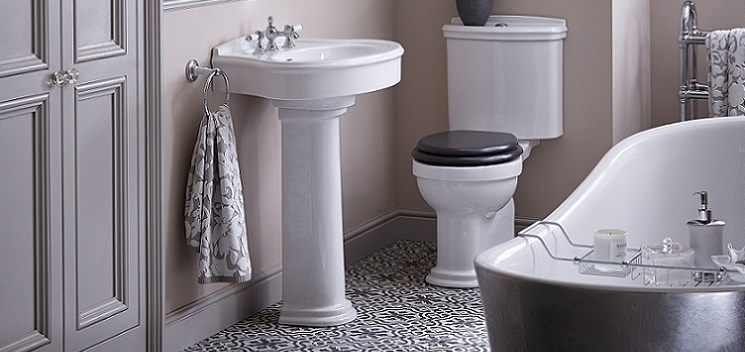 REVIVE
For a reviving pick-me-up, you can't beat a Rosemary bath in the morning. Add a few diluted drops and wallow in the wonderful bubbles!
Alternatively, when time is short, take a revitalising aromatic steam shower. Simply add a few drops of your favourite uplifting oil to a face cloth – Bergamot, Sweet Orange or Lime work well – and place in the shower base. As the hot water flows, you'll feel revived, rejuvenated and ready to face the day.
RENEW
Transform an everyday bath with restorative salts, which bring wonderful healing properties to leave your skin feeling soft and soothed. It's easy to make your own – simply mix a few drops of your diluted essential oils into a cup of Epsom or Dead Sea salt, then dissolve into a hot bath. Try calming Clary Sage or mood-balancing Marjoram for a heavenly herbal treat – the perfect way to enjoy a soak in a cast iron roll top tub.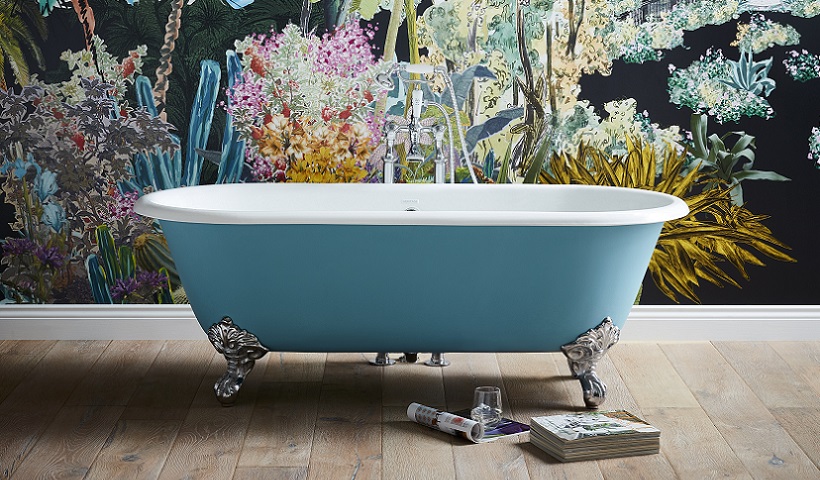 REFRESH
Scent your space with a luxury reed diffuser or candle – the ideal way to create a beautiful, refreshing bathroom ambience. Fresh scents like Lemon and Basil help to blow away the cobwebs, or try a combination of Eucalyptus and Peppermint for an invigorating boost to your bath time.
RESET
Once bathtime is over, treat yourself to a sumptuous body oil – the perfect finishing touch to your aromatic experience and a great way to get the luxury spa treatment in your own home. I love a blend of Sweet Orange, Patchouli and Ylang Ylang – mix 15 drops into 2 tablespoons of a moisturising base oil, such as Sweet Almond or Jojoba. Take a mindful moment to slowly massage into your skin, smoothing away the tension of the day. Trust me, you'll feel amazing.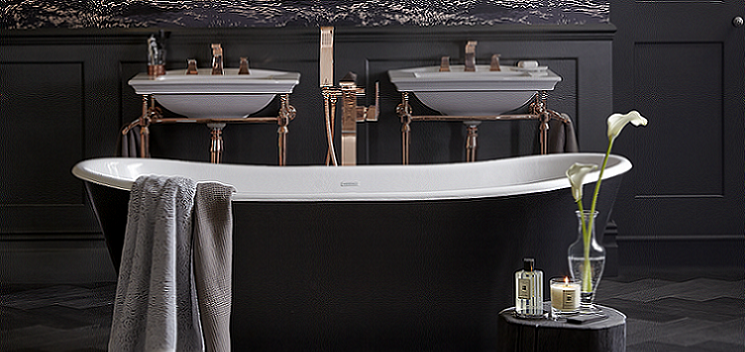 INSPIRED?
When it comes to enjoying aromatherapy in the bathroom, the possibilities are endless. Have fun experimenting with different essential oils and creating your own fragrant blends for your bath. And if you're new to aromatherapy, I hope I've inspired you to dip your toe into aromatic waters!
Browse Heritage Bathrooms' full range of beautiful freestanding cast iron, metallic effect and acrylic tubs to find your perfect place to escape to at the end of a long day.
Please note: Always check the safety precautions before using any essential oils. Although they are natural, essential oils are extremely potent substances that should be handled with care. If in doubt, seek advice from your GP. Find out more about the The English Aromatherapist here.