Charlie Williams, our Showroom Manager and interior design expert, shares some of the key trends she has spotted at this year's Grand Designs event at the NEC Birmingham.
Natural materials
Natural materials were is use across a number of areas of the home at the show, particularly wood and marble.
Wood is a great material to help you bring warmth into a room as it softens starker schemes and can shine against blocks of darker colour. Wooden furniture also appeared to be popular, including stunning large-scale dining tables providing a flat surface to really showcase the beautiful woodgrain.
Marble is also still a major trend as part of larger pieces of furniture, tiling and ornaments, or used on more understated elements such as tableware.
For bathroom inspiration, you can see a fabulous example of natural materials in combination with brass fixtures and copper bath above in the gorgeous room set from EDW interiors.
Bring the outdoors in
Another trend across the whole home inspired by nature was added greenery in the form of plants (real or faux) to rooms. So, whether it was large bold leaves against soft and inviting colour scheme or just a few ornamental succulents, plants definitely have a place as part of your next interiors project.
And, as living spaces become smaller people are looking at what to do in the garden and in the home to make the most of the areas they have, such as studios and summer rooms outside and using the garden itself as another room.
Baths in bedrooms
Placing a beautiful freestanding bath in the bedroom is no longer just a bold design decision for hotels, it is fast becoming an interiors must have.
Not only does it bring a luxurious touch to a bedroom, it also helps on a practical level if you do not have the space for a freestanding piece in your main bathroom.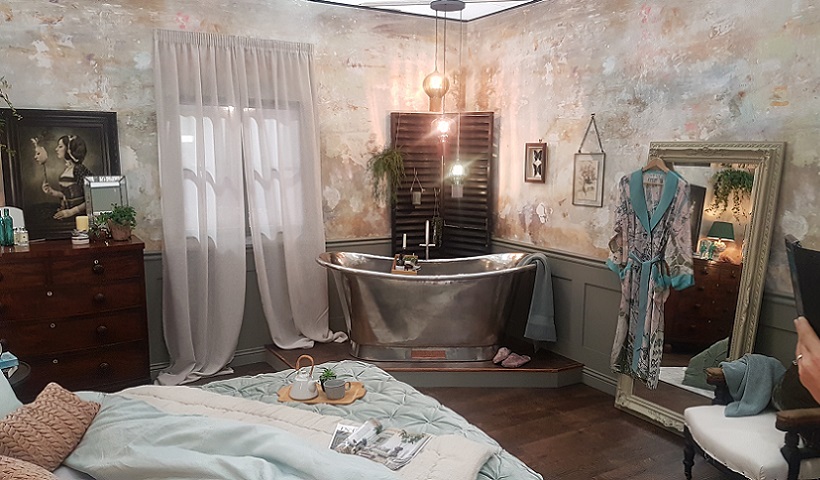 The 2018 Grand Designs winner of the room set competition from Beautiful Rooms by Zoe featuring a statement bath in a bedroom space.
Key colours
As we head into the cooler months, it's no surprise that rich colours are becoming key, including beetroot, dark berry tones and Dulux's Spiced Honey (their colour of the year for 2019).
Neutral olive greens, blush pinks were also used to great effect for a softer look, but it's also worth noting that black is still key, especially when paired with brass.
For even more style inspiration, get a copy of our Trends and Inspiration brochure and be sure to follow us on our Facebook, Twitter, Instagram and Pinterest channels.