Creating Elegance with Luxury Bathroom Fixtures
If you have spent time and energy creating your perfect new bathroom, choosing furniture, baths and gorgeous new bathroom colour schemes, you can't neglect making the perfect finishing touches to your bathroom. When someone has made a real effort with their space, and has chosen great quality products, it's apparent even in the elegant bathroom fixtures they have chosen. Luxury bathroom fixtures like taps and showers give you a beautiful finish - but which fixtures to choose? Read on for more on creating elegance by choosing the perfect luxury bathroom fixtures for you.
High-quality luxury bathroom fixtures
You can see quality – and that philosophy extends to every aspect of your bathroom, including bathroom fixtures like taps and showers. Buying luxury bathroom fixtures usually means better quality. Take our taps and showers as an example: they look stunning, but not only that; they're tough, too. We rigorously test our taps to make sure that they easily withstand up to five times normal domestic water pressure, and our showers go through the equivalent of 130 years of daily family use during the testing process. Find out more about the Heritage® Bathrooms commitment to making quality bathrooms here.
Show-stopping elegant bathroom fixtures
Think different if you want to choose elegant bathroom fixtures that will stand out. Distinctively individual pieces like our limited editions are made to be artistic finishing touches that help to create a look that is really your own. Bring something different to your bathroom décor with intricate design like our limited-edition Lymington Basin Mixer, with its gorgeous lines and beautiful gold inlay – or our Hemsby Basin Taps in warm rose gold. For showers, choosing unexpected colours like the dark, elegant blue in our Glastonbury Exposed Shower with midnight blue handles can add an element of surprise and interest to the overall look of your bathroom. Don't be afraid to be bold with colour, even with luxury bathroom fixtures like these – more colour gives you the opportunity to play even more creatively with your colour scheme.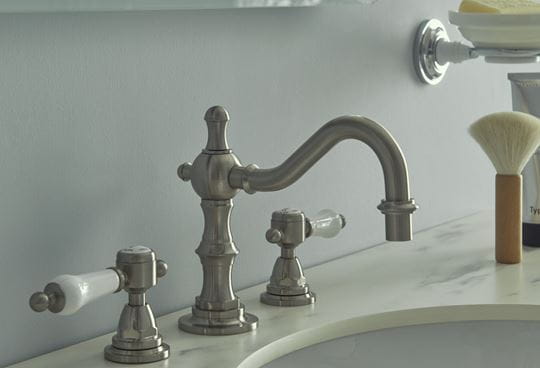 Large shower heads like our Hemsby Recessed Shower create a dramatic effect and allow you to shower your worries away every morning beneath a crystalline cascade of warm water. Smaller but equally stylish, our Ryde shower fixture range is wonderful for bathrooms that have less space, and is a great value collection of elegant bathroom fixtures.
If you have a freestanding bath, our Freestanding Bath Shower Mixers pair wonderfully to be a truly elegant yet unexpected way to draw the relaxing bath of your dreams. Essentially a tall tap that sits beside your bath to fill it, these beautifully statuesque fixtures make a real statement. Our Hemsby Floorstanding Bath Shower Mixer is also available in rose gold, for a truly eye-catching style piece.
Evoke timeless glamour with Heritage® Bathrooms luxury bathroom fixtures
If you love the traditional look, and are searching for the elegance of traditionally-styled luxury bathroom fixtures, so many options are available to you at Heritage. We have a variety of ranges of tap and shower fittings that transmit a sophisticated, more traditional glamour, like the gorgeously stately Glastonbury, with its curvaceous ceramic lever handles, or the bolder, more strongly angular Gracechurch. Hartlebury offers classic rounded cross handles in glistening chrome or vintage gold, echoing the opulence of the Victorian era.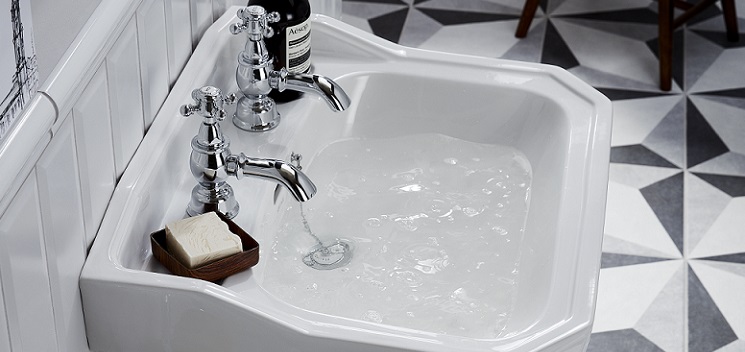 Pair traditional tap or shower fixtures with bathroom furniture and suites that call to mind the same feel. Glastonbury taps, with their glorious curves, pair well with the equally curvaceous Claverton collection, for example, while Hartlebury provides the perfect finishing touch to the romantic Victoria suite.
Discover all of our stunning taps and showers, as well as our gorgeous suites and much more in our latest brochure.