Elegant bathroom colour ideas
The colour scheme is one of the most important things to take into account when you're thinking about creating a beautiful new bathroom. A well thought out bathroom colour scheme can cement a stylish look and take your bathroom aesthetic to the next level, working with the shape and natural light of your space. Read on for more elegant bathroom colour ideas, and ideas on how to create bathroom colour combinations that are capable of pulling together an effortlessly defined look.
Colour lends so much to your space – whether it's a bright splash of personality or a cool, opulent wave of elegance. Don't be afraid to play with its myriad shades and mysteries to see what wonders you can create.
A starting point for bathroom colour schemes
Your biggest challenge when creating your new bathroom colour scheme can simply be knowing where to start. But a good beginning can be asking yourself what you really want from your artfully-crafted new space: which colours make you feel good? Do you imagine relaxing into cool, silvery water amongst elegant, calming blues – or does a clean, sophisticated palette of whites and greys seem like a more appealing bathroom colour idea? Perhaps a warmer, summer-inspired palette creates exactly the kind of warmth and relaxation that you'll most enjoy as you listen to the birdsong through the window on a rosé-tinged June evening.
Deciding whether to use a cool or warm colour palette is, in fact, one of the most important questions as you note bathroom colour ideas. A sensible first step is looking at the light in the room: consider if this will work better with warm or cool undertones, and whether the room is north-, south-, east- or west-facing. Think also about the colour group you're most drawn to; you want to be drawn to spending time in the space that you're curating, after all. Depending on the overarching vision for your bathroom design, and the finish that you decide on, cooler tones can feel more modern, where warmer tones can give a warmer, more heritage-inspired feel.
Neutral bathroom colour ideas
Using inspiration boards and style curation tools can be a good tester canvas to play around with colour as you explore final bathroom colour combinations for the bathroom of your dreams. Consider using paint sample strips as a colour comparison tool or a source of inspiration; laying them next to each other is an easy way to see how different colours look when put together or get a feel for the colours you want to see in your space. There are even apps dedicated to crafting and comparing bathroom colour combinations – don't hesitate to explore every tool available to you; our online room planner is just one of these!
A neutral palette is a sophisticated choice that many homeowners make when they're putting together their new bathroom design. Neutrals tend to have a calming, stylish effect – and they can be chosen by undertone to be either warm or cool, meaning that you can find perfect warm or cool neutral bathroom colour combinations for the style and natural light of your room. Yellow-based neutrals can work well in north-facing bathrooms to warm up cooler light, and bring an element of sunniness and comfort to the inside of the room, where cooler, darker-toned neutrals can lend a more architectural feel to a room's overall look.
Neutral definitely doesn't mean boring. Consider varying textures and shades throughout your neutral bathroom colour scheme to create an original, luxe look. Fish scale tiles in shell tones; painting an elegant cast iron bath a deep brown; textured wall tiles (like split face tiles in neutral wooden tones); and adding texture and depth through other small touches can surprise the eye and add interest to your space.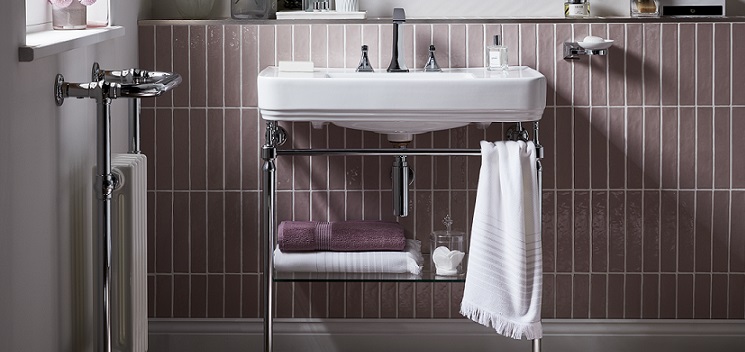 If you want your bathroom to be a haven of ethereal pale colours, shell neutrals are a beautiful way to adorn your space with an air of cool relaxation – and a great way to keep darker colours from overloading a small space. Pale neutrals like soft greys, light blues or pale neutral pinks combine well with shell-toned neutrals to keep your bathroom light and airy – accessorise with darker neutral tones for a way to anchor the look. If you're feeling bold enough to explore darker bathroom colour ideas, Georgian green matches beautifully with other neutral tones like khaki, sand or warm neutral browns for an earthy, understated, yet seriously stylish vibe.
Dark, dramatically elegant bathroom colour ideas
For a bathroom colour scheme with a real flair for the dramatic, consider bathroom colour combinations that are unafraid to embrace the opulence and stark drama that darker colours allow. Imperial blues and purples add a decadent, luxurious touch to décor – pair with metallic tones like gold and silver to really make both colours pop, and turn your bathroom into a Cave of Wonders. Playing with different finishes to dark tiles and paint – like satin navy, or glossy black marble, adds polish and style to a space, giving the impression of careful curation and artistic sophistication. Our Metallic Effect Acrylic Freestanding Baths make an original piece made for bold style, and would look stunning against darker colours.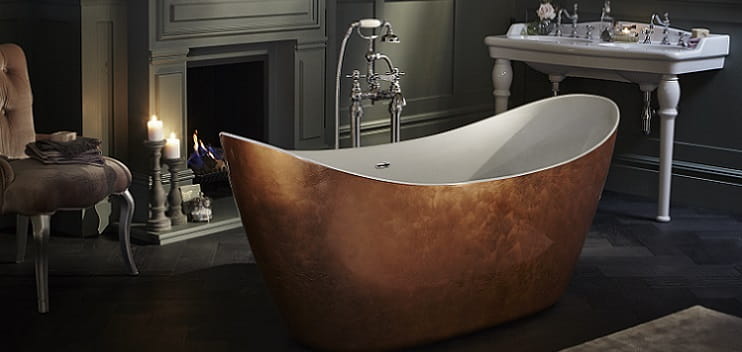 Dark colours add the potential for so many boldly contrasting bathroom colour combinations – like black and white art deco patterns, neons, or a minimalist Scandinavian black and white bathroom colour scheme.
Bold bathroom colour schemes
Why not go bold and really express your personality with paradisaical bright tones that call to mind a gorgeous tropical hideaway? Bold means theatre – choosing brights and gorgeous colours that really make a statement. No colour is off limits – think flamingo pinks, turquoise blues and goldenrod yellows…whatever makes your heart happy. You can go bold in unexpected ways; read about using brightly coloured grout in our article on bathroom tile ideas.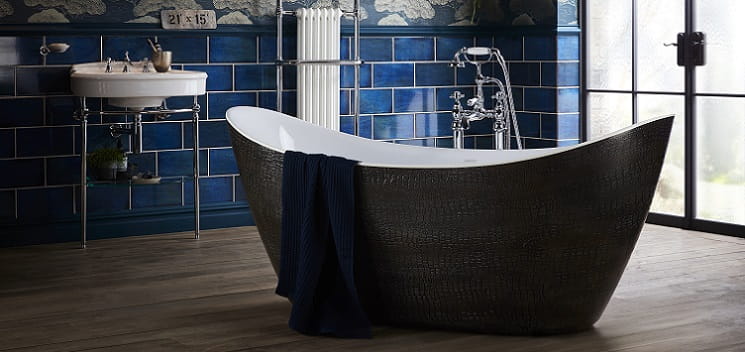 Why not let yourself be inspired by wallpaper? If you have adequate ventilation in your bathroom, and a piece of bold wallpaper that you particularly like, you can build a bright bathroom colour scheme around that, treating it as artistic inspiration. Consider using it as a focal point, building your bathroom around a stunning feature wall.
As with all art, you can find inspiration for bathroom colour ideas everywhere! For a very good place to start, download or request a brochure here, or take a look at our Trends brochure for beautifully curated style inspiration by designer Ali Munro. The bathroom inspiration section of our blog is full of stylish ideas for great bathroom décor.