The power of made to last
At Heritage, we have built a business on caring about the details – creating beautiful quality bathroom suites and furniture that are stylish, finished to perfection, and made to last.
By using the finest materials and craftsmanship, we design and make the very best quality bathrooms that we can, with style and durability to be proud of. Everyone wants to be sure that when they purchase a new bathroom it's there to stay. Read on to find out more about our quality design philosophy and the careful process we use to make beautiful, high quality bathrooms with fantastic longevity.
Durable baths


Every bath in our extensive bath range is produced and sold with a Lifetime Guarantee. This unshakeable confidence in our products is forged from our intimate knowledge of the craftsmanship with which we make them. Each one of our collection of cast iron baths is produced with top quality in mind – the inner of each bath being coated with two layers of Class AA enamel, then baked twice for maximum durability and stain resistance.
All Heritage acrylic baths – including our stunning range of freestanding acrylic baths – come with Solid Skin technology as standard. This ingenious technology not only provides each bath with added rigidity and strength, but the extra three layers of acrylic also provide extra insulation - meaning greater heat retention.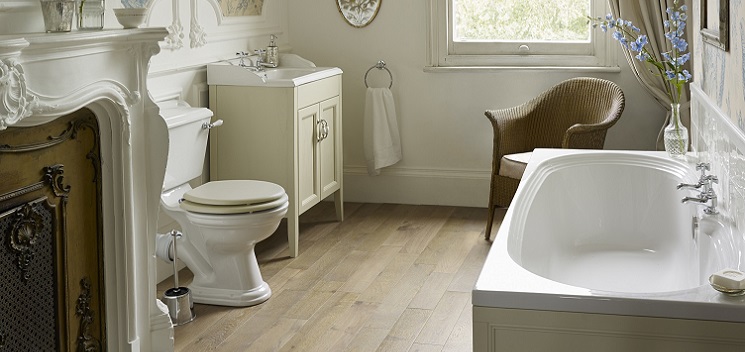 The fabulous Dorchester suite featuring a basin and Caversham vanity unit, WC and fitted bath.
The beautiful and durable Essex cast iron bath.
High calibre materials
Our belief in quality materials extends to all of our products, including our beautiful quality bathroom suites. Many of our gorgeous suites are manufactured with Cornish clay (also known as kaolin), which has been mined since 1746 and is considered to be among the best quality clays in the world. Kaolin has been used to supply the highest quality porcelain to the finest homes for centuries, and we use it to make quality bathroom suites that are as durable as they are beautiful. When our WCs and basins arrive at your home, you can feel safe in the knowledge that they have been made with care, to last.
Quality bathroom furniture
If all of our products are made to last, our beautiful quality bathroom furniture is certainly no exception. Each stunning piece of luxury furniture is made to be resiliently beautiful, and its production is carefully curated down to the last detail – designed in Britain, it is made using timber from sustainably managed forests. If that wasn't enough, all of our top-quality bathroom furniture products arrive pre-assembled and verified by a spectrophotometer for colour coordination, and each of our washstands enjoys a five-year guarantee.
Rigorous product testing for quality bathrooms
We don't believe in chance; every Heritage product that we manufacture is rigorously tested to ensure its durability. This is style that lasts, and it is because we care about every tiny detail. Each product is tested in our state-of-the-art testing laboratory, which is uniquely accredited to United Kingdom Accreditation Service (UKAS) forensic standards, guaranteeing you a quality bathroom that's incredibly stylish and durable. It's not just our suites and bathroom furniture that are tested and built to last; Heritage taps are built to withstand up to five times normal domestic water pressure, and our showers are subjected to the equivalent of 130 years of daily family use during lab testing.
Art
It's as simple as this: each Heritage piece is its own work of art. This is not simply style without substance; art is made with care. Each product that we create is made to form part of the most stunning, best quality bathroom that you and our designers can envisage.
Discover distinctively individual style that is made to last with Heritage Bathrooms. For more about our products, request a brochure – or to see Heritage quality in person, visit one of our showrooms.