A freestanding bath is a perfect way of making a style statement in your bathroom. Not only will it give you the luxury of a spa-like experience in your own home, but it will enhance your chosen interior design by either blending into the bathroom style you've selected or standing out as a statement piece.
Available in a multitude of designs, materials and finishes there is a freestanding bath to suit every need and design taste. This can be a little overwhelming so it's important to take a step back, think about your requirements and carefully examine the options available to you.
Consider your bathroom space: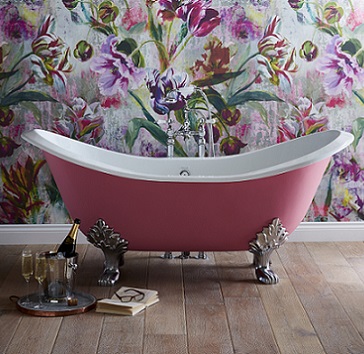 Devon Cast Iron Freestanding bath
First, examine the shape and size of your bathroom. Those with smaller bathrooms are often inclined to immediately rule out a freestanding bath due to the space they take up, but this needn't be the case. Instead, look for a small freestanding bath such as the Baby Buckingham or the Baby Oban. These are baby versions of traditional designs, allowing customers to save on floor space without compromising on style.
Bigger spaces call for a grand focal point and there are plenty of larger designs to fit this requirement. The Grand Buckingham and the Devon are both 1800mm freestanding baths, offering a deep and luxurious soak. If space isn't an obstacle you can also consider a double ended freestanding bath which can comfortably fit two people.
Double-ended vs single-ended freestanding baths:
Polperro Freestanding bath
It's also worth considering that double-ended and single-ended baths offer very different bathing experiences. Single-ended freestanding baths such as the Tilbury, or even freestanding slipper baths such as Polperro, offer a more space-efficient solution and can be a stylish yet practical choice if you'll be looking to pair your freestanding bath with a shower.
If you're looking for more versatility and have the space required, opting for a double-ended bath can be an excellent choice.
Products such as the Madeira cast iron bath or the Orford and Merrivale acrylic baths have the taps positioned in the centre, allowing you to face in both directions with enhanced space and maximum comfort.
Your sense of interior design style: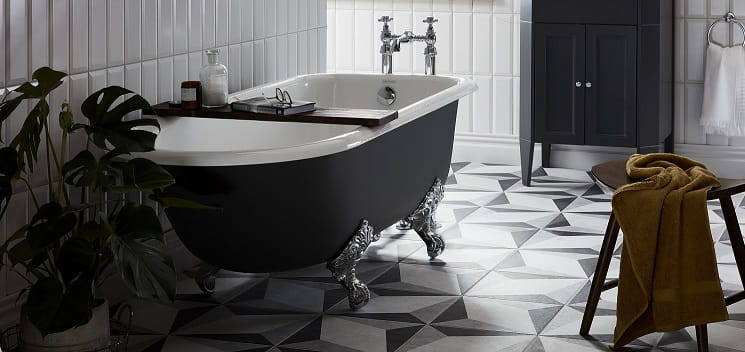 Essex Cast Iron Freestanding bath
Next, consider the overall look that you want to create for your bathroom. A traditional freestanding bath can help to add a classic, period feel to a space. For a heritage inspired style consider cast iron, roll top designs with period claw bath feet such as the Hampshire, the Porto Santo and Essex cast iron freestanding baths.
A cast iron freestanding bath adds an extra touch of traditional authenticity and has the benefit of arriving primed and ready to be painted in a colour of your choice. But remember, you'll need to check whether your floor can bear the heavier weight of a cast iron bath or will need reinforcing first.
For a more modern freestanding bath at a lighter weight, consider a statement acrylic freestanding bath. These designs come in a range of on-trend colours and shapes. For a bold look opt for a metallic effect bath in either stainless steel, gold or copper effect finishes. The Hylton and Lyddington acrylic baths are both double-ended, while the single ended Holywell offers the epitome of luxury style.
For a high-end monochrome look consider either the Osterley or the Wenlock acrylic bath. Both options share Heritage's ever-popular double ended shape and boast elegant finishes. The Wenlock is available in luxurious marble white, with the Osterley coming in an on-trend matt black finish.
To find out more about the different styles of freestanding bath available click here, or for more guidance on which bath might be right for you take our style quiz.