When choosing your dream freestanding bath there are many factors to consider including style, price, installation and durability - and with so many options out there it can make for a daunting decision.
At Heritage Bathrooms, we pride ourselves on combining stunning design with unbeatable quality, and one thing that our acrylic and cast iron freestanding baths have in common is that they both come with a lifetime guarantee for your complete peace of mind.
Here, we'll explore the advantages and disadvantages of both acrylic and cast iron freestanding baths, to help you decide which option is best for your bathroom.
STYLE
Cast iron freestanding baths are elegant and timeless
If you're a fan of traditional bathroom design, a cast iron freestanding bath could be the perfect option for you.
Our signature cast iron baths offer endless possibilities for making your bathroom your own. Whether you're looking for a totally immersive double ended freestanding bath or an elegant freestanding slipper bath, you'll find it at Heritage Bathrooms.
What's more, Heritage cast iron baths are designed to be customised - with a paintable exterior giving you the freedom to create a look that's uniquely yours. Each of our cast iron baths come sanded and primed in a dark grey undercoat ready for you to paint.
Even if you update your bathroom further down the line, the timeless design of these baths means they'll never go out of style and they can also easily be repainted to transform your bathroom look whenever you want.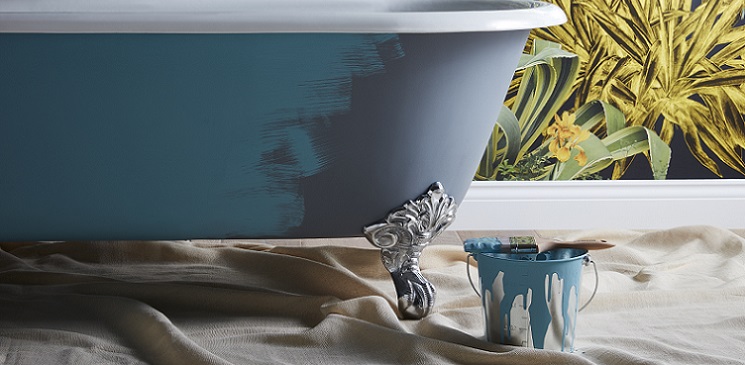 Buckingham Cast Iron Freestanding Bath
Choose acrylic for a modern freestanding bath
Prefer a more modern look? Acrylic baths come in a range of styles that offer something for minimalists and maximalists alike.
Our classic acrylic freestanding baths come in ten luxurious styles in white, designed to suit all types of bathroom - whether you're looking for a space-saving solution like the compact Baby Oban or Tilbury corner bath or something a little more indulgent.
Or if you really want to make a splash, why not opt for one of our six statement finishes. Our unique copper freestanding baths are individually finished with real metallic leaf and coated with a high gloss acrylic surface and our brand new on-trend Osterley black freestanding bath is perfect for making a style statement.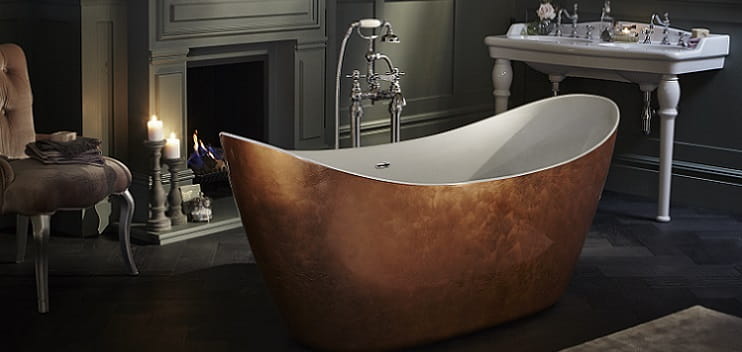 Hylton Copper Effect Acrylic Freestanding Bath
COST
Cast iron baths are an investment piece
While cast iron baths are generally more expensive than acrylic baths, they can be an investment for life and often last for many generations.
Our cast iron freestanding baths range in price from £1,200 for our Essex single ended freestanding bath to £4,200 for our Madeira double ended freestanding bath.
Acrylic is more affordable
If cost is a key factor when choosing your freestanding bath, our range includes slightly more affordable options like our Baby Oban small freestanding bath at £645, with statement large freestanding baths such as our Alderley Mock Croc Skin effect bath retailing at £2,495.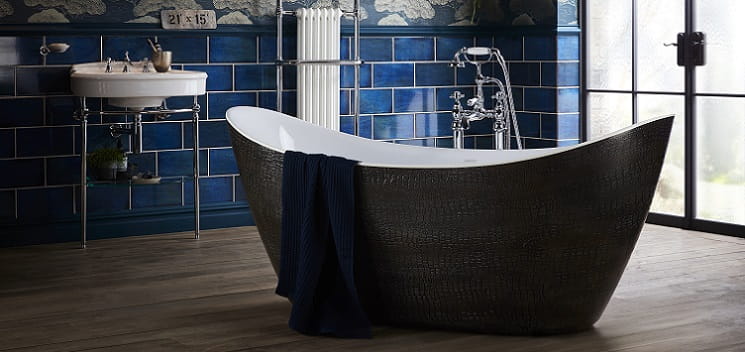 Alderley Leather Effect Acrylic Freestanding Bath
INSTALLATION
A cast iron freestanding bath is durable and heavy
Cast iron baths are extremely heavy and this can make installation tricky. In some cases you may need to reinforce your floors, so make sure you check the specifications carefully first.
Acrylic freestanding baths are easy to install
The combination of strong, rigid construction with a light-touch finish means our freestanding acrylic baths are tough as nails, but easy to manoeuvre – with no floor reinforcement required!
In comparison to cast iron baths, our range of acrylic baths are relatively lightweight and easy to transport.
DURABILITY & FINISH
Our cast iron baths are crafted to the highest standard
As the UK's market leader for cast iron freestanding baths, all of the options in our range are crafted for superior quality.
Engineered to the highest standard, we ensure our elegant cast iron baths have a smooth and ripple free finish by applying two layers of grade AA white ripple enamel for exceptional durability and stain resistance, ensuring your bath retains its gorgeous lustre.
Extremely strong and durable and nearly impossible to scratch or dent, a cast iron bath is the definition of an investment piece and will look fabulous for many years to come.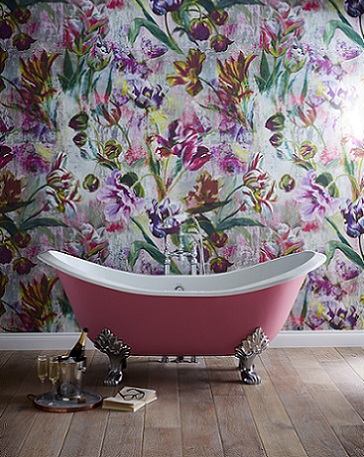 Devon Cast Iron Freestanding Bath
Choose an acrylic freestanding bath for a polished, contemporary finish
All our classic acrylic baths are smooth as silk, with a wonderfully glossy finish that you'll never get tired of running your hands over.
Although not quite as durable as a cast iron bath, our acrylic baths are strengthened with glass reinforced plastic that makes them exceptionally rigid.
Acrylic baths are more prone to staining than cast iron baths so don't forget to rinse yours after every use.
Tilbury Acrylic Freestanding Corner Bath
TEMPERATURE
Cast iron baths retain heat for longer
Perfect for those who love a long soak, cast iron freestanding baths retain heat extremely well and cool down slowly.
This does mean they're slower to heat up than acrylic baths, but once they have they'll keep your water warmer for an extended period of time.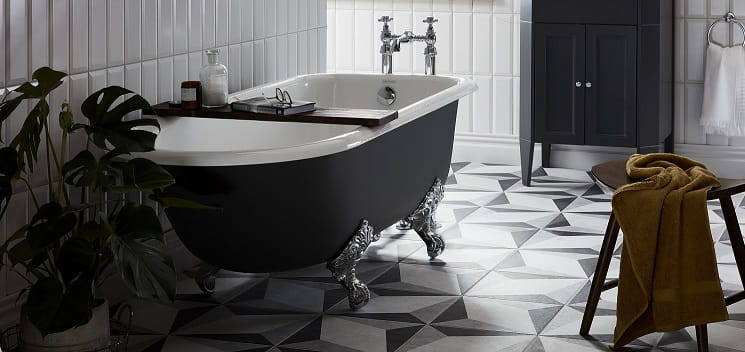 Essex Cast Iron Freestanding Bath
Acrylic baths heat up faster
In contrast to cast iron baths, acrylic freestanding baths are warm to the touch and therefore heat up quicker.
This makes them perfect for children or elderly people who might be more sensitive to the cold, and means you'll never have to worry about touching the sides when you hop into your acrylic bath in the winter.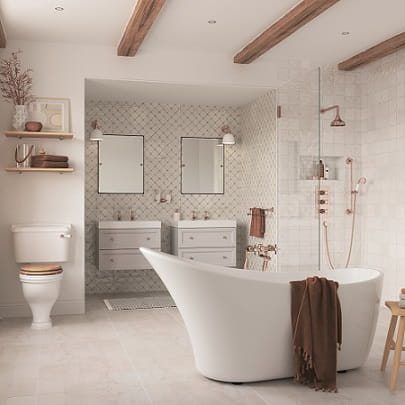 Polperro Acrylic Freestanding Bath
IN SUMMARY
HERITAGE CAST IRON FREESTANDING BATHS
• Timeless and traditional
• Paintable exterior
• Extremely strong and durable
• Excellent heat retention
• Lifetime guarantee
HERITAGE ACRYLIC FREESTANDING BATHS
• Modern and stylish
• Simple and statement options
• Lightweight and no need for floor reinforcement
• Warm to the touch
• Lifetime guarantee
Whether you opt for cast iron or acrylic, you'll find a stunning range of freestanding baths at Heritage Bathrooms. View our full range here.