Our guide to painting a Cast Iron Bath
Whether you have a brand new cast iron bath or you are looking at a reclaimed piece from an existing bathroom, our guide to painting a cast iron bath is here to help you get the perfect result.
We'd recommend investing in a new cast iron bath as they can potentially last you a lifetime, which is why ours feature a Lifetime Guarantee, but if you are looking at an older option here's a step by step to getting a good result:
Painting older cast iron baths:
As with many décor projects, the result you get can largely depend on the preparation work done upfront. Before you start, make sure you have these essential items for the job:
- Rubber gloves
- A proprietary rust remover
- Cleaning cloths and disposable rags
- White spirit
- A selection of sandpaper in rough to fine grades
- Paint brushes
- Metal primer
- Undercoat
- Your top coat paint
1. On an older bath that has seen some use, it is essential to remove any rust. You can purchase a proprietary rust remover for this first task, but make sure you remove all traces of rust and follow the instructions carefully.
2. You will need to prepare the bath for painting by sanding it down with emery paper to create a smooth surface.
3. Next, you'll also need to thoroughly clean and degrease the surface with white spirit. Make sure you allow this to dry before you begin painting.
4. Now it's time to prime the bath. We recommend an oil based metal primer, but there are alternative quick drying primers available if you are short on time.
5. Once the primer is completely dry, you can apply the undercoat, again we would recommend an oil based one. If you are looking for a super smooth finish, you may also consider using a very soft brush for this task to minimise streaks.
6. When the undercoat is dry, you may want to give it a very light sanding with some fine sandpaper, again this will give you a smooth finish but is optional. You can then apply the top coat.
Painting new cast iron baths:
However, if you've invested in a bath from us, we've taken some of the hard work out for you. In fact, you can skip right to step 6 as your new cast iron bath will arrive pre-primed and ready to paint so you can apply your chosen colour straight away.
Whatever shade you chose, we recommend an acrylic, polyurethane or epoxy-based paint for added durability.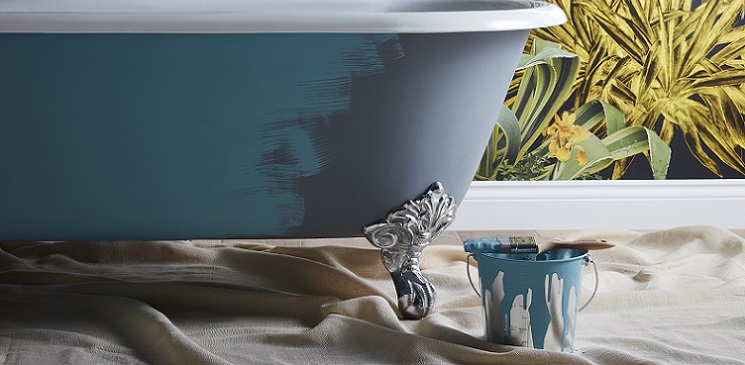 There are some fabulous colours out there, and if you need some inspiration to select your dream shade you can order a copy of our latest Trends and Inspiration brochure here.
And don't be afraid to be bold with your choice as, if you change your mind, the beauty of a cast iron bath is you can just repaint it in another shade. Alternatively, get creative and apply an ombre effect, some stylish stencilling or for, the more artistic among you, there is always the option to hand draw a design on them.
Ready to consider investing in a brand new cast iron bath? Order our brochure featuring all the baths in our extensive collection here.