If you're thinking of making your shower the key design feature in your new bathroom then look no further that Heritage Bathrooms for style inspiration teamed with practicality, functionality and a host of other benefits.
Style choices:
Not only do all of our tap ranges have a number of correspondingly styled shower options, we pride ourselves on offering a wide variety of designs to choose from. Designs including big, bold exposed valves with rigid risers like Avenbury; styles with simple clean lines in a choice of finishes such as Hemsby; or even truly unique pieces for a 'wow' inducing effect, as with our gorgeous Art Deco inspired recessed options on Gracechurch shown below.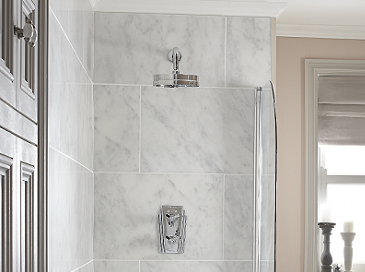 Functionality and usability:
Our luxury shower fittings also feature different types of functionality. You can consider the type of handle style you might want; either select a more solid crosshead handle like the fabulously bulbous Hartlebury, or an easy to operate lever such as Glastonbury, which is also available in an on trend Midnight Blue for a more modern take on a traditional shower. You can also consider what aspect of the shower your handle style operates, which can also be termed more technically as a single or dual control.
Single control showers have just one handle to operate the temperature and the water flow. This type of shower is an option in our Glastonbury and Ryde ranges. Dual control showers have more than one handle to adjust the temperature and the amount of water coming from the outlet (a head or handset) separately.
You may notice that some shower controls have three handles; this additional handles is normally present on showers with more than one outlet, (showers that feature a shower head and a handset) and allows the user to choose which one they want. Multiple outlet showers offer an extra touch of luxury and have real impact within the showering space; they are also quite practical as the handset can be ideal for quicker showers or even cleaning the enclosure. Find these options in our Dawlish (shown below), Hemsby, Lymington Lace and Somersby showering ranges.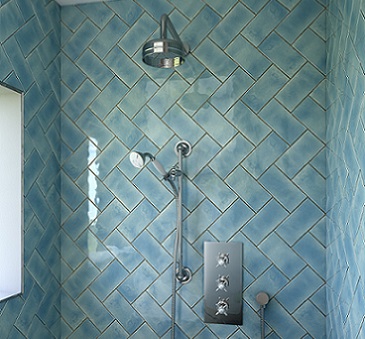 Temperature control:
If you want a stunning shower that maintains your perfect showering temperature then the easy answer is to select a thermostatic option. Thermostatic showers balance the water supplies, so if there is a draw on the hot water it can reduce the amount of cold and vice versa. All of our showers include thermostatic technology and are pre-set between 42-53 degrees, which your installer can easily adjust for you on request.
Water systems and water pressure:
As you would expect from a high quality bathroom brand, all of our Heritage Bathrooms showers are designed and engineered to ensure they are optimised for UK water systems. This means that whichever style you choose, the shower can work effectively even at low pressure, making them suitable for all water systems.
Quality:
All of our luxury showers are rigorously tested, including endurance testing which is the equivalent to putting them through the equivalent of 130 years of daily use based on a family of four showering every day. That's why we're confident you'll be enjoying your shower for years to come, but if you do have an issue you can relax knowing you shower is covered by our robust 5 year parts guarantee.
For our entire curated range of superbly stylish showers with a host of practical features order or download our brochure, or for more guidance on choosing the right shower for you read our showers product guide.