The ideal space to get invigorated for the day ahead, your en-suite sanctuary is more likely to have an enclosure housing a shower you will probably use daily. So how can you make sure that you pick the perfect one? Follow our tips below to ensure you have the perfect en-suite shower that is right for you and your room:
Types of shower control:
There are a number of shower types to choose from and it can be a little daunting but the main options are:
Electric showers – Electric showers are not always the most stylish option, but they are practical and often the 'go to' choice for households where hot water created by the boiler is limited as, unlike mixer and power showers, they heat their own water as it enters the unit.
Power showers – Power showers, like electric showers, can suffer from being a little behind the times when it comes to stylish design and are sometimes a bit bulky for some spaces, especially smaller shower enclosures.
A power shower combines water from the hot and cold water supplies, (in the same way a mixer shower does) but to get the most out of a power shower you are also going to have to invest in a pump. A pump can certainly be a benefit if you have particularly poor water pressure but a power shower can prove to be a more expensive option because it necessitates this additional purchase and normally also increases the installation costs.
Recessed mixer showers – these are showers that fit mostly within your wall with only the controls or handles on the outside. These showers can work well in a smaller showering space as the protrude less and can offer a cleaner, sleeker look – there's also less on show to keep clean if this is an important factor in your shower selection.
It is also important to check your walls can accommodate a recessed shower valve before a purchase though and this is something your installer can help you understand. But if you've got your heart set on a recessed vale then it's handy to know that all of our Heritage Bathrooms recessed showers are designed to fit wall cavities as small as 35mm.
Exposed mixer showers – these are showers where the main part of the shower control, also referred to as the shower valve, sits on top of the wall; because of this they're generally easier to install and maintain. For example if you live in a hard water area you may find you have to replace the cartridge from time to time, which will be more straightforward on this type of shower.
These showers can make a real style statement as they show more chrome and can be a design feature in themselves, especially when teamed with statement tilling as shown on our Avenbury below.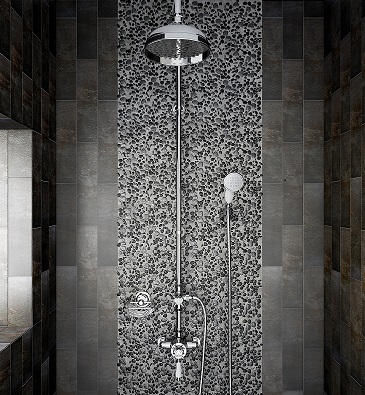 But for a smaller exposed option then consider Ryde; these mini valves are smaller than other options and offer the added benefit of adjustable centres (between 110 – 155mm) for easier installation.
Functionality:
You may also need to consider how the shower is operated, often referred to as single or dual control. Single control showers have one control or handle to operate both the temperature and the amount of water coming out of the shower, where as a dual control has more than one handle to adjust these separately.
It can also be useful to think about the shape of these handles ahead of time. If you want to unobtrusively future proof your shower, why not opt for a lever handle that still looks stylish but is easier to use for anyone with less flexibility in their hands. Design led lever controlled options are part of our Glastonbury, Lymington Lace (shown below), and Somersby luxury shower ranges.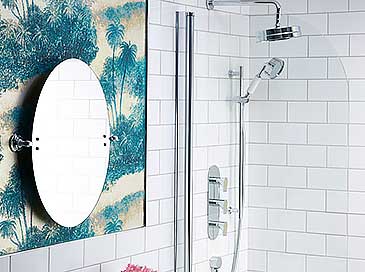 Other aspects of the shower:
Although the shower control plays a significant part in how effective the shower is, it's often the outlet that most people think of as the 'shower'. The outlet is normally the shower head on a rigid riser or shower arm, or the handset, and on some showers you can have one of each.
Temperature:
If you've ever experienced a sudden blast of uncomfortably hot water or the unpleasant sensation of the temperature dramatically dropping during your shower, then you may have been using a manual shower. These are effected by any other draw on the water system within the household, which is not only irritating and impractical, it can also be dangerous if the water gets too hot and potentially causing scalding.
An easy way to make sure you get a more regulated showering temperature is to opt for a thermostatic shower. Thermostatic showers control the other water supply, depending on whether it's a temperature increase or decrease, to maintain a safe temperature. Thermostatic showers are normally set between 42-53 degrees and your installer can adjust this for you.
And, as you'd expect from a quality bathroom brand, all of the showers in the Heritage Bathrooms range are thermostatic, so you can rest assured you are selecting a safer, practical option.
Water pressure:
As already mentioned, you can choose to install a pump but in most instances, you should not need to, especially if you are investing in a shower that has been designed and engineered specifically for UK water systems – and we're proud that all of the showers from Heritage Bathrooms have been.
What this means in practical terms is that our shower valves have been designed and tested to minimise any water flow restriction so they can work effectively even at low pressure, which also makes them suitable for all water systems.
Optional extras:
If you want to keep your shower tray clear and need a little extra storage in you shower enclosure, invest in one of our handy shower baskets or tidies.
For our full selection of stylish showers order or download our brochure, or for more guidance on choosing a shower read our showers product guide.