You might not think traditional bathroom ideas are for you, but vintage bathrooms are making a big comeback, especially when twinned with a more contemporary twist. So here are our 7 modern style spins to inspire you to do something new with a period bathroom space:
1. Go wild with colour on a cast iron roll top bath – think your cast iron bath needs to be a sombre sage or dreary grey - then think again! Chose a brighter on trend shade to make the most of a timeless item; you can also find all the advice you need in our guide to painting a cast iron bath.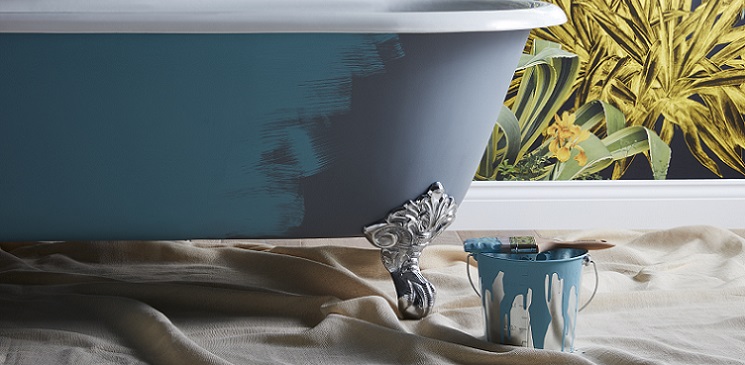 2. Paint bath feet – if the feet on your cast iron bath are not a polished finish such as chrome or gold, you may have feet that are paintable either in a contrasting colour to the bath, or in the same colour to give you an even bolder block of contemporary colour.
3. Paint a heated towel rail – staying on the theme of painting, adding a splash of colour to a heated towel rail is another easy way to create a design feature with something that's already in place. It's something we did on our Baby Clifton to create a kitsch look.
4. Choose an on trend finish – Rose Gold has been around for a little while now but on taps and showers it truly shines, bringing light to dark spaces and warmth to more clinical white bathrooms.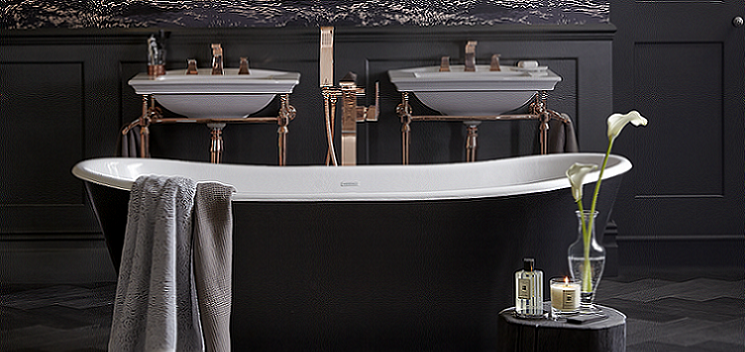 5. Add a Metallic Effect Acrylic bath – if you're only looking to replace a limited amount of items in your bathroom then consider a luxury freestanding bath in the latest finish. A Metallic Effect Acrylic Bath will bring a stylish shimmer to your space and create a fabulous design feature that lifts a period bathroom in ne easy step.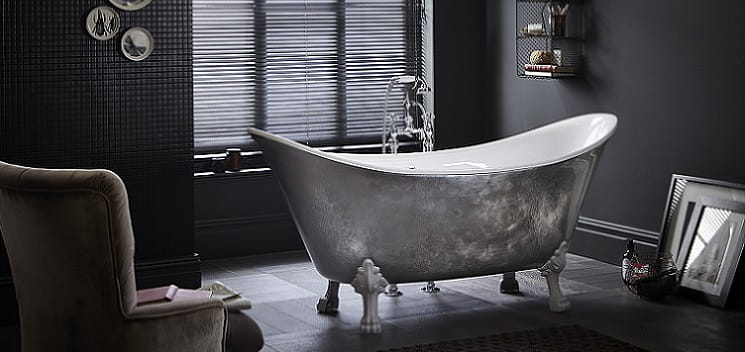 6. Consider an Art Deco twist on a more contemporary vanity space – if you're dreaming of a gorgeous vanity area around your bathroom sink then go bold with an oversized 800mm Wynwood basin, Abingdon washstand and optional glass shelf.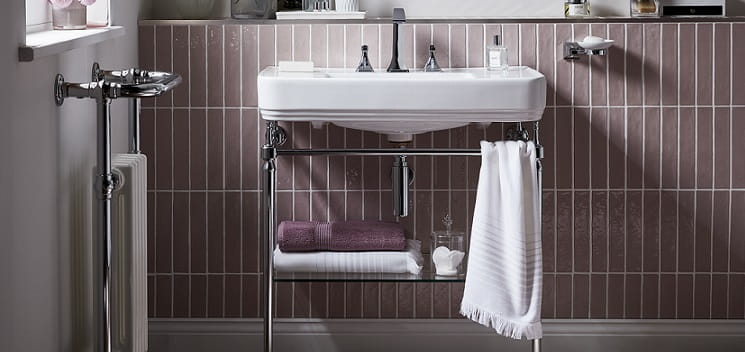 7. Add ombre – there is no more straightforward way to make you bathroom more pf the moment than by adding an ombre effect. Used on a wall with tiles it instantly creates a design feature, or you could even try it with paint on a cast iron bath. If you do share it will us on our Facebook, Twitter, Instagram and Pinterest profiles, we'd love to see your handiwork!
Still looking for more bathroom style inspiration? Order or download our Trends & Inspiration brochure for the very latest looks.