Create a bathroom mood board to combine modern and traditional style
When it comes to exquisite design, there are some things that simply never go out of style. From Victorian to vintage-inspired interiors, classic styling can elevate your bathroom to create a space that embodies the inimitable luxury of bygone years.
Whether you plan to create a period bathroom that reflects and retains the charm of an older property, or you would love to add elements of the traditional to transform a more contemporary space, elements of classic design can work for any bathroom.
However, it can be a challenge to create a beautiful bathroom that echoes the timeless appeal of the traditional, yet still has a sense of fresh and contemporary style. That's why, at Heritage Bathrooms, we focus on creating stunning pieces that take the best features of traditional style, and make them with modern living and practicality in mind. From updating traditional bathroom ideas with a contemporary twist to learning more about making classic styling work for your space, our design experts are on hand to help you choose the perfect vintage bathroom pieces that look exquisite but still feel up-to-date.
Here are some stunning traditional bathroom ideas to help you curate the perfect bathroom space.
How to create a classic bathroom mood board:
Before embarking on your traditional bathroom journey, it's important to spend some time thinking about the look you would like to achieve.
A real benefit of traditional style is that it is possible to pick and choose design elements that you like and that you feel would complement your space. When thinking about traditional bathroom ideas, there are no strict rules but it is important to carefully consider:
Your colour palette
A wonderful way of updating classic styling is by choosing a contemporary colour palette. Whether you love the soft elegance of pastels (dove greys and dusty pinks are particularly on-trend) or the bold sumptuousness of richer colours (deep purples and striking teals, for example), defining your colour palette is a key starting point.
Your traditional design preference
Each period in history has its own unique design hallmarks, so it's important to choose which period style you're most inspired by. Do you prefer the opulent detailing of Victorian interiors or the effortless symmetry of Georgian design? Are you enthused by simpler Art Deco or do you love the grandeur of the English Baroque movement? Again, there are no right or wrong answers. But thinking about your personal style will help you to create a cohesive space.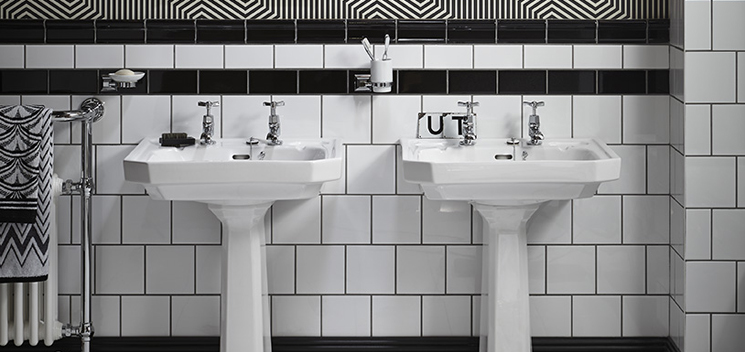 The space available
Practically, the space you have available in your bathroom will impact on your overall design choices. It is a good idea to consider whether you are updating a cloakroom, en-suite or family bathroom, but also your ceiling height and how much natural light the room has.
If you are looking for more inspiration, we have plenty of classic bathroom ideas and planning tips for period bathrooms available.
Traditional bathroom suite ideas
Your bathroom suite will form the basis of your overall classic aesthetic. After all, your suite will be the focal point of your space. There are plenty of traditional options available, so it will be important to choose your look carefully.
The graceful Dorchester collection
If you are looking for a traditional bathroom suite that exudes luxury and sophistication, look no further than our Dorchester Collection. Defined by graceful lines and subtle glamour, these bathroom suites look particularly exquisite in period properties and opulent country spaces. With stepped edge detailing and understated appeal, this suite is the ideal choice for a traditional-style bathroom.
For an even more striking statement, choose a freestanding bath (like our Buckingham Cast Iron Roll Top Bath or Hampshire Slipper Bath) to complete your period bathroom design.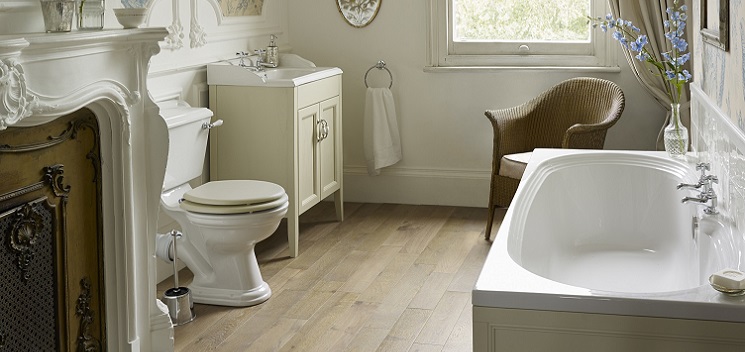 Art-Deco Wynwood bathroom
Modern spaces need not compromise on period styling either. In fact, the sleek Art Deco-inspired Wynwood Collection is the ideal choice for a contemporary twist on traditional bathroom design. Reminiscent of Miami's art and fashion district in the elegant 1930s, this bathroom suite offers sleek, linear detailing coupled with classic beauty. Our Abingdon Washstand within the Wynwood Collection is particularly exquisite, effortlessly merging the traditional with hints of contemporary elegance.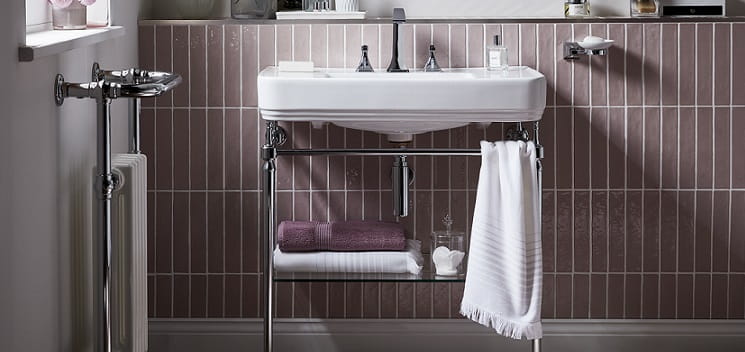 Traditional bathroom furniture
Whichever collection you choose, it is important not to forget your bathroom furniture. From vanities to cabinets, the furniture should always complement your chosen suite. For a cutting-edge twist on classic design, consider our Graphite collection, which merges traditional elements with a statement-making finish. Alternatively, our Oyster finish selection of traditional bathroom furniture makes a beautiful accompaniment to our classic bathroom suites.
Period bathroom fixtures and fittings
Alongside choosing the perfect traditional bathroom suite, your fixtures and fittings will have an important part to play in creating a classic aesthetic. From taps and showers to radiators and accessories, those final touches can create a beautiful style statement.
In keeping with a traditional theme, you may wish to choose fittings that echo the classic styling of your suite. Pillar taps, like our Glastonbury or Dawlish range, are beautifully vintage-inspired. Equally, the opulent design of the Hartlebury Shower Mixer would look exquisite when fitted in a freestanding bath.
If you choose more traditional bathroom fixtures such as these, look for accessories that complement this period detailing. For example, our Clifton Heated Towel Rail exudes classic elegance and would create a real sense of cohesion in your period-inspired space.
Modern fixtures with traditional style
If you would like to create a unique style in your bathroom, you may wish to choose fixtures and fittings that contrast with the traditional elements of your room. Choosing modern designs for the final touches of your bathroom can be a wonderful way of adding an up-to-date contemporary feel to your space, ensuring that your aesthetic remains fresh. Look for fixtures and fittings that are defined by clean lines, like our Hemsby taps or the Hemsby Shower, and consider choosing an on-trend finish like rose gold (shown below).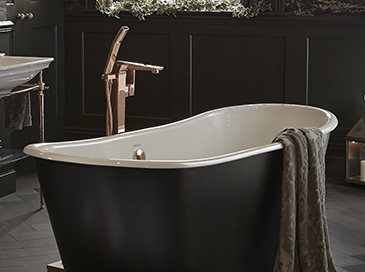 Creating your traditional bathroom with us
Here at Heritage Bathrooms, we believe in creating beautifully designed spaces that are Distinctively Individual. Whatever your style preference, we are here to help you create your perfect classic-inspired bathroom.
If you need more vintage bathroom ideas you will find plenty of advice and information on our website. Our brochure also has all our beautiful products in one place if you would like to find out more about the traditional-inspired items we have available.
If you're ready to create a timeless traditional bathroom with an exquisite contemporary twist, find your nearest showroom and visit us today.