Creating a timeless bathroom
When you buy a new bathroom and put time and effort into shaping and designing your perfect space, it's important that whatever look you choose has the quality and style to stand up to the test of time. After all, you want to feel happy in your beautiful new bathroom for years to come - with the tranquility and peace of mind that great craftsmanship and timeless bathroom design give you. You want to know that you'll be in love with your gorgeous new bathroom for a long time. One way to achieve this is to choose classic bathroom design as your inspiration, with unique touches that blur the lines between modern and traditional, so your bathroom will never go out of fashion. Let us take you through some of our favourite ways to create a beautiful, timeless bathroom, piece by piece.
Colours that don't go out of style
If the idea behind a timeless bathroom is to create something that never goes out of style, choosing a neutral or more traditional colour palette is often a good route to take. Clean, simple and bright, white bathrooms are popular for a reason; this light colour creates clean lines, and makes spaces feel more expansive. Classic bathroom design colours like light tones such as beige or cream, contrasted with traditional darker colours like navy, can also be fantastic choices when you're trying to decorate a space in a way that won't go out of fashion. Neutral colours also tend to combine well with most other colours, creating the perfect timeless base for so many design options.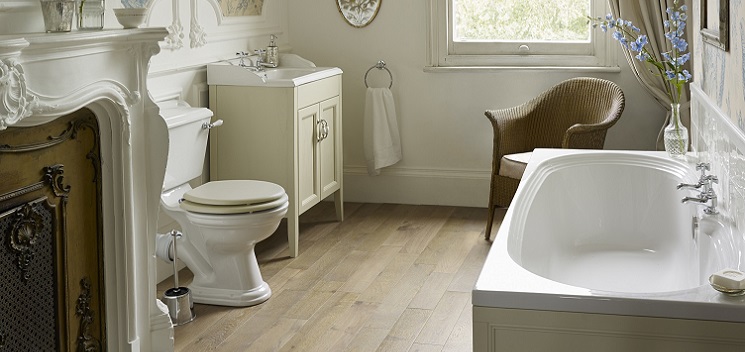 Creating a timeless bathroom through touches of classic design
You can lean towards a more classic bathroom design aesthetic through careful curation and styling of your space, selecting classic bathroom design features that bring exquisite quality and a sense of traditionality to the fore. At Heritage, many of our ranges focus on this type of traditional, classic look. Whether it's bathroom furniture, bathroom suites, or finishing touches for your bathroom, we have a selection of beautiful classic options.
When it comes to traditional fixtures, we have lots of stylish choices to make your bathroom effortlessly timeless. The selection of traditional fixtures that we offer for showers and basins lends a touch of classic luxury and quality to any bathroom. Our Glastonbury range of showers is a beautiful example – available in either a chrome or vintage gold finish, its timeless design calls to mind the traditional finish and smooth lines of classic bathroom décor. Attention to detail with classic fixtures like the beautifully square, solid design of our Gracechurch Basin Pillar Taps helps to ensure a bathroom look with real longevity.
Centrepiece statement baths are another great way to create a timeless bathroom, as a stylish focal point capable of pulling together all the different design elements of a space. Roll-top cast iron baths like our Devon Cast Iron Double Ended Bath are some of our defining pieces. With amazing style and durability, and sold with a lifetime guarantee, Heritage cast iron baths are timeless not solely in a stylistic sense; each piece is truly made to last. Find out more about our commitment to quality here.
Blurring the lines between modern and traditional
Infinite timeless bathroom ideas can be as simple as making a simple, classic base and customising this with your own unique, more of-the-moment touches. Blend modern into the traditional by adding modern touches and a little personal flair to make a classic bathroom look your own. Just because you're going for a timeless look doesn't mean it can't be fun, too!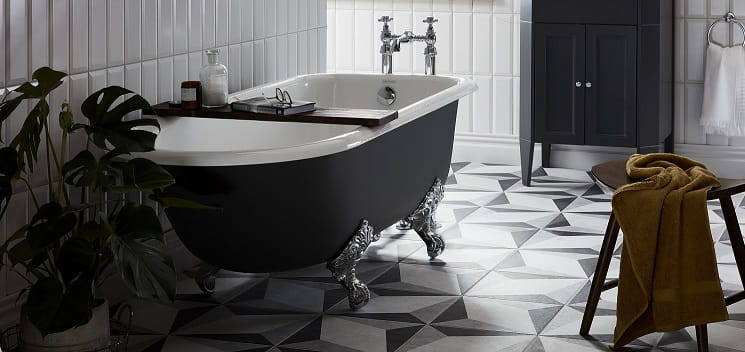 To make sure your bathroom never goes out of style, consider the simple, classic look for the more permanent features of your bathroom (such as tiling, suite and furniture); and take the chance to express the bolder aspects of your personality with more 'impermanent' features like accessories. This way, you can change your look as often as you want – and imbue classic bathroom design with a touch of trendiness! If you want to add a temporary pop of colour to make your design a little bolder, our cast iron baths are completely colour-customisable just by adding a layer of paint. All of our freestanding cast iron baths will come to you hand finished, sanded down and pre-primed with an undercoat already applied – just choose whatever colour you like, and add a splash of elegant colour to your traditional bathroom design.
For classic bathroom design pieces and a gorgeous traditional aesthetic, you need look no further than Heritage Bathrooms. For more ideas, and to see more beautiful traditional-style pieces, take a look at our full range of products, or request a brochure. If you want more inspiration to create your perfect bathroom, we recommend our stunning trends brochure, with a variety of design ideas curated by interior designer Ali Munro.