Vintage Bathroom Ideas
The best vintage-inspired bathrooms combine contemporary design with a drop of period style. Embracing a vintage design isn't about perfectly recreating an old-fashioned interior; instead, beautiful vintage-style bathrooms are timeless and modern, taking the best features from a period style and seamlessly marrying them with modern features.
Designing a vintage bathroom is about cherry-picking the features that you love, such as high-level cisterns and tiled floors, and combining them with luxurious modern touches such as heated towel rails, beautiful lighting, and a high-quality shower. We've put together some ideas to help you design your own period bathroom – without compromising on contemporary luxury.
Victorian-period elegance
Embracing iconic touches of Victorian elegance is one of our favourite vintage bathroom ideas. To add a touch of Victorian-period finery to your contemporary bathroom, look for ornate silhouettes and neutral wall colours. To bring the look completely up to date choose something that 'pops' against this background, such as a freestanding cast iron bath painted royal blue. Detail is everything; instead of opting for modern-look taps, choose traditional pillar taps, which are both traditional yet timeless.
A gorgeous freestanding cast iron or acrylic slipper bath would look perfect as part of this vintage bathroom design. If you opt for a fitted bath instead, consider installing a glass shower screen, as this will add a contemporary touch without distracting from the overall design of your bathroom. Our fitted Tilbury bath has the look of a traditional freestanding bath with the practicality of corner installation – and it pairs beautifully with our Launceston shower screen. Choose wooden fitted bath panels that coordinate with the rest of your bathroom furniture, and if your bathroom is large, consider choosing a darker colour to add depth and sophistication. High-level cisterns, such as the Dorchester high level cistern, bring height to a bathroom whilst adding a unique flare of period design. If you're completely revamping your suite, the Victoria collection by Heritage is a perfect place to start; taking the Royal Albert Hall as our starting point, we've designed this stunning suite to echo the distinctive lines of the building's 1870s aesthetic.
Tip: Choose a gorgeous mirror frame such as Archway to both open up the room and add a touch of Victorian opulence.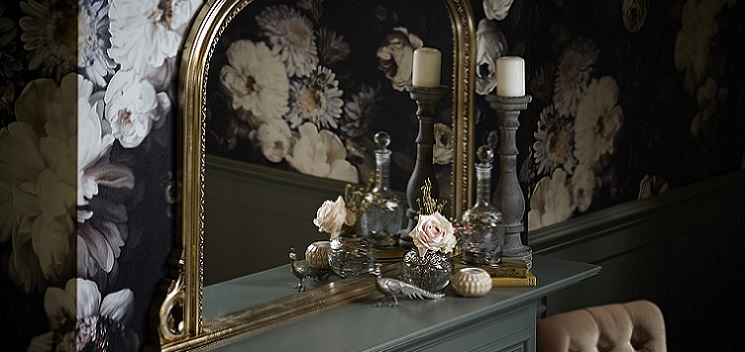 The Archway mirror adds glamour and opulence to any space.
Georgian-inspired simplicity
Georgian vintage bathroom design is all about light colours, simplicity, and understated elegance. Think country houses, console sinks, and roll-top baths, and you're nearly there. This look is a brilliant excuse to add a statement wall, such as a classical floral or striped wallpaper, for a look that combines traditional design with a modern statement. Or go bold with black-and-white tiles on the floor, reminiscent of manor houses of the Georgian period, and – if you have an eye for sculpture – look for decorations such as white busts or statuettes to draw the eye.
Georgian-inspired vintage bathrooms are the perfect way to add period chic without missing out on contemporary luxury and design. The Claverton basin is a perfect way to add a touch of Georgian style to a contemporary bathroom, whilst remaining modern and on-trend. If you want to add a touch of Georgian-period glamour to your bathroom without wholly embracing vintage design.
Tip: Keep your period bathroom suite at the cutting edge of interior design with an acrylic freestanding bath in a metallic colour. Choose silver to match a bathroom with cool tones, copper as a nod to one of the more luxurious contemporary bathroom trends, or gold to add warmth.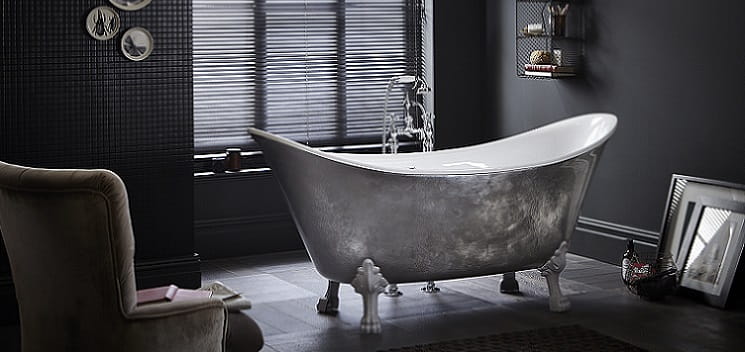 The Lyddington metallic effect acrylic bath in Steel (also available in Copper and Gold finishes).
Modern vintage
Vintage bathroom décor doesn't have to be based on a period long over; modern vintage designs take inspiration from more recent period trends, combining the distinctive aesthetic of a certain decade with contemporary style. When you're looking for inspiration, keep an eye out for modern period buildings and their interiors. Vintage features such as grill radiators, which can be painted any colour you choose, are the perfect way to add a timeless look to your bathroom that's anything but old-fashioned.
The Heritage Dorchester collection takes inspiration from the vintage style and sophistication of the famous Dorchester hotel in London, a stunning building with a sense of prestigious glamour. The Dorchester collection is a perfect component to create the country house look, with shapely suites that evoke a delightfully vintage feel.
Looking for more inspiration? The Wynwood collection, designed to reflect the aesthetic of Miami's art and fashion district with a particular focus on the Tides Hotel, which oozes American 1920s style. The look is a perfect example of using modern vintage style to create a timeless, contemporary bathroom. For a cool, contemporary period style that's even closer to home, take a look at the Serenity bathroom design created by interior designer Ali Munro. It combines the style of 1920s French swimming pools and cool pastel colours with beautiful contemporary design to create a wonderful oasis.
Tip: Art deco is a style that perfectly combines contemporary chic with stunning period features; read our guide to styling an art deco-inspired bathroom for more ideas.
If your heart is set on creating a vintage bathroom with a cool, contemporary edge, find your nearest Heritage showroom and discover our range of distinctively timeless suites. Alternatively, order a brochure today and discover a world of inspiration for your new period bathroom.