Ode to the Statement Bath
Statement baths, how do we love thee? Let us count the ways. If you're looking for a bold style piece that is capable of elevating any bathroom and being a show-stopping focal point to your design, you need look no further than a statement bath. Heritage offers a wide range of beautiful statement baths guaranteed to be the perfect centrepiece to any bathroom, from metallic effect freestanding baths, to elegant fitted baths and bold cast iron baths. We firmly believe that a statement bath can make a statement bathroom. Read on to find out more about the stunning statement bath designs that you can find at Heritage.
Freestanding statement baths
If you have the room, a freestanding bath is a bold bathroom idea that brings real drama and originality to any bathroom space. Freestanding baths are the original statement baths, a luxury proposition that provides the ideal focal point for any bathroom design. Created to stand alone, a freestanding bath is not made to be hidden away – it unashamedly brings the bath to the front and centre of any design, unafraid to make a statement. Imagine yourself relaxing in your dream bathroom: can you see yourself reclining in a gorgeous freestanding tub? At Heritage our range of luxury freestanding baths comes in a variety of materials, with stunningly elegant designs made to take your bathroom style to the next level.
Sleek statement slipper baths
Sleek and elegant, freestanding slipper baths are a type of statement bath that brings a sense of smooth refinement to your bathroom. A roll top bath with one higher end that curves up, slipper baths are an ideal design in which to relax and recline, allowing the bather to relax against the higher curved end as their troubles melt away. Our Polperro Freestanding Acrylic Single Ended Slipper Bath is a gorgeous example of this practical, beautiful design, with its sleek, streamlined shape and modern luxury aesthetic. For a still-modern slipper bath design that enjoys a slightly more traditional touch thanks to its chrome feet, consider our Grantham Freestanding Acrylic Single Ended Slipper Bath.
Signature cast iron baths
Our cast iron baths are distinctively individual, and quintessentially Heritage. A truly bold statement bath choice, these high-quality luxury pieces are made to last. We are the UK's market leader for cast iron baths, and our experience and craftsmanship shine through in the supreme quality and style of our cast iron statement bath pieces. We ensure our cast iron baths have a smooth and ripple-free finish by applying an enamel powder coat twice, achieving one of the best quality finishes available. Each one comes with our Lifetime Guarantee for your peace of mind. At once traditional and unexpected, Heritage cast iron baths are a true statement choice. Available in a range of styles, you can choose from a variety of looks, like the classical grandeur of our Grand Buckingham Cast Iron Double Ended Bath, the traditional curved sophistication of our Devon design, or the smooth modern look of our Madeira Cast Iron Double Ended Bath – to name just a few.
Every one of our cast iron baths comes hand finished and primed so that they can be painted with whatever shade best fits with your statement bathroom design. Whether it's a modern pop of confident colour or a subtler shade, each Heritage cast iron bath is fully colour customisable; just by adding a new coat of paint, you can update the colour of your statement bath whenever you want! We recommend using an acrylic, polyurethane or epoxy-based paint for longevity, but any kind of paint can be used.
Discover more about our commitment to quality here.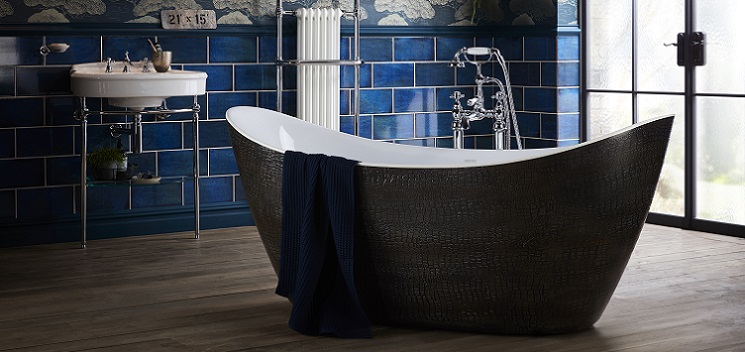 This leather-effect finish on the
Alderley freestanding acrylic bath
adds a touch of sophisticated and tactile fun to your design, combining a rich deep brown hue with a sumptuous crocodile skin texture.
Gorgeous acrylic statement baths
Heritage freestanding acrylic baths are the crowning glory to any statement bathroom. Our range of metallic effect freestanding baths adds a glorious dramatic touch to a statement bathroom, with a choice of Gold Effect, Copper, and Stainless Steel finishes. These bright finishes are pure art; think adding a radiant metallic edge to any bathroom design with our elegant Hylton Freestanding Acrylic Double Ended Bath, or the sweeping lines of our Holywell Freestanding Acrylic Single Ended Bath. If a metallic finish isn't your choice, but you want a statement bath with a difference, why not try the edgy modern style of our Alderley Croc Skin Effect Freestanding Acrylic Bath?
Fitted statement baths
If you simply don't have the space for a freestanding bath in your bathroom, it's just as possible to make a style statement with the quality and sophistication of a fitted statement bath. Our fitted bath panels are available in a variety of colours, while our fitted acrylic baths are available in both single and double-ended styles, so you can choose whichever type fits the look of your bathroom best. Take a look at our full range of fitted acrylic baths here.
Why choose statement baths from Heritage?
With Solid Skin technology as standard, superb craftsmanship and style, and a Lifetime Guarantee on all our baths, buying a statement bath from Heritage is a great decision. You can find more information about how to choose the right bath for you in our informative Baths Product Guide. For more about our range of baths request our brochure – or to experience them in person, find your nearest Heritage Bathrooms stockist today.