When planning your bathroom, you should think about how the space can meet both your practical and aesthetic needs. Whether you're looking to transform a small cloakroom or create a fully equipped family bathroom, you don't have to compromise on practicality for style. Here are some of ways you can create a bathroom that is both functional and beautiful.
Inspiring tiling

The finishes you use in your bathroom can make a big difference to both the practicality and look of your space. Tiles are an extremely durable option for both walls and floor, and their water and scratch-resistant qualities mean they'll look great for years to come. Not only are tiles a low maintenance option, there are also so many styles to choose from to suit your personal taste and their timeless look means they'll never go out of style.
Stylish storage

If your bathroom is short on space, it's important to make every inch count, and our bespoke fitted furniture is a stylish way of maximising the space you do have. Opt for a combination of closed cupboards to hide away unsightly essentials and open shelving to display your favourite bathroom products.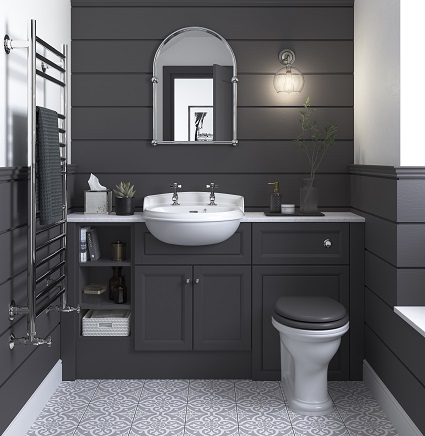 Level up

When planning your bathroom, think about how you can utilise vertical spaces. Whether it's a potted plant on your windowsill or a floating shelf above your bath, there are a number of ways you can get the most out of unused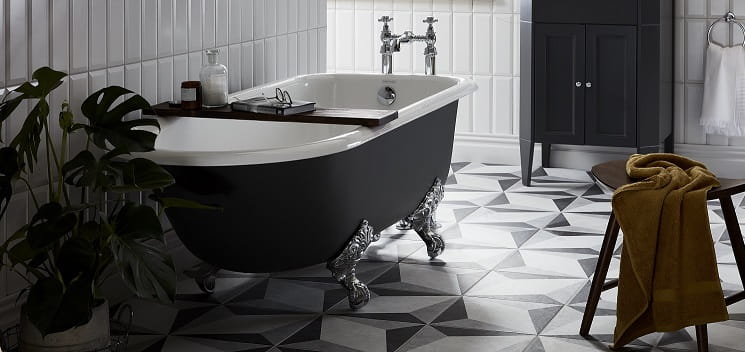 Don't cut corners

If you love the look of a freestanding bath but don't have the space for a separate shower, our Tilbury freestanding corner bath offers the best of both worlds. Combining the traditional look of a standalone bath with the practicality of a built-in shower, you can create the bathroom of your dreams without having to compromise on form or function.
Twice as nice

Matching 'His & Hers' vanity units make sharing a space so much easier, helping those busy mornings run more smoothly. Our Caversham wall hung vanity units free up precious floor space, and the built-in drawers are perfect for storing away your everyday essentials.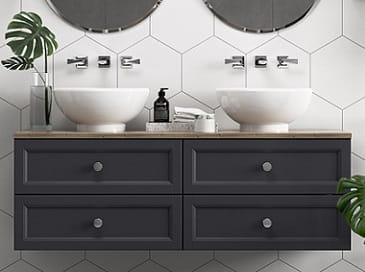 For even more design inspiration, download our free trends book or explore the complete range in our Heritage Bathrooms 2020 brochure. You can follow us on Facebook, Twitter, Instagram and Pinterest too.