Famed for injecting a dose of glamour into to a washroom space, the freestanding bath is a staple of high-end bathroom design. With a wide range of choices available there are a number of factors to consider before diving head-first into selecting your bath. Like any major household purchase, a bit of research and planning will go a long way to ensure that your freestanding bath choice suits your needs and works for your space.
How does a freestanding bath work?
Put simply, a freestanding bath is a bath which stands alone without any support from a wall structure. Modern freestanding baths are available in a wide range of styles and shapes, with designs either sitting directly on the floor or raised above the floor with bath feet.
The prospect of fitting a freestanding bath may seem a little daunting, but with the right knowledge the process can be quick and painless.
Before installing, it's important to decide on where in the room your bath will be positioned and if you will need a plumber to reroute the existing piping.
Unlike fitted baths, in freestanding baths plumbing from the waterpipes are fed into the taps from the floor meaning that they are often exposed. This exposed pipework can be made into an attractive design feature through the use of decorative shrouds, overflow and waste kits in a metallic shade of your choice.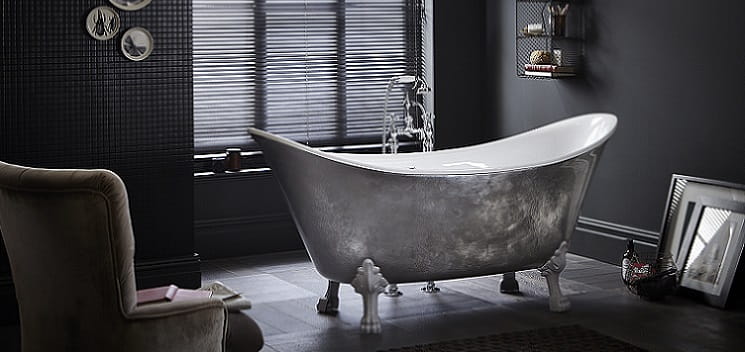 Things to consider when choosing your freestanding bath:
Consider the size and shape of your bathroom space and how this will impact upon your choice of freestanding bath. Designs range from large, 1800mm freestanding baths such as the Devon to smaller 1500mm freestanding baths such as the Baby Oban.
The weight of the bath should also play a factor in your planning process. Reinforced flooring may be required for heavier cast-iron baths while acrylic freestanding baths, such as the Hylton, are a lightweight and equally striking alternative.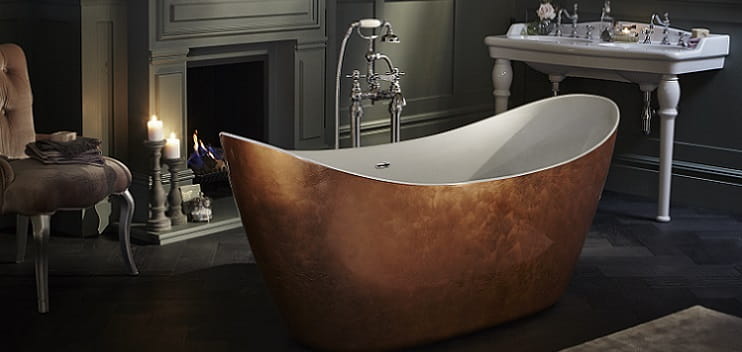 Next, it's important to think about how the bath will be used and if you want a separate shower. If a shower over your freestanding bath is a must then you'll need a bath which can accommodate a shower screen, such as the Tilbury. Alternatively, opt for a bath filler which has an additional shower mixer, such as the Glastonbury bath filler, to help with rinsing here and bathing children.
Taps are also key to selecting your new freestanding bath so be sure to check whether or not your choice of tub has predrilled holes. Heritage Bathrooms' freestanding baths come with either two pre-drilled tap holes or no holes. You'll need shrouds for baths that have tap holes and standpipes for those without. Alternatively, both floor standing and wall mounted taps can be used with baths without requiring tap holes.
To find out more about the different styles of freestanding bath available click here, or for more guidance on which bath might be right for you take our style quiz.