With the Autumn Event in full flow, Charlie Williams, Interior Designer at Heritage Bathrooms, has been thinking about how you can make the most of this rare opportunity to purchase dream bathroom for less and ensure you create a relaxing, peaceful space.
Choose a beautiful base
Before you begin, take the time to look at each section of your bathroom with a fresh pair of eyes. Consider which parts still work for you, what could use some extra love and which areas need a revamp. This will help to build a vision of your new and improved future bathroom.
A good starting point is to look at the different suites that we have available and use this as a guide to the different products you'll be using in your new space. The selection of suites available from Heritage Bathrooms offer a broad range of different styles that fit with a variety of interiors trends.
If you're looking to create a classically traditional space, the Victoria and Dorchester suites could be the ideal match, with basins and WCs inspired by period design. For a modern twist on elegant Art Deco styling explore the Granley Deco suite.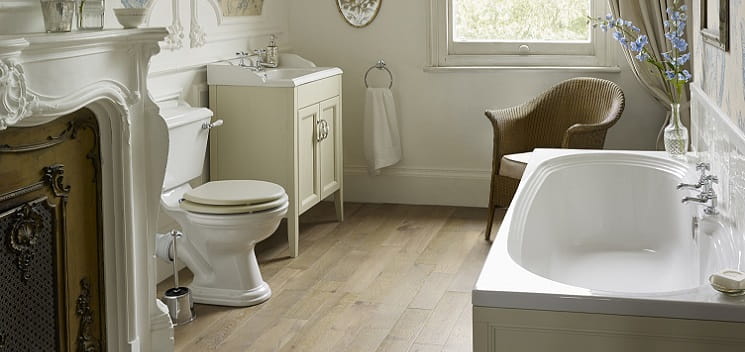 Plan your storage
Planning storage solutions that suit your needs and really use the space you have should be at the top of your list when considering a bathroom overhaul.
Consider how much storage you and your family will need to keep your new bathroom sleek, tidy and uncluttered and explore the many different furniture options that are available.
Fitted furniture from Heritage offers extensive and bespoke storage solutions which can be tailor picked to suit your room shape and size. Alternatively, if you're working with a smaller room, wall-hung sink and vanity options are perfect for freeing up floor space to give the illusion of additional space.
Update your shower
A new shower is really simple way of injecting some spa-like indulgence into your everyday routine. Rainfall shower heads are an ideal option for adding a touch of relaxation without compromising on space.
For a drenching soak opt for deluxe Hemsby or Gracechurch showers, which each boast an extra-large eight-inch shower rose for a drenching soak. First, be sure to check if your water pressure is strong enough to support the type of shower that you'd like with before you make any decisions.
Treating your bathroom to a new shower is also a great way of incorporating new interiors trends into your space. For traditional, vintage styling explore exposed showers in a vintage gold finish or go for a sleek concealed shower to achieve a more contemporary and minimalist look.
Once you've chosen your new shower you can find matching taps to create a fully coordinated finish – the two can be paired together for less than you might imagine throughout our Autumn Event.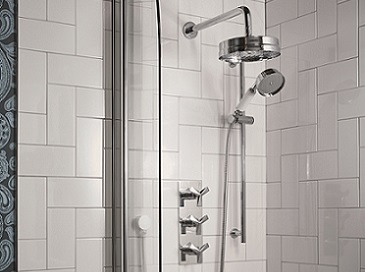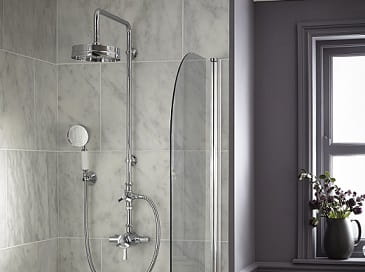 Choose your 'wow' features
Your new bathroom should be beautiful as well as practical so be sure to choose key products that express your unique style.
If space isn't an obstacle a freestanding bath makes for a stunning centerpiece which also offers a deeply relaxing escape. Heritage's range of paintable cast-iron baths offer a customisable twist on traditional styling. Alternatively, a statement acrylic bath such as the Hylton is available in bold metallic shades which are sure to make a stunning focal point.
If you're working with a more compact space then turn your attention to elegant taps, vibrant accessories or a statement washstand to create a stylish finish.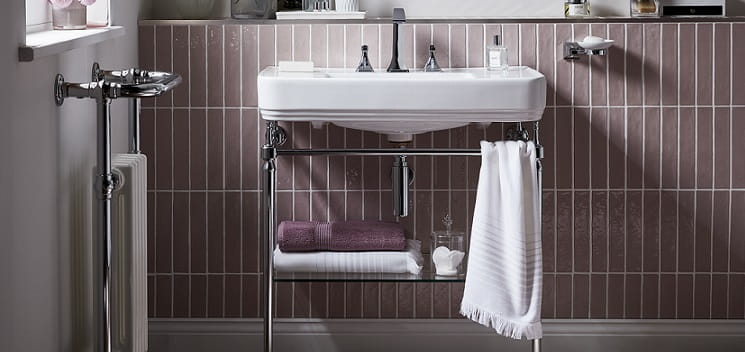 Admire and enjoy!
Be sure to sit-back and enjoy the fruits of your labour in your beautiful new bathroom space. Don't forget to reinvest some of those savings and add those all-important finishing touches, such as revitalising greenery, a couple of fluffy towels and relaxing scents to maximise on indulgence!
Find a participating showroom near you and plan your own relaxing bathroom. For even more inspiration request or download a Heritage Bathrooms brochure and follow us on Facebook, Twitter, Instagram and Pinterest.