It's amazing to think we're now more than half way through 2018, so if you're still thinking about a bathroom update then perhaps it's time to get that project moving?
But if you're still looking to 'tap' into some inspiration we've got the top 5 tap trends of the year so far right here:
1. Luxury bathroom designs:
This year, if you're having a new bathroom, make it luxurious. A real sign of a luxurious bathroom is still an exquisite freestanding bath with a gorgeous freestanding bath shower mixer or a more traditional bath shower mixer with standpipes to provide height. This is a timeless look and really adds a 'wow' factor to your space.
2. Going for gold:
It's easy to see the massive resurgence of gold basin taps and bath taps, often combined with matching luxury shower fittings in the same shade.
But the range of gold shades available is a little more subtle than the garish gold of the 1980s. You can choose from a bolder Antique Gold like the one available on our Clifton heated towel rail, a soft and subtle Vintage Gold on a whole host of tap ranges including Ryde, and touches of gold on the Lymington Lace taps. Or select an entirely of the moment shade with our signature Rose Gold, available on the classic looking Hemsby taps or the traditionally styled Dawlish range.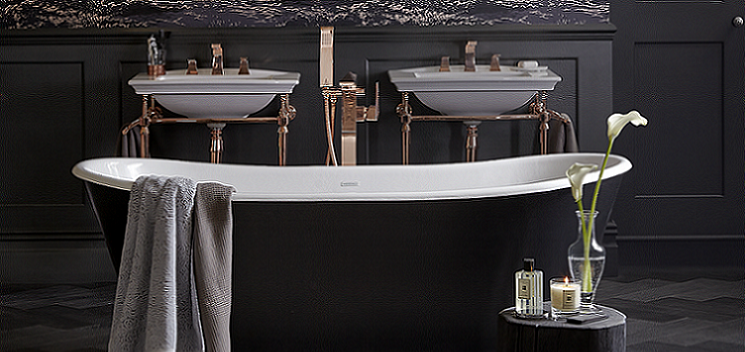 3. Reinvigorating period bathrooms:
Traditional basin taps have made a huge impact, especially in smaller spaces such as cloakrooms or en-suites where they act as both a practical necessity and an opportunity to showcase something a little different, such as the glorious Glastonbury basin taps with stylish statement levers in a bold Midnight Blue.
Likewise the demands for traditional taps that suit the styling of Georgian bathrooms and an increase in requests for inspiration for Victorian bathroom ideas – not only can you find suites like Claverton, inspired by gorgeous Georgian curves, traditional looking taps such as the Hartlebury range with it's versatile crosshead design is ideal to complete the look.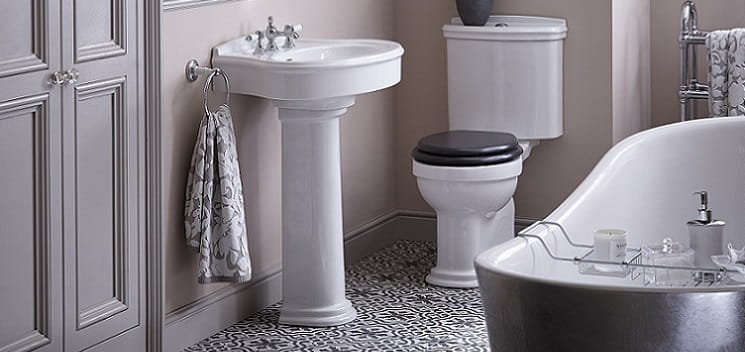 4. Effortlessly elegant bathrooms:
This is a trend for the overall bathroom but is perfectly exemplified by understated and elegant detailing, such as the Gracechurch range of taps with beautiful Mother of Pearl handles that catch the light beautifully to reveal a rainbow of soft pinks, shimmering green and soothing silver tones.
5. Matching taps and showers:
Have you selected your perfect taps only to find there isn't a shower available to match? It's not only frustrating, it also goes against the growing trend to have pieces that synchronise the vanity and showering spaces, especially if you're bold enough to situate a statement bath in the bedroom.
Buy if you purchase taps from Heritage Bathrooms you can rest assured that all of our tap ranges have several corresponding exposed and concealed luxury showers to complete the look.
So if it's time to get started on your bathroom planning why not order our gorgeous brochure packed full of luxury bathroom ideas, peruse our helpful product guides, or visit our online bathroom planner to start making your dream bathroom a reality.