"Homeowners want to find products that are reflective of their own unique style, and to create an interior look that says something about the type of person they are. Mass market options are increasingly being overlooked in favour of bespoke products and finishes that give a one of a kind feel that nobody else has," Eleanore Longhurst, Illustrator and designer of the Heritage Bathrooms
Limited Edition Lymington Lace range.
When it comes to bathroom decorating ideas, homeowners are really starting to look beyond pure functionality, and instead broadening designs to bring through statement and unique bathroom styling. Here, we give you the lowdown on the trends you need to be embracing in your bathroom decorating ideas this season, and how we've extended our product collection to include luxury taps and showers in a range of trend-led finishes you'll be sure to love.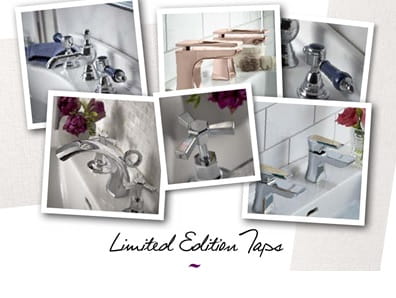 Mother of Pearl:
Building on the rise of the soft pink blush tones, the trend for mother of pearl is a subtle addition for any bathroom suite. With a lustrous finish, it combines perfectly with ornate metals, and taps into the key trends of historic revival and classic coastal in the bathroom.
Adding a mother of pearl shell inlay to the angular cross head of our deco-inspired Gracechurch taps and shower, this Limited Edition collection is available across three basin tap variations, two bath tap variations, a bidet mixer and a gorgeous designer shower plate.
Bathroom Style File: The perfect trend for you if you're looking for a subtler way to embrace a standout style and create a feminine finish, as the stunning high-shine material gives a delicate play of light and a luxurious lift to any bathroom suite.
Midnight Blue:
One of this year's key colour trends, midnight blue steps away from the duck egg shade we normally see in the bathroom and adds a deep and dramatic statement finish. Giving a regal feel, this rich blue can be used in modern or traditional bathroom suites.
Giving our Glastonbury lever taps a midnight blue makeover, we've added this striking pop of colour to the collection - and it's guaranteed to add personality to any bath or basin area. Available in one, two and three taphole basin options, as well as featuring on bath taps, a bath filler tap, a bidet mixer, a bath shower mixer and across timeless shower handles you can be sure you'll get the blues for all the right reasons.
Bathroom Style File: Great for those of you with a more neutral colour palette, the extensive Glastonbury range gives a nod to the latest colour trend in a classic and sophisticated way, and is a perfect way to introduce a burst of midnight blue across an otherwise plain space. Consider adding matching finishing touches with your towels and other accessories.
Bold rose gold:
Rose gold is the tone of the moment, with interiors increasingly embracing trends from the worlds of both fashion and jewellery. Its premium feel oozes opulence and complements a variety of elegant interior styles.
Adding this metallic shade to our statement Hemsby tap and shower range, there are four bath and basin taps, a show stopping floorstanding bath shower mixer and an opulent dipped rose gold shower.
Bathroom Style File: if you don't have any natural light in your bathroom and need to add some warmth, the rose gold style is the one for you. Softening the stark white of bathroom suites, a soft blush pink colourway will complement this tap and shower range perfectly and create a unique and lavish look.
Mixed Materials:
Teaming up with British illustrator and designer Eleanore Longhurst for this Limited Edition Collection, we explored the trend of mixed materials which is all about mixing high gloss materials with raw metals.
Taking inspiration from vintage lace doily patterns, Eleanore created an etched gold inlay for the curvaceous flared handle of our chrome Lymington range to add an artisanal mixed twist. With three basin tap options, six bath tap options and a luxurious lace etched shower plate too - the timeless appeal of classic chrome with the recent resurgence of warm metallic hues through the stylish gold inlay – will give you the best of both worlds.
Bathroom Style File: if you live in a period property, this vintage bathroom styling can bring a space in keeping with your features, while adding something truly unique to an existing bath or basin. This look is perfect for those who want a subtle yet striking statement that feels truly one of a kind. With such a distinctive decorative plate, be sure to keep the surrounding bathroom decor simple to let the design do the talking.
Whatever your personality, be bold and create a true fashion-forward focal point with our on trend taps and showers, and don't be afraid to use colour and texture for impactful designer flourishes. For more design inspiration and interiors advice, follow us on Facebook, Twitter, Instagram and Pinterest.