Lofts accommodating gorgeous open plan bedroom and bathrooms are becoming the perfect way to maximise the space available in the home. Homeowners can design their dream bathroom by becoming more creative with their loft space, transforming these unloved areas into the ultimate relaxing zone for escapism away from the hustle and bustle of the rest of the home.

So, if you're converting your loft into a bathroom, read on to spark your imagination with some loft bathroom ideas.
Loft bathroom ideas
Whatever the size of your loft conversion bathroom, it can be modern and bright, cosy and cute or industrial and cool. You really can make your loft bathroom your own.
Natural features
Embrace the natural features in your loft conversion bathroom for a wonderful country home feel. With quirky sloping ceilings, exposed wooden beams and natural brickwork, this type of space lends itself perfectly to the industrial luxe trend. Complement the space by using bright colours such as whites, creams and teals to give the space a fresh new perspective, as well as feeling light and airy.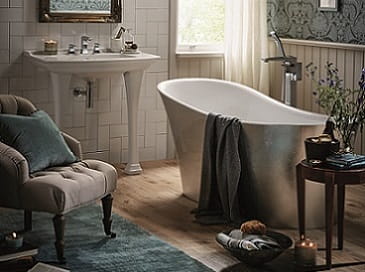 Powder room style interiors
The privacy of a loft space makes it the perfect place to embrace one of the biggest bathroom trends of the year - marrying your master bedroom with a bathroom-come-dressing room. Our curvaceous
Claverton suite
has been styled with this sumptuous and feminine look in mind – boasting the perfect romantic blush colour palette. To really transform your loft bathroom into a boutique-hotel inspired haven, consider his and hers
washstands
too, which are now also available with our Claverton basin.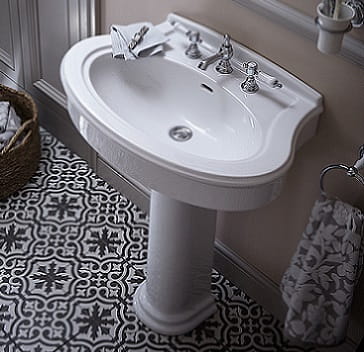 Work the space
With the loft bathroom boasting unique sloping angles, maximise the storage options you have in some of the more awkward spaces. Wall hung
vanity units
are perfect for storing your soaps and
accessories
, leaving the bathroom clutter-free! Another clever tip is to add a pretty
mirror
facing the bathroom lights or skylight to help direct light into the darker corners for an airier and illuminated feel.
Smaller loft bathrooms
If your loft conversion bathroom is smaller, perhaps a loft en suite would be just what you're after. We also have plenty of ideas for you to make the most of your smaller space too.

For your loft en suite, keep a lookout for space-saving designs in your fixtures and fittings. Make the most of those small corner spaces and place your shower or even your toilet there. Unique to our Dorchester Suite, this clever item is perfect for making the most of an awkward or particularly compact space. The cistern, which contains the water for flushing, is triangular so it can sit in the very corner of the room. Smaller sinks or corner sinks are also available in our range.

To free up your floor space, use your wall space. Choose a wall-mounted towel rail, as well as adding shelves and other bathroom accessories to the walls.
Loft bathrooms as the master bath
If you have the space, a loft bathroom as the main bathroom in the house poses many opportunities, due to its size.

Why not add a freestanding bath to your larger loft bathroom? Freestanding baths can be the perfect centrepiece to a loft bathroom, as they can make the most of any slopes or unconventional architecture. If you have a lot of space to play with, why not have an entire wall dedicated to your shower? This wet-room effect will make your loft bathroom feel like your very own hotel bathroom as it evokes luxury.

That's our guide to loft bathroom ideas. Why not take a look at styling a small or narrow bathroom next?

For our full range of beautiful bathroom products order a brochure or design a bathroom in your small space with our online bathroom planner. If our advice has inspired you to give your loft some love, you can find more design ideas and interiors tips on Facebook, Twitter, Instagram and Pinterest too.