If your bathroom is tiny, chances are you live in a period property. These were either built before the age of plumbing and had a bathroom tacked on as an after-thought; or, they were designed in an era where bathrooms were so cold and unwelcoming that people spent minimal time in them and were reluctant to give them much floor space.
To complicate things further, your small bathroom may be full of awkward nooks and any refurb plans are likely to be restricted by pipework access too. While these challenges may mean it takes a little more time to redesign your bathroom, they shouldn't stop you from ultimately creating a beautiful and functional inner sanctuary from which you can prepare for the day ahead and leisurely unwind as night falls.
To get the most out of a compact bathroom you need to ensure that it doesn't feel too overcrowded, while, at the same time, you want to maximise the area you have for bathing and squeeze in some bathroom storage too. These tips will help you to achieve all of this:
Free up the floor
The more floor area you can see, the more spacious your room will feel. So, choose a wall-hung toilet and basin, or a basin supported by a slim pedestal and opt for a traditional roll-top bath tub that is elegantly raised up on feet.
Factor in hidden storage
A lot of bathroom toiletries are not at all attractive to look at. So, try to ensure that there is some hidden storage in your bathroom. Perhaps, a wall-hung vanity unit containing a drawer or cupboard under the basin, or a tall free-standing unit where you can store towels, toilet rolls and deodorant. If you are left with some redundant space, perhaps under the eaves or a stairwell, you could also consider getting a carpenter in to create a bespoke cupboard there. If you still find that you don't have enough hidden storage space, purchase a few stylish, lidded baskets to conceal any additional pieces that you would rather were not seen.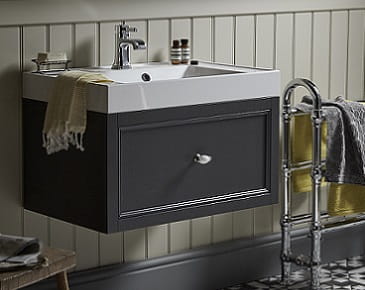 Create a display space
Try to find room for some open-shelving as well where you can display pretty candles and bubble baths and moisturisers that are packaged in bottles that are made to be seen. Group together a few small floating shelves to create a feature wall display area. While some vanity and free-standing units will offer a mix of open and closed storage spaces.
Be reflective
Obviously you may be restricted by the positioning of your sink, but if you can, try to place a mirror opposite a window or the doorway. This will instantly make the room feel a lot larger and brighter than it is. Other reflective surfaces will also help to bounce light further around the room, helping the space to feel brighter and more spacious too. Opt for taps, shower heads and mixers in a glossy chrome or, perhaps, a more on trend rose gold.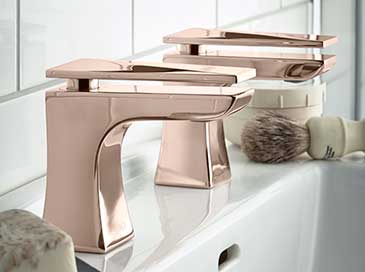 Our guest blogger this month is Anna Tobin – journalist and author of dontcrampourstyle.com - a blog full of stylish tips and ideas on how to make the most of a small home.