We will explore how to make the most of your small bathroom, with our guest blogger, interiors journalist Anna Tobin, who offers tips and advice on making the most of small bathroom spaces.
If you have a small bathroom, there's a good chance your home was built when bathrooms weren't a focal point in any home. Your home could be a period property, where they were either built before the age of plumbing and had to have a bathroom tacked on; or, they were designed in an era where bathrooms were so cold and unwelcoming that people spent minimal time in them and were reluctant to give them much floor space. Or, perhaps your small bathroom is full of awkward nooks and any refurb plans are likely to be restricted by pipework access too.
Whilst these challenges may mean it takes a little more time to redesign your small bathroom, they shouldn't stop you from ultimately creating a beautiful and functional inner sanctuary from which you can prepare for the day ahead and leisurely unwind as night falls.
To get the most out of a compact bathroom you need to ensure that it doesn't feel too overcrowded, while, at the same time, you want to maximise the area you have. These small bathroom ideas will help you achieve all of that.
Small bathroom design ideas
The first thing to consider when you have a small bathroom is its design. What will your small bathroom look like? Is there a theme? Read on to find out what design ideas we suggest for small bathrooms.
Create zones
Creating zones can create an illusion that your bathroom is much bigger than it actually is. For example, you could have tiling around by your bath and shower, but then paint the rest of your bathroom. Or perhaps you want to have some on-trend panelling round your toilet but some contrast tiling around the bathtub. Zones can help make two areas feel very separate, which helps create sense of distance between them, and therefore create the illusion of more space.
Accent Walls
If you're unsure on how to create different zones in your small bathroom, opt for an accent feature wall instead. This can help you add a little colour and pattern to your small bathroom, without it being too overwhelming. The feature wall should always be the wall that grabs your attention first.
Bold wallpaper
Just because you have a small bathroom doesn't mean you need to have plain, boring walls. Patterns can work wonders in small spaces as they grab attention away from the actual space. As you have a small bathroom, it would be a good idea to keep everything else simple and neutral to ensure the focus is on the walls and there isn't too much going on.
Tiling patterns
How you place your tiles is an even more important consideration for a small bathroom. If your small bathroom is tiled from top to bottom, it can sometimes box the room and make it feel too enclosed. To overcome this, finish your laying pattern three quarters up the wall and then paint the rest of the wall. You can also create a feature wall around the bath tub and shower, painting the rest of the walls.
Tiles can also be placed vertically to create an illusion of more height in a room. Or, to make your room look longer, lay the tiles horizontally. This will visually open up your small bathroom, giving you the illusion that space is wider and longer than it actually is.
Colour schemes for small bathrooms
Choosing the colour scheme for your small bathroom can be tricky. The key is to keep things simple and build on it.
Dark and light contrast
If you've fallen in love with dark floor tiles, it only makes sense to go for something lighter on the walls to open the room up. As a small bathroom, having both dark floor and wall tiles can make it feel a bit claustrophobic. The walls should be a neutral colour, such as white.
Pastels
Pastels are famous for lightening small spaces. Soft pastels on the walls, such as mint, baby blue and light grey, work well with both lighter colours such as white, but also deeper tones too.
Bright, popping colours
Just because you have a small bathroom doesn't mean you should shy away from bright, popping colours. When done the right way, bright colours can add personality and fun. It's important to choose a neutral shade as your base, then, you can choose a bright colour to act as your accent shade. This colour can also play out in your bathroom accessories too.

Monochrome
Black and white always works well together, whatever size space you have. But, taking a minimalist approach in a small bathroom can result in a simple, yet elegant space without overpowering the eye.
Products for small bathrooms
We have some key product ideas to give you more room without compromising on style, so you can create a distinctively individual space.
Baby Basins
Designed for the smallest spaces, making them perfect for a small bathroom, such as an en suite or cloakroom, baby basins can be wall hung or used with a Pedestal.

Here at Heritage, there are a number of designs available including the Dorchester with a rounded bowl and stylish upstand detail, or the more angular Granley. Both options look superb when combined with the petite Dawlish Short Nose Basin Taps in either Chrome (shown below), Vintage Gold or Rose Gold, and matching Bottle Trap.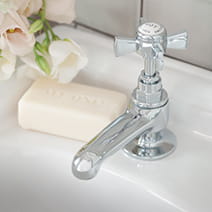 Corner toilets and showers
Unique to our Dorchester Suite, this clever item is perfect for making the most of an awkward or particularly compact space. The cistern, which contains the water for flushing, is triangular so it can sit in the very corner of the room. You can also choose to either combine it with a standard or comfort height pan. So why not make the most of your corner, a space that is often overlooked and unused, and look to fill it with a toilet or shower?

Moregeous blogger Sian Astley created a fabulous look in her cloakroom with the Dorchester corner WC, as shown here.

Wall hung WCs are also another excellent option that will allow you to free up space, as shown here with our gorgeous Dorchester Suite.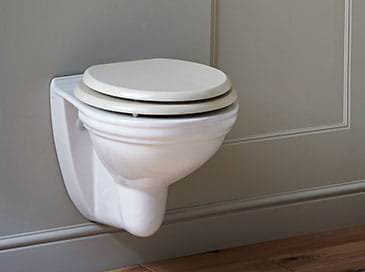 Wall-mounted towel rails
Keep even a small bathroom cosy and stylish with a heated towel rail specifically designed to fit into a bijou room.

For a more traditional look the Baby Clifton offers timeless elegance and 'packs a punch' with a heat output of 1,335 British Thermal Units (BTUs). There's also a floor mounted compact solution like Oakham, shown below. Alternatively, the sleek Portland Cloakroom provides a simpler mid-modern style; it is also available in a wall mounted option to free up floor space.

In fact, Charlotte Thomson, George Clarke's Amazing Spaces designer, says "another space saver within our bathrooms was wall-mounted, well, everything! From basins and WCs to vanity units and towel rails, the more you can suspend from the walls, the more open and airy your rooms are will feel as there is nothing interrupting the eye as it travels through the room".
Lighting and accessories for small bathrooms
Even in a small bathroom, it's all about those finishing touches. Read on to find out how lighting and accessories can help you make the most of your small bathroom.
Natural light
Where possible, make the most of the natural light in your small bathroom as it can create the illusion of more space. Covering windows with blinds or curtains will shade some of this light, so where possible, simply use frosted glass instead.
Big lighting fixtures
Big ceiling lights will flood your bathroom with light. This again creates an impression of more space. Don't forget to add more lights around by your mirror and sink too.
Mirrors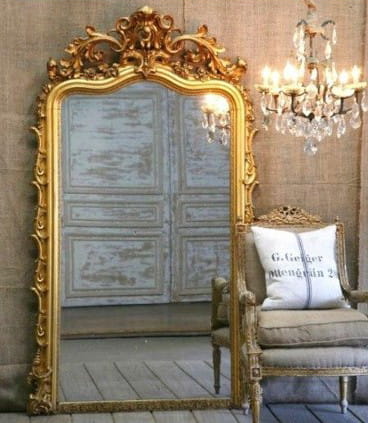 Mirrors are a great way to open up your small bathroom. Not only can they make it look like your bathroom is bigger than it actually is, but they can have discreet storage spaces too.
Storage for small bathrooms
When you have a small bathroom, it's important to free up the floor space as much as possible and limit clutter. Only keep the items you need on show, the rest should be discreetly concealed in cupboards, baskets and on shelves.

You can also make use of ledges and other flat surfaces. For example, a window ledge can be a great place for a small vase or candles. But again, less is more for small bathrooms. Where possible, accessories such as soap dishes, towel rails, and toilet roll holders should also be wall mounted.

That's our guide to small bathroom ideas. Why not take a look at styling a narrow bathroom next?

For our full range of beautiful bathroom products order a brochure or design a bathroom in your small space with our online bathroom planner. For more design inspiration and interiors advice, don't forget to follow us on Facebook, Twitter, Instagram and Pinterest too.