Renovating a 502sqft toilet block into a stunning and functional home is no mean feat – and that's before you consider the pain that can be planning permission and the challenge of squeezing in stylish storage too!
Charlotte Thomson took on one such task on George Clarke's Amazing Spaces last year, and is here to share her small space wisdom to help you maximise every inch of the storage and surface space you have in your bathroom.
"When we brought the tiny loo block in Cornwall, we were planning for it to be a luxury one bedroom house. Once we realised we could fit in an additional bedroom upstairs, we were smitten with the idea of a two bed layout and the flexibility this brought for guests. Of course this meant we had to radically change our vision – and find a whole host more storage space to make the rooms liveable too!
"As we wanted to keep a clutter free and calming coastal vibe throughout the house, it was important that we didn't introduce too many bulky storage units which would throw the design off balance. In the more open plan living areas downstairs, this wasn't as difficult, but within the smaller dimensions of the bathrooms and wet room, it did pose a challenge.
"Firstly, we had to abandon the idea of having 'his and hers' basins due to space limitations. To ensure we still had a boutique-inspired vanity area though, we opted for under basin storage cabinets, and a wide sided basin unit where we can keep toiletries and ornaments for a more homely feel.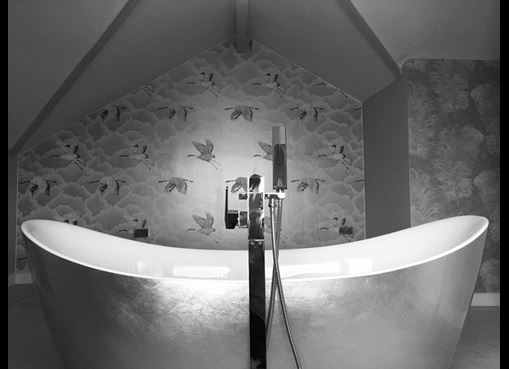 "Another space saver within our bathrooms was wall-mounted, well, everything! From basins and WCs to vanity units and towel rails, the more you can suspend from the walls, the more open and airy your rooms will feel as there is nothing interrupting the eye as it travels through the room – we really found this trick made all the difference.
"Also, don't be afraid to use every awkward corner and inch to your advantage. We had to utilise the space under the stairs as an additional storage area, which we cladded with some of the leftover wood panelling for a continuation of our nautical theme. The walk-in wardrobe caused us some issues too as it wasn't actually tall enough for a wardrobe – but we designed some great hanging and shelf space with a carpenter to ensure we got the look and functionality we needed.
"And that leads me to my final tip, which is to never compromise. We realised early on that we wouldn't fit a bath in any of the bathroom spaces in the house, but we just weren't willing to lose this feature, so put it in the bedroom as a showstopping boutique feature instead! The Hylton bath from Heritage not only gives an incredible wow-factor, but also means we have covered all the bathing bases without taking up a lot of our bathroom space.
"So our main advice is to not take no for an answer – if there's a feature you desperately want, look in other rooms, look to the walls and look under the basin to find any usable space you can transform into smart and sleek storage, without the sacrifice."
For more design inspiration and interiors advice, don't forget to follow us on Facebook, Twitter, Instagram and Pinterest too.