When it comes to a luxury bathroom, the opportunity to add your own personal style and create the bathroom of your dreams is endless. From a statement bath to a luxury washstand, a simple décor and heavenly smell, achieving a luxury bathroom design may be easier than you think – even on a modest budget.
Soft furnishings
The easiest way to enhance your bathroom with a hint of glamour is to focus on the furnishings and accessories. For a spa-like feel every day, consider swapping your old bathroom towels for new, fluffy linen and luxurious robes to soften the room and add a touch of co-ordinated colour.
Update your old bath mat and throw away any shower curtains or laundry bins that have seen better days. These simple swaps with new, luxurious furnishings will make all the difference to your opulent design.
Engage the senses
Don't just focus on the fittings in your design to get the luxurious atmosphere in your new bathroom. You can create an opulent bathroom through evoking the senses too. Make your bathroom even more inviting with enticing scented candles and soft aromas. Scented candles and aromatherapy oils encourage relaxation and are a great way to unwind after a long day at work. Place them around the bathtub and for ultimate luxury, choose scents of vanilla and lavender to soothe and calm.
Dropping a few essential oils in the water at bath-time is also a great way to ensure your bathroom smells great, and you'll be guaranteed a relaxing bath too!
Lighting
Making use of natural light is the easiest way to enhance your existing bathroom and the perfect way to enrich your design. White reflects light, so if you want to achieve a sophisticated and elegant style you should think of co-ordinating your bathroom accessories with all-white furnishings. Mirrors are also a wonderful way of adding light to your bathroom, even if you don't have much space. Place a mirror on the wall adjacent to the window to reflect the natural sunlight and brighten up your room. Not only will the mirrors create more light in your luxury bathroom but they'll also given the illusion of extra space, which is great for smaller rooms.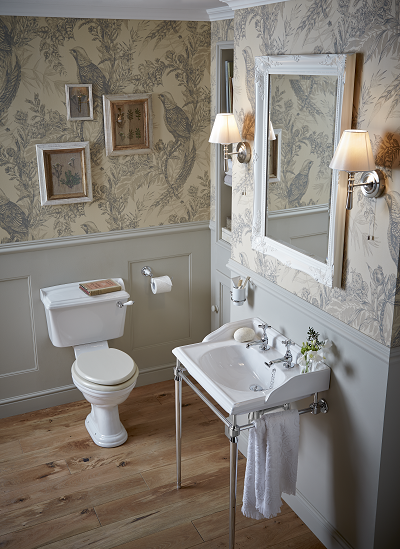 Hang a sparkling chandelier for instant glamour and place your scented candles around the room to add a warm flicker of light. With the addition of soft lighting in your new bathroom design you'll have a well-lit, elegant bath-time retreat before you know it.
Make a statement
Be bold with your designs and add your own personal style to your new bathroom. Nothing says 'luxury' more than a freestanding bath, and here at Heritage we have a variety of acrylic and cast irons tubs to choose from. If you don't have enough room for a freestanding bath but still want all the glamour, a new fitted bathtub will create a similar impression, especially if paired with matching basins and vanity units. The simple yet elegant double-ended fitted bath from the Dorchester collection is stylish and practical, a must-have for every luxury bathroom.
Choosing the right shower can make all the difference to your new design, especially if you are short on space but are determined to create the bathroom of your dreams. Opt for simplistic and chic showerhead fittings to offset your suite; think spa-like glamour with cascading waterfalls, much like the Glastonbury exposed shower with midnight blue handles.
Co-ordinate and complement
Pair your statement bath or shower with co-ordinating units, like the Dorchester bidet, which sits perfectly alongside the collection of Dorchester WC's. A well-planned design will go a long way in your new luxury bathroom, and will ensure all your opulent accessories complement each other perfectly.
If all your furnishings match your chosen design but you want to add a splash of your personality too, try incorporating little accessories throughout your bathroom décor. Accessories will help make your luxury bathroom truly personal, and putting your own homely touch on your space will instantly turn it into an inviting escape. Remember, though, that stylish bathrooms are often the most simplistic, so be sure to keep all clutter to a minimum.
Whether you're creating a brand new luxury bathroom or renovating an existing one, there's no doubt that taking note of the simplest trends can do wonders for your bathroom. Go for a completely sophisticated and chic design or add elements of your own personality to your own look – and with a little creativity, you'll soon have the opulent bathroom of your dreams.