A Heritage bathroom won't just be the room to brush your teeth in; bringing luxury into your bathroom is as much about treasuring your 'me' time as it is about appreciating aesthetics. Relax in regal surroundings: lounge like a lady; recline like a Queen; pamper yourself like a princess. Create a bathroom with regal heritage design for a sanctuary within your own home.
Flooring
Luxury starts from the ground up. Lend your bathroom design a regal feel with sumptuous underfloor heating to toast your bare toes after a long bath. Pair with a suitably heat-retaining material to maximise on your heating installation. Stone flags or tiles will warm up beautifully with an underfloor heating system, and feel silky smooth underfoot.
Choose a statement stone floor to create a truly royal feel for your bathroom. Stone flags that feature fossil prints will always add an element of intrigue to your flooring design. For a truly luxe look, opt for a white or black marble. Draw attention to your flooring by choosing a freestanding bath to stand in the centre of your room. The Penrose Acrylic Double Ended Bath will always position itself as the perfect centerpiece to a regal bathroom design.
Walls
A regal design will blend the look of an opulent bedroom with a luxury bathroom. Forget the practicalities of tiling and paintwork: lavish, picturesque wallpaper is the only way to go when creating your regal bathroom design. Take inspiration from the silk clad walls of royal palaces and stately homes: feature wallpaper in your bathroom that is both muted and detailed, both subtle and a statement.
Patterned wallpapers are always beautiful, but go one step further in your luxury bathroom design and source a paper that could almost be a painting. Beautiful, classic images of the English countryside, or sweeping, opulent floral designs will always remain a perfect complement to heritage bathrooms such as the Victoria collection, including the Victoria Double Console Basin below, which takes its inspiration from the renowned splendour of the Royal Albert Hall.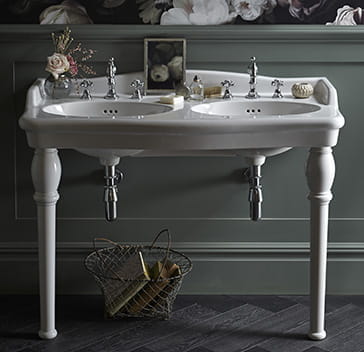 Reflection
Echo the long portrait galleries and marble halls of the grandest stately homes by featuring a large, gilt framed mirror in your bathroom. Not only will it lend a greater sense of space to the room, the golden gilt edging will also reflect the beauty of a classic portrait within your own bathroom. Combining the practical necessity of a mirror with the luxury feel of your bathroom is a clear way to declare the regal nature of your new bathroom design.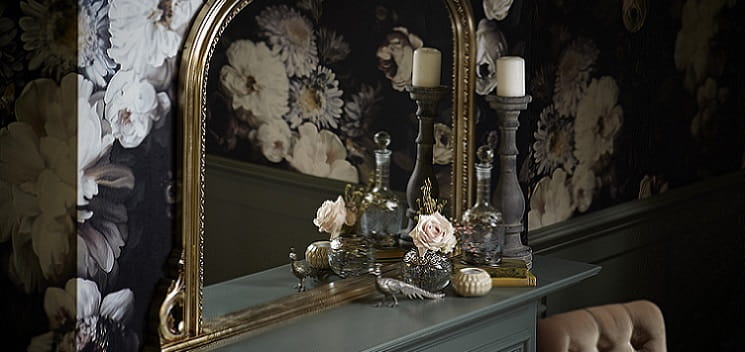 Furniture
Luxury bathrooms transcend functionality to enter a whole new level of aestheticism. Bathroom furniture is a way to truly complement your heritage bathroom design. The Belmonte Heritage suite, inspired by the Belmonte castle in Spain, with all its gothic and Arabic influences, can be paired perfectly with bathroom furniture to create a truly regal feel. Recreate the look of a palatial ladies bedchamber by adding a vanity and stool into your heritage bathroom: a beautiful, antique piece of furniture, whose only purpose serves to pamper.
If the bathroom is a space to relax in, why not place a winged armchair in your room? For real sense of royal glamour, choose a chaise longue in a muted, velvet fabric to act as the perfect complement to your bathroom design.
Lighting
In a design age where lighting designers are equivalent to artists, highlight your regal bathroom with luxury light fittings and design. Find a way to feature your heritage suite with subtle uplighting, or keep it clean with flush lights. Maintain the sanctity of your regal bathroom by ensuring all of your bathroom lights are dimmable: echo candlelight without the candles, and bring the beauty of flickering twilight to your bathroom with the flick of a switch. Opt for the Blenheim Heritage collection, which takes its design from the glorious Blenheim Palace, for a collection that can be lit to perfection, with sweeping arches that can catch a candlelit glimmer.
For a truly stunning centerpiece in your Heritage bathroom, feature a chandelier to draw the eye. Whilst bedazzling crystal droplets might appear gaudy, a classic, understated chandelier will only contribute to the regal styling of your suite.
Accessories
A new Heritage bathroom should be kept uncluttered, with all the appearance of simplicity in its style. Let the elements of the bathroom speak for itself, without much need for the standard fare of bathroom accessories. Keep towel bundles behind closed doors, and avoid the usual shell themed decorative touches.
Choose accessories that will complement the simple but luxurious feel of the space: candles, a well-placed glass perfume bottle, and a single vase of white flowers; these are the light touches that will finish off your stylish bathroom design to perfection. Put away the shampoo bottles and handwash; rather, opt for a tasteful display of one or two white pillar candles.
Keep shelving to a minimum with Heritage Bathroom's glass shelving, which will limit the disruption to your flowing bathroom design. Paired with the symmetrical style of the Blenheim suite, this will offer your design a timeless look.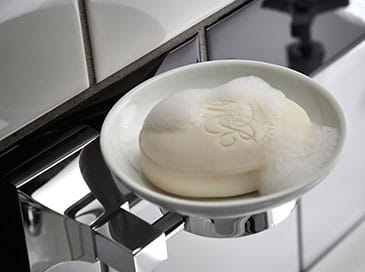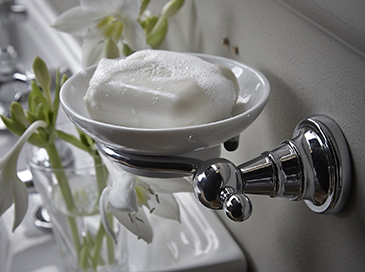 Heritage Bathrooms offer a beautiful collection of timeless palatial inspired designs. Add to the beauty of your chosen suite by highlighting it with well-designed lighting, carefully chosen accessories, and just the right amount of statement. A regal feel is best attained through subtlety and style: keep simple and keep it classic to create a bathroom with regal heritage design.