Despite being one of the most regularly-used rooms in the house, bathrooms are primarily seen as functional rather than fashionable. However, this has all changed in recent years. Interior trends have evolved, and bathrooms are now seen as a key room for expressing individual style and taste. Statement bathrooms are now a popular choice for homeowners, with feature baths and quirky details such as new bathroom taps being a fantastic way to express your style. So how do you go about creating a statement bathroom that will impress your guests while also providing for all of your family's practical needs?
Thanks to our new Limited Edition range, making your mark is easy. Whether your taste is classic or contemporary, understated or bold, there's a range of mix-and-match products to suit your style and budget. Follow our tips for creating the perfect statement bathroom.
Choose an unusual metal theme
When it comes to bathrooms, porcelain and chrome-plated brass have long been the standard materials. White toilets, sinks and bathtubs complemented by silver-effect taps and shower heads are clean and minimal – but why stick with the basic finish that chrome offers? One way to create a statement bathroom that emanates style and sophistication is to choose an alternative metal finish. Gold-plated brass can add a truly ornate touch if teamed with complementing accessories. Alternatively, why not consider on-trend rose gold? The Hemsby Recessed Rose Gold Shower makes a bold statement while retaining a classic shape. The deluxe fixed head adds a touch of luxury and grandeur to the shower unit, while the flexible kit allows for practicality. The matching Hemsby Wall Mounted Basin Mixer in rose gold is a stunning way to continue this unusual metal theme throughout your bathroom.
Similarly, the rose and chrome mix of our Lymington range is a truly unique way to experiment with metals in the bathroom. Mixing metals has been popular in jewellery fashion in recent years, with the old rules of sticking to either gold or silver being long forgotten. Now, stacking gold and silver rings alongside mixed metal bracelets is a cool way to make a statement – and the same applies to your bathroom too. The addition of gold on to the traditional silver-plated Lymington taps adds an ornate and tasteful twist on classic style.
Bring in some colour
It's natural to want to play it safe with colour schemes for your bathroom, as monochrome styles have always been very popular. While black and white will always be a classic choice, a statement bathroom can often benefit from splashes of colour. Consider the elegant blue of our Limited Edition Glastonbury 3 Taphole Swivel Spout Basin Mixer. The unusual use of a primary colour is sophisticated and subtle, but it still makes an impact. Subtly bring out the same colour throughout your bathroom with small details in the tiles, or an exotic plant with the same coloured flowers, to add cohesion to the look.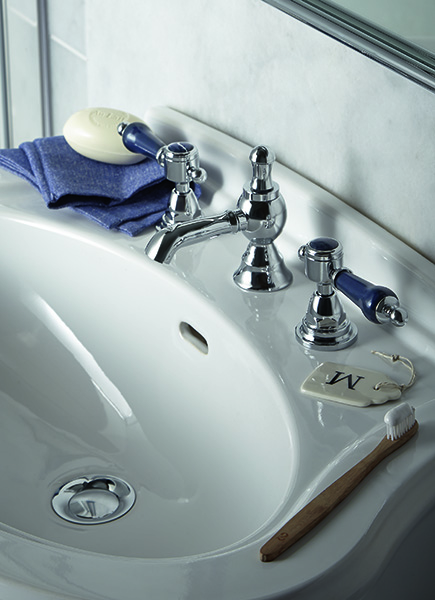 Add some unusual art
Another tip for creating a statement bathroom is to introduce some artwork. Many people avoid this due to issues such as steam and dampness, which could affect canvas prints or posters. However, framed images and painted walls will add an incredibly luxe touch. Choose something conservative and timeless if you want to keep attention on the fixtures, or go bold and clash your colour palette with someone bright. The wonderful thing about artwork is that it's easy to update, meaning that you can refresh the look of your bathroom as regularly as you like.
Choose a statement bathtub
Interior design teaches us that all rooms benefit from having a focal point, and the obvious choice in a bathroom is the bathtub. Freestanding tubs will always draw the eye, and are bound to attract compliments in a feature bathroom. At Heritage, we stock a fantastic selection of both fitted and freestanding baths, including an impressive array of cast iron baths. Our Devon Cast Iron Double Ended Bath adds an elegant touch to any bathroom, and also looks beautiful when teamed with other products from our Limited Edition range.
Remember the details
While a statement bathtub looks fantastic, one of the keys to designing a statement bathroom with real panache is to pay attention to the smaller details. It's through the subtle, smaller features and accessories that your individual flair and taste can really be seen. We stock a wide range of basin and bath taps that are absolutely ideal for this purpose. The Gracechurch range is a fine example, as the classic chrome is given an exquisite finishing touch with Mother of Pearl detailing. The taps in this range, such as the Gracechurch Taphole Basin Mixer, are contemporary and eye-catching, yet you can still trust that they'll age brilliantly thanks to their timeless style. New bathroom taps can instantly update the room, but other details you should pay attention to include door handles, towel hooks and toothbrush holders.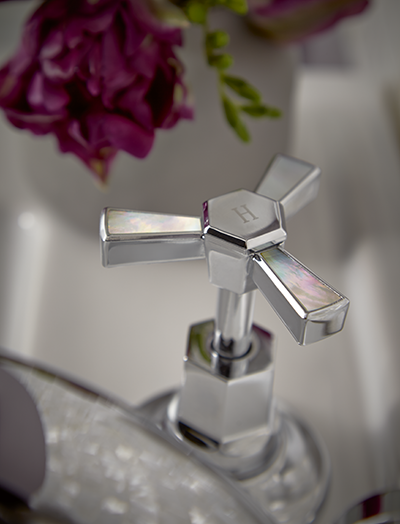 When you buy a Heritage bathroom, you know that you are getting a bathroom that is both practically durable as well as tasteful and stylish. Our Limited Edition range is the perfect way to add exclusive styles to your room. Be inspired and view the full collection online here.