Using mirrors within your bathroom design can create an enhanced sense of space, reflecting light all around the room. Pairing the right mirror to your Heritage bathroom can finish a design to its best advantage. Read on to discover the Heritage range of bathroom mirrors - the perfect companion pieces to your luxury bathroom suite. Transform your bathroom design today by incorporating a feature mirror; a most practical and opulent feature for your new bathroom interior.
Accent the curve
The Blenheim Suite takes its inspiration from the splendour of the famous Cotswold palace, with all of its sweeping style and welcoming arches. This design pairs perfectly with the opulence of the Upminster Mirror: a magnificent piece that evokes all the grandeur of a royal portrait.
Silver reflections
The Bayswater ornate bathroom mirror comes as a subtle showstopper in your bathroom: grand in design, but elegant in integration. Detailed silver etchings will blend perfectly with the distinctive ellipses and smart lines of the Victoria Heritage suite, which takes inspiration from the Royal Albert Hall. Coming from the age of romance, this gorgeously burnished, artfully crafted piece of metalwork can only display its reflected surroundings as twice as beautiful.
Effortless theatricality
For the perfect piece to compliment any suite, look to the Heritage Archway bathroom mirror for inspiration. The Archway mirror (below), with its fabulously ornate metalwork and broad curve, evokes a stage itself—'framed' by curtains, and set for a star.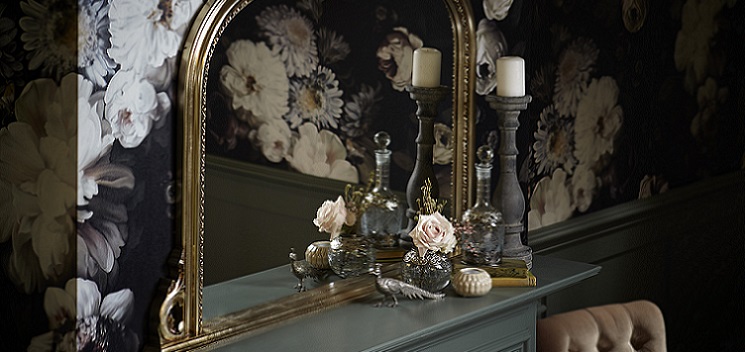 Homespun glamour
Wooden framed bathroom mirrors can add a softer look to bathrooms; and all Heritage wooden mirrors are also available in the same colour ranges to match their furniture. For a seamless, easy collection that will be both luxurious and homely, pair the Dorchester Suite with the Edgeware Mirror. Inspired by one of the world's most prestigious hotels, this luxury bathroom design can be styled with a country chic touch to make a bathroom that is at once opulent and also homely. The Edgeware mirror in cream could be a classic compliment to your Dorchester suite.

Feature your mirror
A bathroom mirror needn't be a mere element of necessity in your room. With careful attention paid to lighting, positioning, and styling, it can be a statement in itself. Giving a sense of increased size and light, your bathroom can be transformed in an instant.
Positioning
As ever the most important part of a new bathroom design, positioning your statement mirror can make or break your bathroom. Combine other elements for a statement bathroom to really shine: positioning a freestanding bath, such as the show-stopping Hylton freestanding acrylic bath in copper, in front of your mirror will provide spectacular results. In a bathroom with a view, ensure it is reflected twice back: why have a beautiful vista on only one side, when you could have it on two?
Lighting
Ensure your bathroom mirror is best placed to reflect both natural and artificial light. If you're also featuring a statement light piece, such as a chandelier, then be sure it's placed at a good distance from your feature mirror. Lighting placed too closely can result in a confusing clash of reflections and reflected light; placed at just the right distance, will only amplify the glow. Add an element of romance to your bathroom lighting and really make use of your statement mirror by adding a small wooden table topped with candles in front. The soft, flickering light will seem to go on endlessly in reflection, and will give your bathroom a delicate and relaxing atmosphere.
Styling
Ensure your styling maintains continuity to make the most of your statement mirror. Whilst a feature wall of sumptuous wallpaper is a fantastic way to add a unique element to your bathroom, ensure it isn't too amplified by a second reflection. Instead, ensure your new bathroom mirror is placed on your statement wall, so your bathroom design can maintain an understated elegance overall.
Functionality does not have to be sacrificed to opulence in your Heritage bathroom design. Whilst a statement bathroom mirror can feature as a work of art, there is also the necessity for useable surfaces. Choose a wall mounted mirror or the Clifton extendable mirror as a discreet and practical addition in your bathroom. Not every bathroom mirror needs to be big to make a statement; sometimes, the addition of a little reflected light is all you need to enhance your existing bathroom design.