Blenheim
Inspired by the stunningly beautiful Cotswold palace, our Blenheim luxury bathroom offers sweeping style, welcoming arches and symmetrical lines for a timeless look.
To create a classic and elegant bathroom design, combine all the grandeur of the English Baroque style with sweeping statement baths. This luxury styling will create a classic suite that is perfect for the modern home.
The subtle elements of classical design and palatial proportions on this bathroom suite work beautifully together, whether your bathroom has a traditional or modern style. There are also plenty of options to suit a host of different bathroom spaces - so no matter the size of your suite, you can create a beautiful bathroom.
BLENHEIM BASINS
The classic, confident shape of the Blenheim Basin is a perfect complement to your luxury bathroom suites. For extra bathroom storage choose the Blenheim basin, available with 1, 2 or 3 taphole basins which can sit on a pedestal or be matched with a vanity unit from our Caversham or Hidcote furniture ranges.
VIEW BLENHEIM BASINS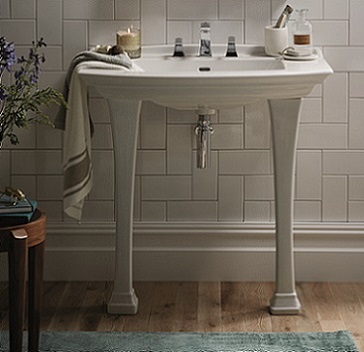 For a master bathroom suite, Blenheim reigns. Create bold statements with the grandiose curves of a Blenheim WC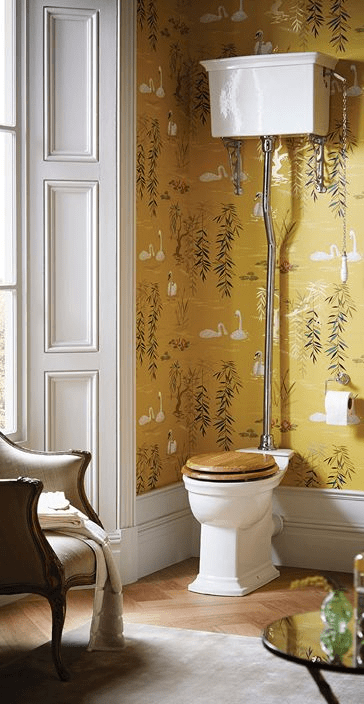 BLENHEIM WCS
Add grandeur to your bathroom by choosing one of our Blenheim WCs. Select from a stylish close-coupled WC, or the low level and high level cistern options to create a striking statement in spaces with higher ceilings.
VIEW BLENHEIM WCS & CISTERNS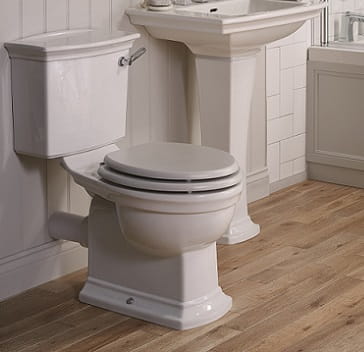 Create opulence in larger bathrooms with a freestanding Penrose bath or for a sense of grandeur in a smaller space opt for a Blenheim fitted bath
Room to spare
STATEMENT BATH
A spacious bathroom accommodates a statement bath perfectly - an inviting centrepiece in your bathroom. The Penrose in particular will add instant glamour when combined with our Blenheim range, the perfect finishing touch on your luxury bathroom design.
VIEW FREESTANDING ACRYLIC BATHS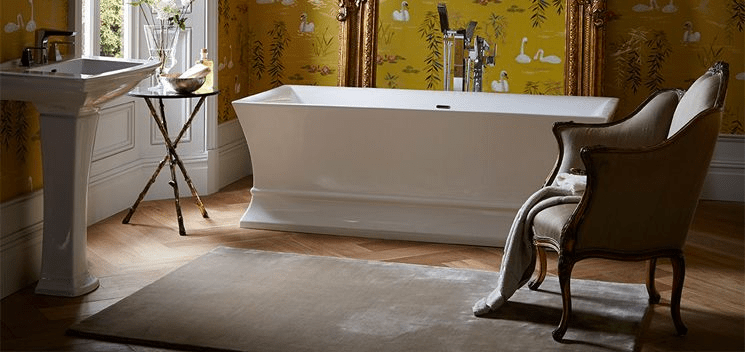 Smaller space
FITTED BATH
The fabulous range of Heritage fitted baths provide you with a functional and comfortable space to relax in. They are the perfect addition to your elegant Blenheim bathroom and add instant glamour to your design.
VIEW BLENHEIM BATHS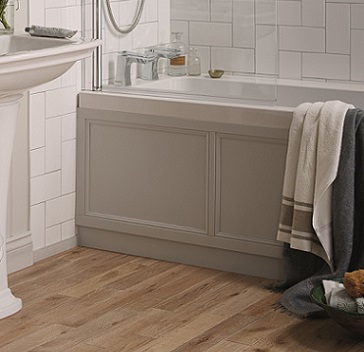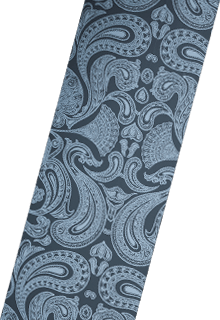 Refresh and reimagine with Blenheim. Take rich teal and bold brass, then add ornate details with the Balham mirror and timeless Blenheim console basin.
Create the look, combine your bathroom suite with the luxurious and intricate Malabar wallpaper by Cole & Son and fabulous lighting from Industville.
Pair Blenheim with
HEMBSY TAPS AND SHOWERS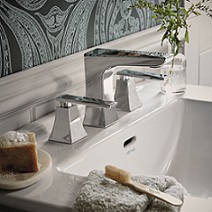 Choose our period collection of Hemsby taps that match our Hemsby showers for added opulence. With elegant lines in glistening chrome, our Hemsby range is the perfect finishing touch.
VIEW HEMSBY RANGE