Bathroom Tile Ideas
Your bathroom is somewhere you spend a lot of time, a space for relaxation and rejuvenation. There's nothing quite like coming home after a hard day at the office and having a well-earned soak. So, when it comes to the décor, you want it to be just right. You want to be able to relax and unwind in a space that's unique and elegant.
Tiles might not be the first item on your list when you're thinking of purchasing a new bathroom, but they make a central feature of any bathroom. Luxury bathroom tiles create a truly elegant, polished bathroom – so, if you're searching for elegant bathroom tile ideas for your space, we've got a wonderful list of ideas to help breathe life into your space. Create the bathroom that you deserve with Heritage Bathrooms.
Channel the origins of style with traditional bathroom tiles
Black and white chequerboard tiles are an elegant and original style that still create a unique and compelling space. These traditional bathroom tiles look particularly striking in smaller bathrooms; the eye-catching monochrome look directs the eye away from the small space and instead places the focus on the contrast walls or floors.
If chequerboard tiles are not what you had in mind when considering bathroom tile ideas and you would rather something subtler, then mosaic tiles are another perfect option. Consider shimmering tiles that will reflect the light from the mosaics and completely transform the room; or alternatively, use soft neutrals for a simple yet sophisticated look. For a finishing touch with the side benefit of making your space feel even larger, why not add in one of our elegant mirrors?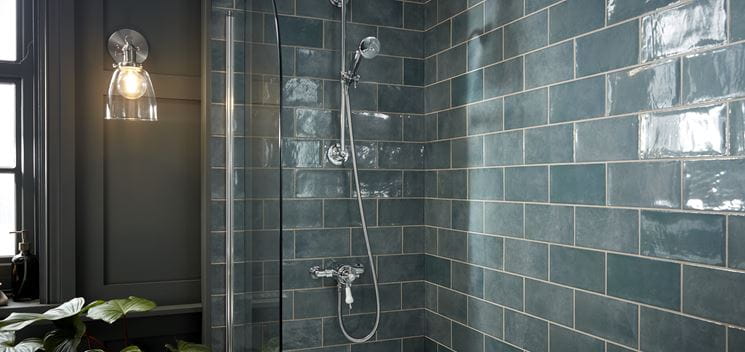 Get creative with your bathroom tile ideas
Sometimes all you need to add a delightful creative vibe is a splash of bold colour. Get creative with your bathroom tile ideas and choose a distinctive colour to make your bathroom a fun and vibrant place to spend your time. Match colourful tile combinations to other features of your bathroom, to create a sense of unified space and perfectly coordinated design. A beautiful bath is the focal point of any bathroom, so make one your centerpiece with one of our beautiful freestanding cast iron baths. Select a romantic roll top, complete with clawed feet, and lean back with a glass of wine. What's more, all of our cast iron baths can be painted so you can transform it into a shade that's unique to your individual style, whether that's a calming pastel or a more daring pop of bold colour.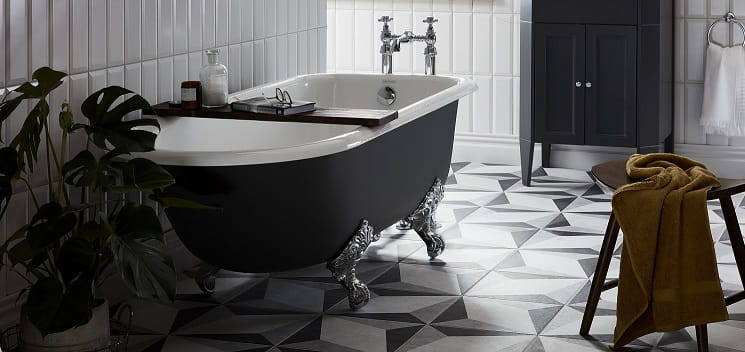 Patterns and murals are a big trend this year, so now's the time to be daring and create a glamorous space covered in your favourite patterns - or for a sophisticated look, why not create a statement with a feature wall? Using luxury bathroom tiles in creative ways like these is guaranteed to make your bathroom a real talking point.
Using coloured grout can also be a surprisingly simple and effective way to change the look of tiles and create something beautiful and unexpected. Think dark grout with white tiles for a starkly elegant look or go bold with more colourful grout like vibrant coral or turquoise. Glitter grout is even an option; paired with stone-look tiles, it can create the look of cool water sparkling in the sun, or with darker rectangular tiles, an updated art deco effect.
Alternatively, you can play with shapes to inspire creative bathroom tile ideas. Create interesting textures with hexagonal or rectangular tiles in more muted tones, or continue floor tiling onto walls to make unexpected lines that really catch the eye.
Turn towards glamour with luxury bathroom tiles
If your bathroom can evoke the blissful tranquillity of a spa it's quite simply a dream come true. A great way to give your bathroom that air of sleek quality and relaxation is through using luxury bathroom tiles. Clean white tiles will open up your space and refresh the room – and, for a finishing touch of polished sophistication, add in beautiful fixtures like our Limited Edition Gracechurch Exposed Shower, complete with gorgeous mother of pearl handles.
If a plainer look is just not for you, coat your bathroom in decadence with luxury marble bathroom tiles and have your space transformed into the opulent bathroom of your dreams. Consider decorating your space with quartz luxury bathroom tiles, a luxurious sparkling style of tiling that has become increasingly popular in 5* hotels and chic bars. This minimalist yet majestic look will make you feel like you're surrounded by stardust.
Whether you prefer bold colour, sparkling glamour or a low key traditional look, these are just a few bathroom tile ideas to get you thinking about what you want from your bathroom's new look. There are bathroom tile ideas for every taste and style of décor… why not embark on a voyage of discovery, and try something new?
Keen to get started on renovating the look and feel of your space? Click here to see our complete luxury product range and get started on creating your dream bathroom.