Gold bathroom ideas
The trend for opulence in the bathroom was first popular in the 70s and 80s, when luxe was the last word in design. The current revival of gold, copper and brass tones is more sophisticated and finds its roots in understated and industrial-luxe designs.
Gold is a beautiful colour to use in the bathroom, and when used well it will highlight everything that is special about your personal space. Read on to discover ways of incorporating gold into your bathroom design.
Gold bathroom ideas
For a bathroom that oozes sophistication, we recommend styling gold brassware with a large antique mirror feature wall, contrasting with glossy black metro tiles or larger scale Carrara marble tiles - perfect for providing an on-trend update to this classic look.
Rose gold bathroom décor is a huge trend at the moment. Featured across everything from brassware to basin stands, rose gold is a stunning hue which is perfect for bringing warmth and a feeling of real luxury.
When styling this warm tone, we recommend pairing it with a dark and moody colour scheme of deep greys and inky blacks, which will create the perfect backdrop to allow the rose gold elements to stand out and become the focus.
For a feminine take on this look, incorporate a whimsical patterned wallpaper and a statement display stand of flowers and candles reminiscent of a boutique hotel, as well as hanging a large ornate mirror to create a sense of light and brightness in the basin area.
For those looking to add even more of a sense of romance, the Abingdon rose gold washstand is perfect for creating a timeless statement. When placed side by side in a 'his and hers' formation they will create a feeling of symmetry, balance and relaxation which is so important in the bathroom.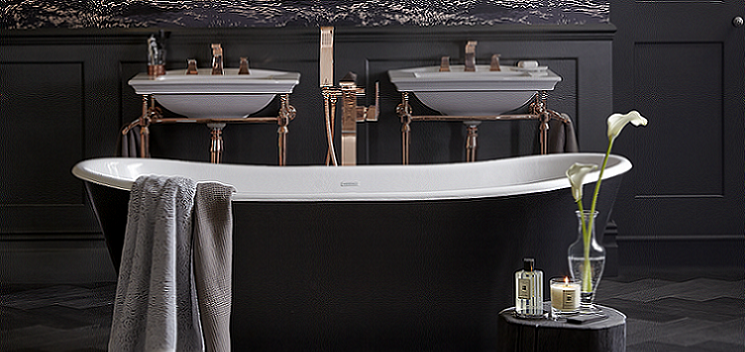 The Madeira cast iron bath with Blenheim basins on Abingdon rose gold washstands with Hemsby rose gold taps.
Gold bathroom décor tips
Gold is the perfect colour to bring a sense of luxury and warmth to your bathroom which will stay on-trend for years to come. You can use gold sparingly to give your bathroom just a touch of luxe, or more liberally if you're creating a more opulent space.
Metallic hues are set to be a huge trend in 2018 and for good reason. Whether you're looking to add some sparkle to a space that could do with a bit more character, or add warmth to a minimalist bathroom design, gold is definitely worth considering.
Gold can be used to cover large surfaces for statement pieces, while smaller items can add life and warmth to the overall design. Gold pairs exquisitely with natural materials such as wood and marble, as well as a variety of textures, to create a distinctively luxurious effect.
It's easy to combine monochrome and contrasting textures with subtle hints of gold. This pared-down look is perfect for creating contemporary bathroom spaces that use gold and metallic finishes to their fullest potential.
At Heritage, we have a wide range of gold products that can help you create a sophisticated ambience that is both traditional and contemporary.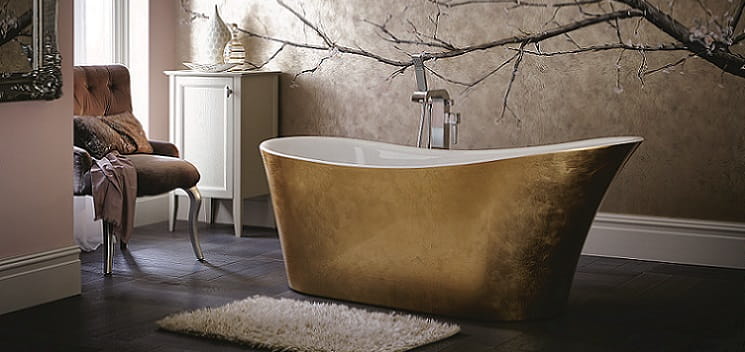 The
Holywell metallic effect acrylic bath
in gorgeous gold.
Heritage gold bathroom products
If you're looking for gold bathroom ideas, why not take a look at some of our beautifully designed gold bathroom products?
Holywell Freestanding Acrylic Single Ended Bath – This is a stunning statement bath with an opulent gold finish that will transform the look and feel of any bathroom. With a classic but contemporary design, this expertly finished freestanding bath tub is the epitome of sophistication.
Hemsby Recessed Rose Gold Shower with Deluxe Fixed Head and Flexible Kit – This classic shower design is paired with a stylish rose gold finish which is an eye-catching alternative to standard gold.
Clifton Tumbler & Holder – This gold bathroom accessory typifies traditional design. Add warm and subtle luxury to your bathroom with a tumbler that oozes classic elegance.
Lymington Basin Taps – Our Lymington Basin Taps are truly beautiful statement taps which feature a unique gold etched lace inlay. Add unforgettable detail to your bathroom design with these truly outstanding taps.