Fashionable brassware
For those looking to embrace some of the key trends of the year without completely departing from a classic aesthetic, there are some truly stunning bathroom tap (also known as 'bathroom brassware') options that can help you make the most of your space. Discover a range of Heritage collections that combine classic design with a modern finish, resulting in beautiful design that will never age.
What is bathroom brassware?
In the bathroom, 'brassware' is the term often given to fittings such as taps and mixers. They may be made from a brass body (or a metal alloy) and feature a range of finishes, from stunning chrome to luxurious gold, all with their own advantages. Chrome, for example, is a brilliant finish that combines hard-wearing practicality with a brilliantly unique aesthetic.
With a history as both a decorative and durable metal, bathroom taps with a brass base will remain in great condition for many years while adding an unmistakeable sense of luxury to your bathroom.
Ready to discover some stunning bathroom brassware for your new or updated bathroom? We've put together our favourites to help get you started.
Gracechurch bathroom taps
Embrace the look and feel of the subtle Limited Edition Gracechurch range, which features a unique Mother of Pearl inlay within the crossheads of the tap for an air of 'barely there' understated opulence. These taps are perfect for adding a subtle touch of true luxury to your bathroom design. After all, even the smallest details can make a huge difference. Gracechurch bathroom taps will surprise and delight those with an eye for stunning design. Combined with an authentic art deco design, they are the perfect addition to any contemporary bathroom.
Lymington bathroom taps
Lymington taps are a wonderful compromise for those wanting to embrace the gold trend without committing to a full brassware range in this hue. The range features an intricate etched lace gold plate inlayed on the lever of a chrome tap, seamlessly bringing together two contrasting, yet equally stunning, metals. With a brass body and chrome finish, these truly beautiful taps convey an inimitable sense of luxury.
For a cohesive look throughout the bathroom, carry these subtle design flourishes through from the basin area to the bath and shower zones too with Heritage Bathrooms' coordinating limited edition shower. They not only complete the look beautifully, but also add warmth and a touch of grandeur to an existing suite.
Bathroom tap designs that say 'hotel chic'
Characterised by monochrome colour palettes and metallic finishes, boutique hotels are the epitome of sophisticated cool. A new take on classic styling, it combines soft off-whites, charcoal black and deep grey with rustic textures and contemporary patterns for a luxe feel.
Choose a range like Hemsby to create a contemporary look that perfectly complements the chic style of a boutique hotel-inspired bathroom. The chrome finish is particularly stunning, creating a feeling of vibrancy that sits well with bathrooms of contemporary style and design.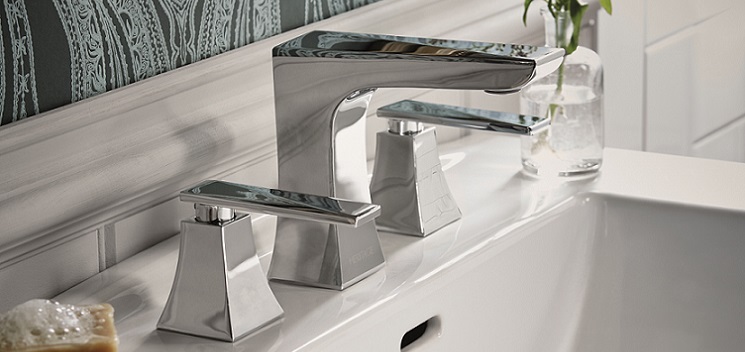 The Hemsby three hole basin mixer in classic chrome.
Metallic
The metallics trend is set to continue into 2018. Keep an eye out for brass, copper and rose gold as key components of contemporary bathroom design.
Using metals can bring a pastel colour scheme to life, or add warmth to a bathroom with an understated colour scheme. Choose bathroom taps that don't just look stunning, but help elevate the rest of your bathroom design.
Introduce a touch of vintage gold to your bathroom with Dawlish taps, the perfect way to embrace the metallics trend without compromising on elegant design.
How to care for your bathroom taps
The best advice when fitting your bathroom is to ensure that you invest in high-quality brassware. In general, your bathroom taps will be finished with a durable material and require minimal effort to keep them looking amazing.
Not only are Heritage's bathroom brassware accessories stylish but they are designed to be long-lasting and withstand day-to-day use over many years. Regular cleaning will ensure that they remain in sparkling condition throughout the year. Fortunately, you won't normally need harsh chemicals to maintain a brilliant shine – you can use simple kitchen ingredients like lemon juice to prevent limescale build-up.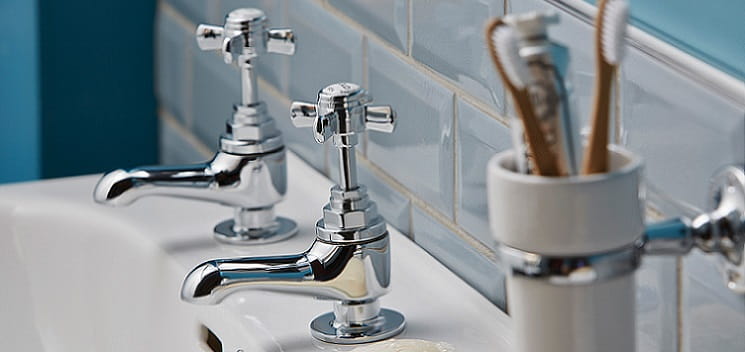 Dawlish short nose basin taps are perfect for smaller spaces.