Styling a long and narrow bathroom poses all sorts of challenges that you might not have considered, and a carefully planned design is key to making the most of a space like this.

No matter how small or challenging your space is, at Heritage we pride ourselves on offering solutions to create a truly practical and personalised bathroom.

Here, we share some of our favourite long narrow bathroom ideas to help you transform an awkwardly shaped space into the beautiful bathroom of your dreams.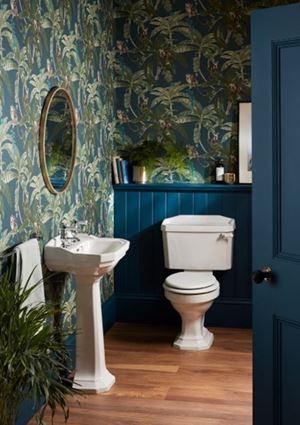 Keep it compact

If you're working with a narrow bathroom, it's important to ensure your suite doesn't overpower the space, which can make it feel cramped.
Our elegant and compact
Dorchester Baby Basin
and
Granley Cloakroom Basin
are perfect for smaller spaces, as they've been specifically designed to take up as little room as possible.
If you want to fit a bath into your long and narrow bathroom, our
Tilbury Corner Bath
is a great option as it offers the look of a freestanding bath without dominating the space.

Free up floor space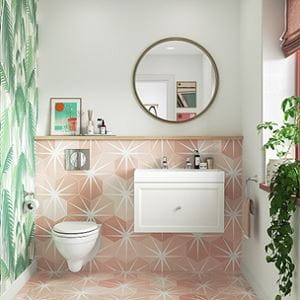 If you don't have a huge amount of space in your bathroom, it's important to keep your floors as clear as possible in order to maximise the room you do have.

Opting for a floating toilet like our Granley Wall Hung WC is a great way to make a small bathroom appear bigger by freeing up valuable floor space.

In addition, our stylish wall hung Dorchester Corner Basin fits perfectly into the corner of narrow bathroom, and is both functional and eye-catching.
Be smart with your storage

In smaller bathrooms where space is at a premium, it's important to make use of every inch of the space to keep your bathroom looking calm and clutter-free.

If you're designing for a long and narrow bathroom, consider opting for space-saving storage solutions like our Caversham Freestanding Tall Boy which fits perfectly into narrow spaces.

Alternatively, you can also combine your sink with your storage by opting for a basin on top of freestanding or wall hung vanity unit, helping to maximise storage space without compromising on style. Combining a wall hung vanity unit with a matching basin also allows for easy cleaning in tight spaces.

Trick the eye

When it comes to styling a long narrow bathroom it's important to consider styling choices that can make the space appear bigger, and there are a number of clever design techniques you can employ to achieve this.

Consider splitting your walls into two halves with tiles or panelling along the bottom half and wallpaper or paint on the upper half. This tricks the eye by creating a distance from the upper half of the wall, giving the room more depth.
Our traditional Dorchester High-Level WC complements this look perfectly, creating a stunning statement feature in a long narrow bathroom with high ceilings, and exaggerating the sense of height.



Whatever shape or size your bathroom is, we've got the solution to help you make the most out of your space and create a look that's as distinctively individual as you are.
Download our brochure for even more bathroom inspiration or find your nearest showroom to explore our beautiful products in person.
And don't forget to follow us on Facebook, Twitter, Instagram and Pinterest.