Spring 2022 is all about Personalisation and Customisation in the bathroom. Here's four ways you can give your bathroom that personal stamp.
The trend for personalisation is booming. There are now a variety of ways you can customise your bathroom from unique designs and styles to a variety of product finishes and accessories. Heritage has a vast offering allowing you to mix and match to give your bathroom that personal stamp.
Showered with choices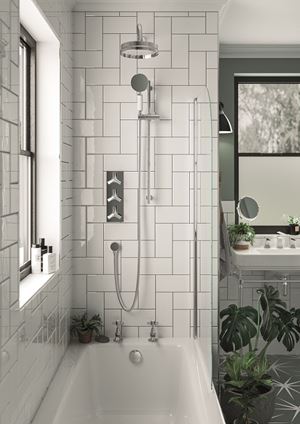 There's nothing better than a long warm shower after a hard day. This sacred space to unwind has, due to the personalisation trend, transformed from a purely functional wash space to an at home retreat - making it the ideal opportunity to explore creative design choices.
Heritage offers a wide variety of shower options and combinations, with the ability to mix and match valves, single or dual controls and the kit itself, giving the freedom to create your perfect shower.
With options like the modern and sleek Hemsby shower, which is available with a fixed head or fixed head and flexible riser, or the classic Dawlish shower which can add a touch of vintage appeal to the bathroom. There are options to compliment everyone's tastes.
Chrome and more
Taps can perfectly tie all your bathroom design choices together, but ideal finish and design can make or break the overall style of the space. For instance, for freestanding baths, the choice of taps needs to be considered. Choose between floor standing or wall mounted and pair with standpipes, shrouds, decorative overflows and wastes to create the perfect finish.
What about finishes? Heritage offers all its tap ranges in chrome with ranges like Hartlebury, Dawlish and Glastonbury also offering a stunning soft vintage gold finish to compliment either a cool or warm toned bathroom.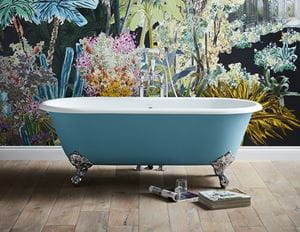 Wow-factor baths
Heritage's range of cast iron baths offer the perfect opportunity for self-expression. Every cast iron bath is a blank canvas, finished with a paintable exterior so you're free to tailor the look however you please. While the interior of the bath is coated with two layers of grade AA white ripple enamel to maintain a pristine appearance, the paintable exterior ensures a futureproof purchase as you can repaint the bath each time you redecorate.
Or for those looking for a ready-made statement, Heritage's freestanding acrylic baths include a choice of designs and finishes including marble effect, mock croc and matt black. Not to mention the showstopping Heritage Hylton Metallic Effect freestanding bath, which comes in three lush metallic shades- stainless steel, gold and copper- the height of luxury and glamour.
Accessorise with confidence
Finally, even the simplest additions to your bathroom like a bath tray, soap dish or bath matt can bring the room to life, demonstrating intentional design choices even with the smallest of details.
There's no denying that renovating a bathroom is a big job therefore, future-proofing a washroom by investing in quality, long-waring products which will stand the test of time, while also adding personality to the space is essential. Explore Heritage's offering by downloading a brochure today or enquiring at your local showroom.