Your bathroom is one of the most important rooms in the house. Not only is it essential for day-to-day life, but it's also a space to relax and take time for yourself. It's a delicate balance for your bathroom and it's easy for your space to get bogged down in the practical. This can result in a tired, lacklustre room that's in dire need of an update.
We've collected a few of our favourite ideas to refresh your bathroom and elevate your space to revive a tired looking bathroom and turn it into a bright and trendy sanctuary.
Bathroom refresh ideas
Make time for a spring sort-out
Put a spring in your step with a good old-fashioned spring clean.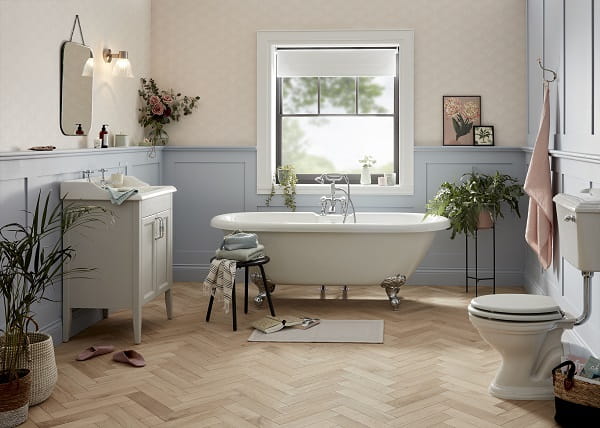 Declutter
It's really easy for your bathroom to become cluttered by everyday essentials, so why not reclaim your space with a complete declutter of your old toiletries and any empty or unwanted products? Reorganise your beauty regime essentials into baskets or your vanity or storage unit to create a spacious and spa-inspired space. Our stylish fitted furniture and vanities make it easy to keep your bathroom clutter-free by storing away your bath salts, candles and face masks for when you can finally enjoy some me time.

Deep clean
A great way to refresh your bathroom is to deep clean your entire space and reach areas that may not be included in your usual cleaning regime, such as cleaning in between tiles, descaling shower heads, unclogging plug holes or cleaning your bathroom windows.

Remember, your Heritage toilet seat can be easily removed from your WC by using the quick release buttons, allowing for a speedy and thorough clean.
Switch up your styling
Be bold with your bathroom design and switch up your styling.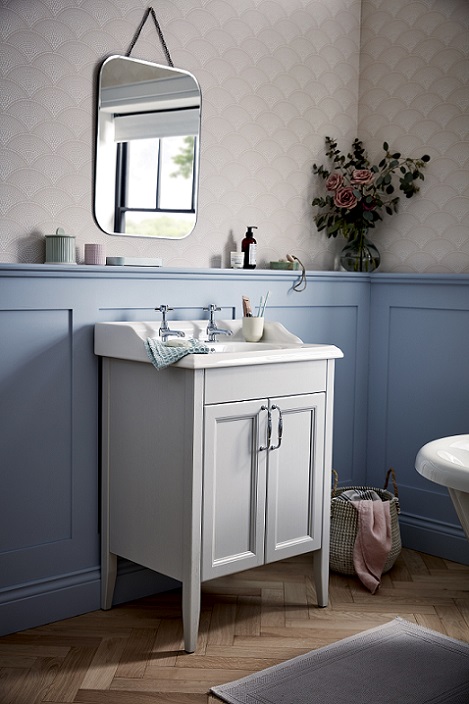 Add a splash of colour
Elevate your space with bright, saturated colours to kick-start an early morning rise and bring intensity and character back into your bathroom. Switching things up with a splash of colour can seamlessly add drama into tired looking spaces.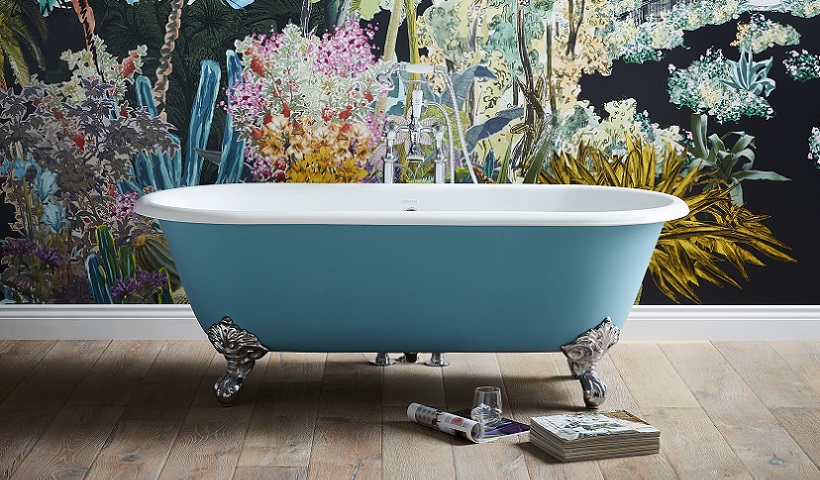 A quick and easy way to refresh your bathroom and bring a new hue into your space is to try painting your cast iron bath in a stunning new shade. Our cast iron baths are designed with paintable exteriors which allow you to go wild and swap dull shades for vivid colours.

Update your brassware
As an additional touch you can also update your brassware. Adding statement taps to your basin instantly brings some sparkle to your space and can be ordered online and delivered straight to your door.

Don't forget accessories
Your bathroom refresh doesn't have to break the bank. You can transform your space for a relatively small sum by replacing bath mats, soap dispensers, shower curtains or even toothbrush holders. You'll be surprised by how much of a difference small changes can make!
Update your lighting
Updating your lighting can be a relatively simple way to refresh your space and breathe life back into a drab interior.

Brighten up your space
If you've got old lighting that is dull and unflattering, installing new lighting can make a world of difference. For a modern look, go for bright spotlights which make it easy to see when putting on makeup or whilst shaving. Or, if you have a larger space and want to make a statement, consider a stunning chandelier for a dash of extravagance.

Get a new mirror
Getting a new mirror is a great bathroom refresh idea that will add a sense of light and extra space. We have a wonderful selection on offer that includes elegant arched mirrors, classic rectangle and square options and shaving mirrors that can be extended, tilted and swivelled for perfect positioning.
Bring nature into your nest
Nothing brightens up your space quite like lush green plants and blooming flowers. Bring the outside in by ordering some house plants or a fresh floral arrangement.

Add plants and flowers
Water-loving plants such as Ferns and Chinese Evergreen will thrive in bathrooms, however artificial plants are a great low maintenance alternative that can look just as effective. For those who prefer a pop of colour, a statement vase filled with your favourite flowers can be a fabulous addition to your space.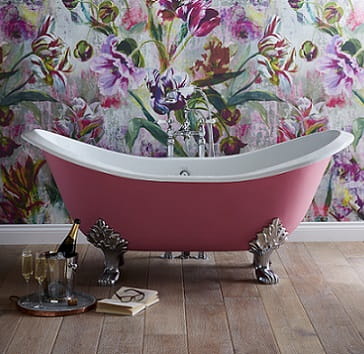 Bring in the florals
If you'd prefer to bedeck your space in florals, replicate the beautiful patterns of nature by bringing floral designs into your home through statement wallpaper and furniture. Floral designs can be a wonderful way of embracing colour, bringing the outdoors in and helping to make your bathroom feel like a sanctuary – the perfect place to relax away from the stresses and strains of everyday life.
Looking for more bathroom trends and style inspiration? Check out our luxury bathroom ideas and learn how you can turn your space into a tranquil, yet extravagant room.
Pre-order our new brochure today to be the first to get your hands on the latest inspiration to refresh your bathroom and turn your space into a fresh and relaxing sanctuary.