If you've fallen out of love with your bathroom, you don't need to commit to a full-scale renovation to put the spark back into your space – and a bit of TLC can go a long way.
To help provide you with some inspiration, here are a few little updates you can make to help you fall back in love with your space.


Pink to make the boys (and girls) wink
Sometimes a splash of colour is all it takes to breathe new life into your bathroom, and a fresh lick of paint is a really quick and inexpensive way to refresh your space.
A pop of raspberry pink or amethyst purple will add a touch of romance to your bathroom, and all of our cast iron baths can be painted to suit your distinctively individual style.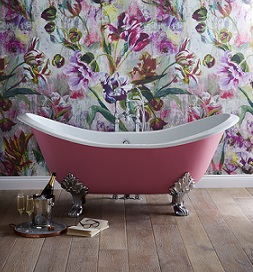 Switch up your taps
Want to update your tired old basin without splashing out on a whole new suite? Switching out your taps is a really easy way to refresh your sink, giving a new lease of life to a previously unloved vanity area.
Our elegant taps are available in a wide variety of styles and finishes including vintage gold, which will make any basin look effortlessly glamourous.


Set the mood… lighting
Set the mood with soft lighting and transform your bathroom from a stark and sterile space into a romantic and relaxing retreat.
For ultimate wow-factor, consider opting for a metallic effect freestanding bath which will reflect light around your space and fill your bathroom with a warm glow.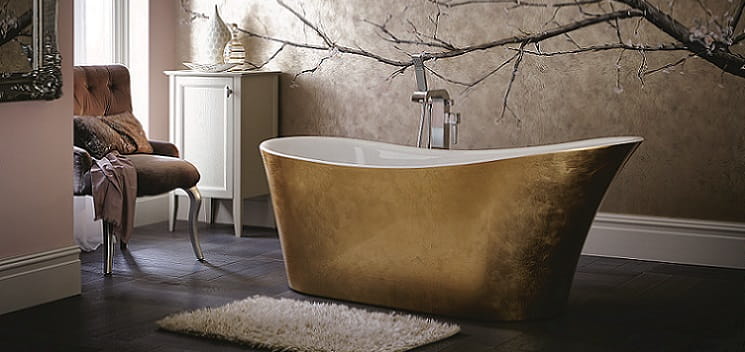 Elevate your space with practical accessories
While beautiful bathroom design is important to creating a bathroom you love, the practicality of your space also plays a key role.
Our range of bathroom accessories are designed to make your daily routine as stress-free as possible, from glass shelves to hold your everyday essentials to bath racks for your favourite bath time luxuries.

Say 'I do' to decorative touches
Truly luxurious bathroom design is all in the finishing touches, so don't forget about those decorative elements that really tie your space together and will enhance your bathroom experience.
Swap old towels that have had their day for plush new ones, and keep them warm with one of our stylish heated towel rails. Additionally, introduce fresh flowers to bring life to your bathroom or light scented candles to evoke a sense of calm and tranquility.
Inexpensive touches like this are really quick and easy changes to make, but can have a big impact on how we view our space.
Download our brochure now to re-kindle your love for your bathroom and turn your tired looking space into a romantic sanctuary.