2020 was the year we all stayed at home. And the coronavirus pandemic, and subsequent national lockdowns, have had a huge impact on everything from the way we use our homes to how we want them to look.
With a new year just around the corner, we've rounded up our top three trends (borne from our time spent at home) that are set to dominate the world of interior design in 2021.
Cottagecore
The slowed-down way of living that we've all become accustomed to this year has seen many of us revert back to more traditional pastimes such as gardening and craft projects.
As a reaction to this new pace of life, traditional country-style interiors have grown in popularity over the last nine months, with many people finding comfort in the escape from the real world that this trend offers. Dubbed "Cottagecore" by fans of the trend on social media, the rustic, homely feel to this aesthetic evokes feelings of cosiness and warmth.
To get the Cottagecore look in your bathroom, pair ditsy floral patterns with exposed wooden floors, and make a traditional claw foot cast iron bath the centrepiece of your design.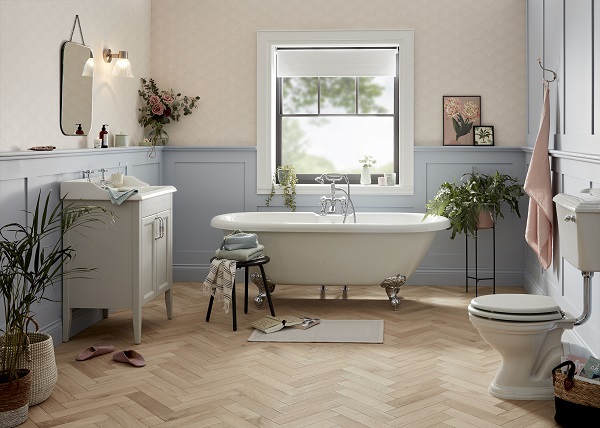 Maximalism
In contrast to the classic simplicity of the Cottagecore trend, bold maximalist interior design is also on the rise.
Say goodbye to white walls and empty spaces, when it comes to maximalism more is more – and this loud aesthetic is perfect for fans of daring design. The eclectic mix of patterns and colours that define this trend make it a great choice for those looking to make a style statement.
Be brave and incorporate maximalism into your bathroom design by clashing prints and colours and mixing vintage items with newer pieces.
Danish Pastel Aesthetic
From Ikon København tiled tables to Gustaf Westman inspired curved mirrors, the Danish pastel aesthetic has dominated our Instagram explore feeds over the last few months.
Defined by complementary sherbet shades, the Danish pastel aesthetic is perfect for spring 2021, and this colourful twist on the popular Scandi style offers a sugary sweet antidote to the doom and gloom of the past year.
To bring this popular trend into your bathroom, contrast white grid tiles and black grouting with playful pastels and unusual, curved lines.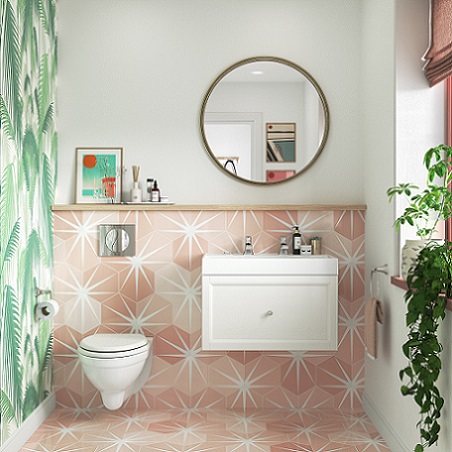 To start planning your dream bathroom and create a look that is as distinctively individual as you are, download our brochure.