Here we've shared some of the key trends we spotted at ISH 2019. ISH is the world's largest bathroom fair that is held in Frankfurt every other year. It sets trends for bathroom design, sustainable heating and air-conditioning technology as well as intelligent home systems.
Greenery and Plants:
One trend that we have being seeing everywhere recently is the inclusion of greenery around the home whether that be using green hues in wall coverings and soft furnishing or bringing a little bit of the outside in with the addition of a house plant (real or faux). And ISH was no exception to this with many of the displays including an array of plants.
Colour in the Bathroom:
Another trend we spotted at ISH is the use of bright and bold colours being incorporated the bathroom space such a sunshine yellow, ocean inspired blue and juicy watermelon pinks.
Colours are being added in a variety of different ways whether it be through textiles such as fluffy towels, accessories such as toothbrush holders or for the more daring, furniture items such as vanity units or storage cupboards.
If you're more adventurous in your home design you could also add colour into your bathroom through your sanitaryware – avocado bathroom suites may even be making a comeback.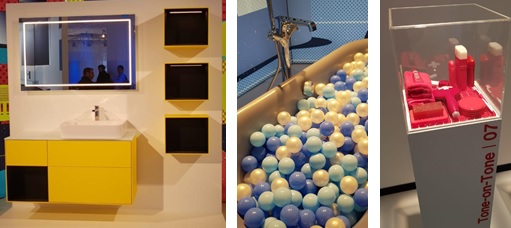 Monochrome:
The classic black and white monochrome combo seems to have been a bathroom trend for as long as the modern bathroom has been around and it shows no sign of stopping anytime soon. Often recreated in period properties and designs, this year at ISH we saw the two-tone palette being used in a more contemporary way, with the use of matte black finishes on taps and showers and bold pattern contrasts.

For more style inspiration, request your copy of our Trends and Inspiration brochure and be sure to follow us on our Facebook, Twitter, Instagram and Pinterest for more bathroom inspiration.