Here at Heritage, we're always on the lookout for new ways to help you create your dream bathroom.
And undoubtedly one of the best ways you can ensure everything looks exactly as you want it to be is by investing in beautiful storage solutions, so you can tidy away the little things that can otherwise bring unsightly clutter to the space.
While storage is a functional addition to a bathroom, there is increasingly a trend towards stylish fitted furniture as homeowners look for timeless pieces, such as traditional bathroom cabinets, which they can build upon with statement products like a freestanding bath or luxury shower fittings.
To help homeowners achieve this look, we've refreshed and improved our Caversham Fitted Furniture range. It features three on trend wooden finishes - Ivory Lace, Graphite and Dove Grey.
Each of these finishes allows the grain of the wood to show through for a premium look, and every piece is completed to the highest standard, so you can rely on it looking beautiful for years to come.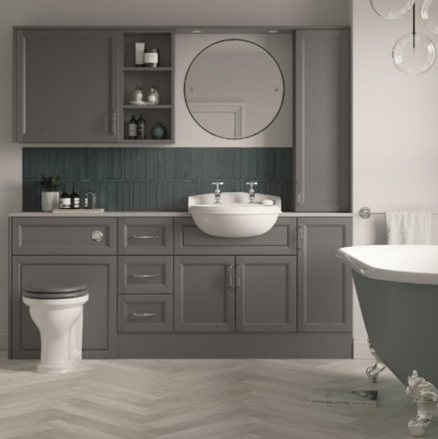 Design Inspiration:
Fitted furniture doesn't only need to be about hiding unsightly toiletries away. Opting for open storage can give you the opportunity to show off your favourite bathroom products and create a display.
We love pairing fluffy towels and low-maintenance plants with decorative containers to bring a hint of hotel chic style to a space while maintaining functionality.
For those with smaller bathrooms, wall-hung units provide a modern look that feels less intrusive, while being easy to clean around. They look beautiful as a Jack and Jill pairing when completed with a bowl basin, such as our recently launched Chiswick basin.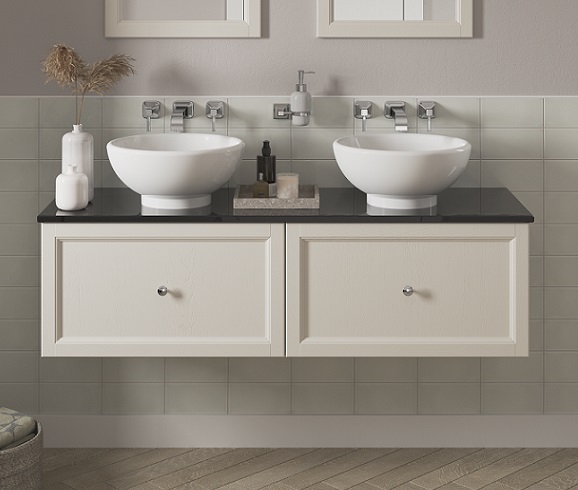 To explore the full range, download our 2019 brochure today.