Make your new bathroom a little more romantic by creating a Distinctively Individual space that's perfect for two. Whether it's the practicality of having your own basin, or the lavish touch of two bathtubs, there's a host of options to make it a more shareable space.
For the ultimate couples design feature in a bathroom, nothing beats our unique and ever-popular Victoria Double Console Basin. Add an Ornate Mirror for an extra special splash of opulence.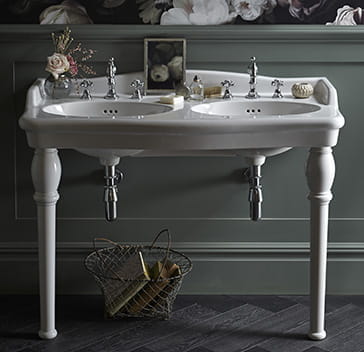 Part of the romantic Victoria suite, you can complete the look with matching Baths, WCs and Abingdon Washstand options to create a truly elegant bathroom.
Or, in larger spaces, why not create a fabulous design feature with a pair of basins? We love this Granley Deco twin basin and pedestal option with gorgeous Gracechurch Taps and coordinating accessories from the Chancery collection, all in classic Chrome for a chic and sophisticated look.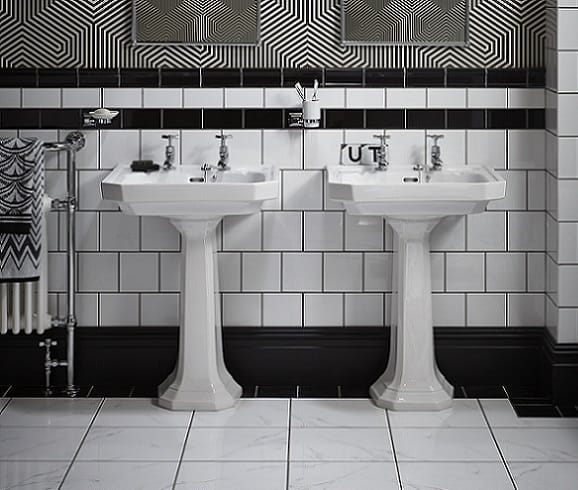 For the ultimate couples bathroom luxury you can even pair baths, like our friends at Peony Cottage have done here with the stylish Polperro Slipper Bath.
Alternatively, there are a host of double ended options available, including the Grand Buckingham Cast Iron Bath or the Hylton Statement Bath, available in glowing Copper, glamourous Gold or shimmering Steel.
But, if you're looking at a smaller space, then bathroom accessories might be the answer. It is easy to double up with 'his 'n' hers' Robe Hooks, or why not select a Double Tumbler like the ones featured in Chancery and Holborn collections, for a compact but stylish solution to hold essential bathroom bits.
For our full range of beautiful bathroom products order a brochure or follow us on our Facebook, Twitter, Instagram and Pinterest for more bathroom inspiration.