We were excited that a renovation featuring Heritage Bathrooms products was featured in the Daily Mail – so much so that we spoke to homeowner Rachel Roberts who explained why creating multiple bathroom spaces was a key design feature in the overall renovation scheme.
"Home Farm is a 300-year-old farmhouse, so it wasn't built with the demands of modern living in mind. When reviewing how we needed to renovate the property to respond to the needs of busy family life, adding bathroom space was a critical need. Originally the property only featured one main bathroom space, with an en-suite that had been added in the 1970s and definitely needed updating.
"Our other key concern was recognising that we wanted Home Farm to be able to meet our family needs in the future, not just for today. In particular, we anticipate our small children will grow, but may not be able to afford to live independently and may wish to return to live at home when they are older, together with the possibility we might need to care for older family members. I'm fortunate that Home Farm gives us the space to accommodate the needs of our family and recognise that we're lucky to be able to shape our design choices and create the living space we need.
"When it came to deciding how to design the bathroom space, as well as offering a range of gorgeous products, the numerous options within the Heritage range meant I was able to design each bathroom space to meet different family needs. Home Farm is a rural property, so it was important the interior reflected the traditional character of a farmhouse, whilst reflecting modern living and design.
"For my own bathroom I wanted to create a luxurious space for 'me time', so the Hylton metallic effect bath, combined with gorgeous Spectrum mosaic glass tiles from Fired Earth and Attingham tiles from Topps Tiles created a really wonderful space. I was lucky to have help from interior design Ali Munro who has worked with Heritage Bathrooms as a Design Consultant, so she really understood how to make best use of the space and light.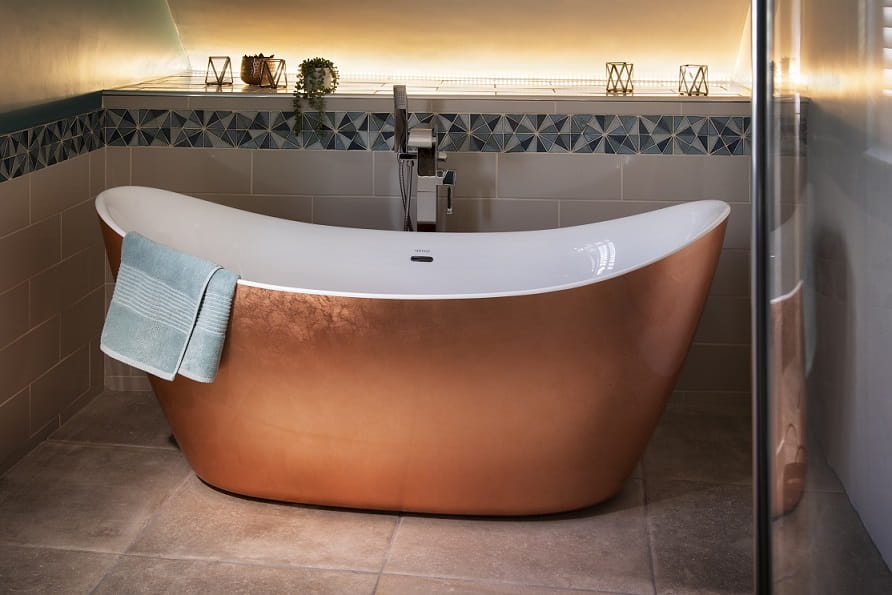 "In the children's bathrooms and the annex bathroom the concern was to use clever design to make the most of small space. In these spaces I have featured the freestanding Caversham furniture so there is lots of storage, together with the Tilbury corner freestanding bath which means even in small en-suite spaces you can have the luxury of a freestanding bath.
"As well as wanting to create a wow space that met our practical needs, a final important consideration was the environmental impact. Updating a period property will immediately reap environmental benefits with better insulation and modern products that use water more efficiently and reduce heat loss. One of my favourite benefits is that while the Hylton and Osterley baths look amazing, as acrylic baths, the water stays hotter for longer, which means no need to draw extra hot water to enjoy a longer soak.
"The renovation isn't complete yet, there's lots more painting, planning and fixing to be done, but being able to reward myself with a soak at the end of the day and seeing my family enjoy the space makes it all worthwhile."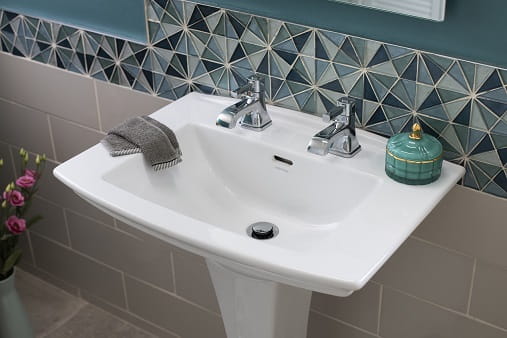 Outside of the bathroom we also thought about new technology that can help address practical and design needs. In the kitchen we have fused traditional styling of a Belfast sink with the 21st century technology of the Rapid 4 – in – 1 Boiling Water Tap from Bristan, meaning I can serve up tea to grandma and filtered cold water to the children at the flick of a switch, saving water and energy at the same time, as well as looking great!"
To discover more inspirational ideas for your new bathroom, get a copy of our 2019 brochure and, for even more style inspiration, follow us on Facebook, Twitter, Instagram and Pinterest too!