To get the most out of your bathroom renovation and to create a timeless space, balancing both style and practicality is essential.
As we know it's easy to get swept up in a sea of paint swatches and skip some of the most important practicalities, we've recruited our marketing manager, Claire Jennings, to help you plan your space to perfection with these three key considerations.
Picking the right products
"Firstly, be bold with your designs and choose products that reflect your own style. If you've always dreamt of recreating the grandeur of a period bathroom with a statement freestanding bath, build your design around this to ensure that you have enough space and budget for the items you really want.
"Similarly, think about what your bathroom will be used for and plan in furnishings that can improve your day-to-day experience. A run of fitted furniture is perfect for keeping all of your bathroom clutter at bay, but if you don't have the space for it, then a Vanity Unit is a great alternative. For example, our new Granley Caversham Freestanding Vanity Unit combines storage with a bathroom essential and won't take up any more floorspace than the foot print of the basin, so you won't be sacrificing valuable usable space."
Consider the practicalities
"When designing your new bathroom, it's important to think about your water supply. Moving pipework to accommodate a central freestanding bath for example can be both a costly and timely task which will need to be considered early on. One of the easiest options is to simply replace your bath in a like for like position where possible or, opt for clever solutions like our Tilbury semi-freestanding bath which has the look of a classic roll top tub but with the benefit of corner-to-wall installation.
"It is also crucial to consider water pressure when planning your shower. This is particularly important if you have a gravity fed system and are considering adding a luxury shower rose as low water pressure may not give you the rainfall showering experience that you have been dreaming of."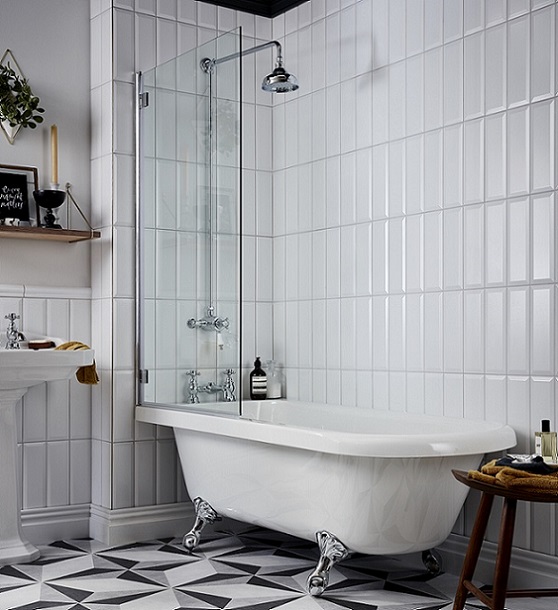 Tools to help you plan
"To help you decide on the décor that will work best for your space and chosen bathroom products, Pinterest, Instagram, moodboards and flatlays are great sources of inspiration to help you bring your ideas together.
"To go one step further in your planning, digital bathroom planners can really help with product positioning too. Try the Heritage bathroom planner today to help you to visualise your dream bathroom and see your ideas start coming to life."
For more luxury bathroom ideas, why not also request a free copy of the Heritage brochure today?