Delve deeper into our trends 'Serenity', 'Soho', 'Midnight at the Oasis' and 'Plunge Pool', as our Colour Consultant Ali Munro reveals her inspirations for the four gorgeous looks you'll find in our first ever Trends and Inspiration booklet.
Escape with 'Serenity'
"'Serenity' is the perfect palette for a soft and calming bathroom environment. With the stresses of everyday life and busy households in mind, homeowners are increasingly desiring a bathroom where they can escape to relax and enjoy some 'me time'.
"The inspiration for this collection was Deco design and French swimming pool, which often boast beautiful warm colour combinations. The softness of the tones means they are really versatile though, so those worried about the look being too feminine can pair the pinks within the palette with matte Dove Grey, warm metal tones like you see within Heritage's rose gold brassware range or a putty colour for a more mature and elegant bathroom setting."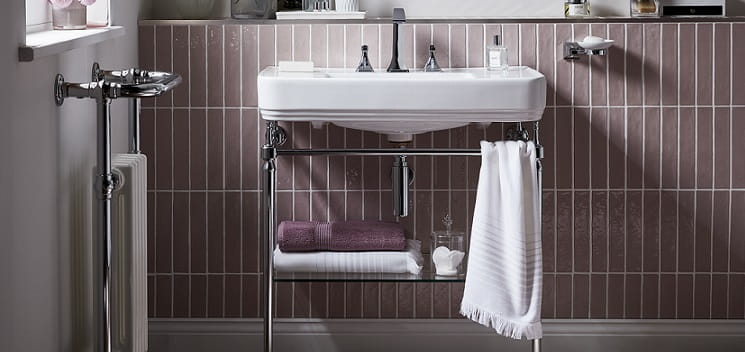 Immerse yourself in 'Soho'
"For those looking to design a bathroom which boasts the perfect combination of cool contemporary and boutique chic, 'Soho' is the solution.
"While the initial inspiration was the slate grey tones of coastal caves, I began to take inspiration from high end London hotel design too – fusing the two together to create 'Soho'.
"As monochrome schemes and classic creams have infinite longevity in bathroom design, the new twist we've identified is combining these with natural timbers, unfinished surfaces like concrete and more rustic materials for a trend-led look.
"To ensure it retains a 'luxe' and boutique feel, accessories are key. Think about displaying beautiful perfume bottles by a window so they catch the light, or introducing some well-thought out towels, a statement vase or a black and white photograph to make sure the space feels dressed."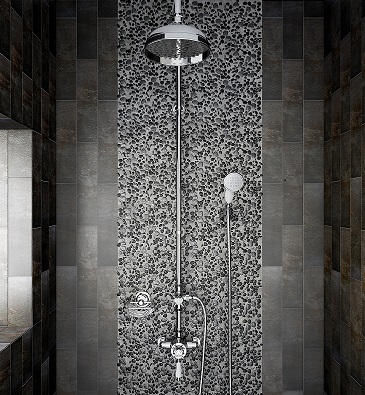 Make your mark with 'Midnight at the Oasis'
"As dark shades are remaining such a massive trend, we had to create a palette of our own not only to play homage to this, but to also show how this riskier and more daring look can be achieved.
"Heritage's copper Hylton freestanding bath and the newly released mock-croc leather effect Alderley show stopper gave me a lot of design inspiration for this look, providing a touch of luxury, sensuality, intense colour and texture.
"To lighten a dark scheme like 'Midnight at the Oasis' and avoid a room that feels somber, it's important to inject some lustrous features, paprika shades and pops of warmth too – even used sparingly these touches give a room real lift."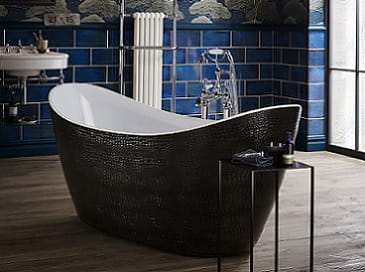 Dive into 'Plunge Pool'
"With a focus on wellness within interiors at the moment, the idea of clean colours and positivity has come more to the fore, especially as these fresh tones can evoke a feeling of calm during times of uncertainty.
"Most people like to go into a bathroom and feel fresh and invigorated. Replicating that fresh feeling when you go on holiday and see the beautiful turquoise water is what the rejuvenating Plunge Pool scheme is all about. The association with the Mediterranean is perfect within the bathroom, providing an idyllic backdrop ideal for those looking for escapism and a place to re-energise."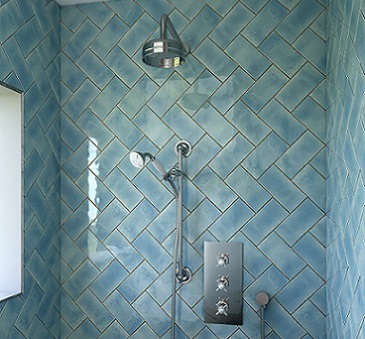 Designed to guide you through the process of updating your bathroom décor, and show you how our trends can be used to create a Distinctively Individual space that's true to your sense of style, request your own copy of our Trends and Inspiration booklet for even more bathroom inspiration