As another Clerkenwell Design Week comes to a close, we caught up with our Showroom Designer and interiors expert Charlie who pounded the pavements at the UKs biggest design show this year to report back on all the latest trends.
Marble matters:
"From tiles and work surfaces to table tops and handles, marble was everywhere again this year and is a trend that shows no signs of slowing down. Whether it be grand swathes across large areas or more intricate touches and detailing, marble is a stunning way to instantly inject a feeling of glamour and evoke the regalia of eras passed. For a more modern, Parisian take on this palette, we also love to see marble used alongside pastel pinks and warm copper hues too."
Nods to nature:
"Another trend we're seeing carried through from last year's popular 'urban jungle' is the continuation of all things natural. Think untreated wood finishes, botanical plants and biophilia alongside raw metals and ocean inspired insignias for an organic and stripped back style. We loved what Frovi and Artwood were exhibiting at the show, and how tactile and creative their materials were.
"Here at Heritage, we love how striking this more natural look can be, but also think that adding a bit of warmth and glamour gives an interesting style juxtaposition. I suggest incorporating some fluffy monogrammed towels, a drenching rainfall shower and copper effect freestanding bath for a look that marries all the goodness of the organic with a bit of boutique hotel glamour too. "If you're a fan of this fresh trend, Domus' Piano tile launch featured a new effect designed to recreate the look of reflections shimmering in water – another gorgeous way to add a touch of the outdoors, indoors."

Back to Black:
"If you weren't convinced already, Clerkenwell proved that it's definitely time to say goodbye to the 'all white bathrooms' of the past, as black is well and truly the colour of the moment. Seen on everything from basins and baths to mirrors, taps and showers, black was the dominant trend of Clerkenwell this year.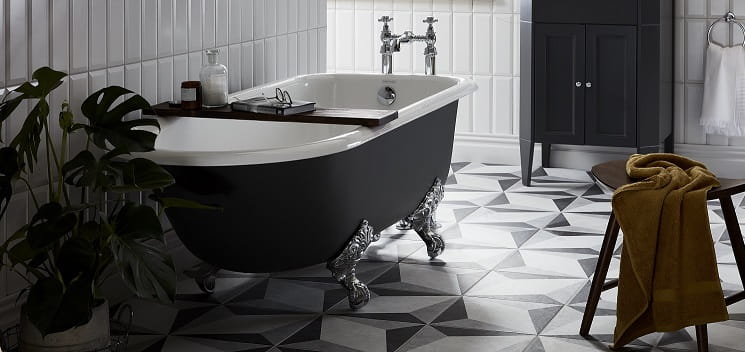 "While black can be a daunting colour to work with, there are some great ways to introduce it gradually. For example, painting a freestanding cast iron bath in a charcoal hue will instantly update your space and ensure all eyes are on this stylish focal point. If that's a leap too far, how about introducing some black grout to a white tiled shower area, or investing in some of Heritage's Midnight Blue taps? A slightly softer look than black, deep blue accents like this make the same bold statement and are great for easing yourself into a new world of colour."
If that's got you contemplating your own bathroom makeover and searching for more bathroom design ideas, download a copy of our first ever dedicated Trends & Inspiration booklet here, and don't forget to get a free copy of our brand new brochure too. You can also follow us on our Facebook, Twitter and Instagram and Pinterest channels for even more bathroom design ideas.